Meghan Markle just delivered a touching message in memory of Caroline Flack
The Duchess of Sussex emphasised the importance of being kind on social media for a new campaign honouring the late presenter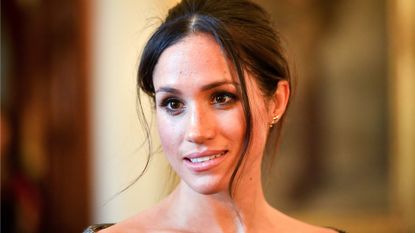 (Image credit: Getty Images:Photo by Ben Birchall - WPA Pool )
Meghan Markle has always been an advocate for treating others with kindness, especially online and in the press. The duchess, who has taken her fair share of scrutiny and bullying by media outlets and internet trolls ever since marrying Prince Harry and joining the royal family, has now shown solidarity with a special cause, promoting kindness in honour of the late Caroline Flack.
The Love Island presenter's heartbreaking passing shook the world earlier this year on 15th February, when she was found dead in her London flat. In the week's leading up to the tragedy, Flack was victim to brutal trolling on social media and the tabloid press, who delved into every intimate detail of her personal life.
The week of her death sparked #BeKind, a social media campaign that urged people to be kinder to one another online, with the hashtag's core message being that kindness can go a long way both digitally and in the real world. Something Meghan can resonate with.
The royal, who made history at the US election this year, has shown her support for the initiative, ahead of its first Social Media Kindness Day, set to take place on Monday (9 November). The date would have been Caroline's 41st birthday.
"For so many, social media plays a big part of their daily life. We have access to it at the end of our finger tips, so it ought to be a kinder and safer place for all," she said, in a statement shared by royal correspondent Omid Scobie.
She added: "It saddens me that in today's society Social Media Kindness Day is deemed necessary. But it absolutely is! I sincerely hope this much needed awareness day is a success. I fully support the initiative."
This isn't the first time Meghan or her husband have discussed the importance of kindness online and impact of social media on mental health. In an essay for the Fast Company titled 'Social Media Is Dividing Us, Together We Can Redesign It', Prince Harry addressed similar concerns, particularly for his son Archie's future.
"Social media's own algorithms and recommendation tools can drive people down paths towards radicalism and extremism that they might not have taken otherwise," he wrote. "Companies that purchase online ads must also recognise that our digital world has an impact on the physical world – on our collective health, on our democracies, on the ways we think and interact with each other, on how we process and trust information."
He continued: "Because, if we are susceptible to the coercive forces in digital spaces, then we have to ask ourselves—what does this mean for our children? As a father, this is especially concerning to me."
Social Media Kindness Day is currently calling for users to sign an online pledge, so get signing and support the campaign on Monday.
Sagal is a journalist, specialising in lifestyle, pop culture, fashion and beauty. She has written for a number of publications including Vogue, Glamour, Stylist, Evening Standard, Bustle, You Magazine, Dazed and Wonderland to name a few.