What's the correlation between exercise and mental wellbeing? Here are 8 ways to boost yours
Exercise can do wonders for your mental health. Here's how you can reap all the benefits...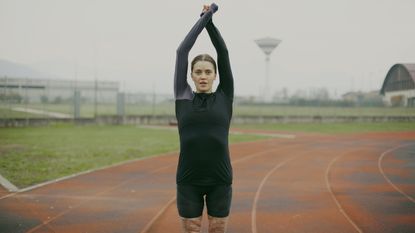 (Image credit: Getty)
Exercise and mental wellbeing, there is a correlation. We all know that keeping fit is great for our bodies, but there are also many ways in which it's beneficial for our mental wellbeing. Squeezing in just a few sessions of moderate exercise a week (while wearing the best workout clothes, obviously) can relieve stress, enhance memory, improve sleep quality and boost our general mood.
With exercise giving such great benefits for both our physical and our mental health, Gympass has compiled a list of top tips to add exercise into our daily routines - whether at home or at the gym, to achieve both a healthy body and mind…
1. Get up early
How many times have you said to yourself: "Tomorrow is the day for an early morning workout?" But when that alarm goes off at 6am, it's all too easy to hit the snooze button and throw the duvet over your head.
An early morning workout is actually the perfect way to get you energised and put you in a great frame of mind for the day ahead.
2. Keep it short and sweet
Sometimes our schedules will only allow for the shortest of workouts, but if we can fit them in every day they prove just as effective as spending hours in the gym or following a lengthy home work out video.
Snappy workouts such as High Intensity Interval Training (HIIT) are proven to give a boost of energy and mood – and you can easily do them at home.
3. Go to a class
Not only are you spurred on by everyone else, but an instructor is also taking you through each step, maximising your workout and letting you focus on sweating away stress. If you're not quite ready for the real thing, then there are plenty of virtual classes to book yourself onto as well.
4. Keep it social
After a long day, sometimes all you want is to catch up with your friends and vent. So why not turn these meet-ups into something more productive?
Boot camps (while following social distancing rules) are a great way to build your motivation and release pent-up anxiety. Make a friend, family member or colleague your new workout buddy – it'll make the new experience easier to handle and push you to do your best. As they say, a little competition never hurt anyone.
5. Get outside
Outdoor exercise works wonders for your mental health. The natural light floods your body with vitamin D, which immediately improves your mood.
Simply pop on your trainers and go for a run.
6. Switch up your exercise routine
This is a great way to keep your mind active by learning new things and not getting stuck in a workout 'rut'. Whether it be classes or a typical gym workout, keeping a steady mix of different activities is a surefire way to boost your mood and ensure you don't get bored of exercise.
7. Exercise your mind
Mental health is just as important as physical health, so put your mental wellbeing first by starting the day with meditation. This will help clear your mind and relax your thoughts.
A yoga class (using one of the best yoga mats) can also reduce stress, as well as increase happiness.
Sagal is a journalist, specialising in lifestyle, pop culture, fashion and beauty. She has written for a number of publications including Vogue, Glamour, Stylist, Evening Standard, Bustle, You Magazine, Dazed and Wonderland to name a few.