The secret to Meghan Markle's flawless skin
Glow big or go home.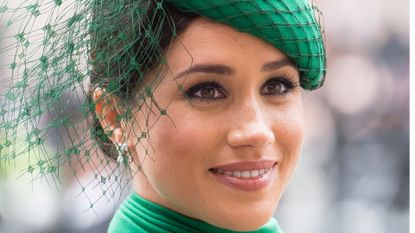 (Image credit: Samir Hussein/ Getty Images)
Baby soft skin is the ideal we're all chasing, therefore we're keen to know Meghan Markle's skincare secrets. The Duchess' skin has seemingly always been impossibly glow-y and blemish free, even before she went stratospheric by marrying a Prince.
It may seem hard to believe now but before joining the Royal Family, Meghan used to blog about beauty on her lifestyle site The Tig. A skincare enthusiast, here she namechecked Kate Somerville as a facialist whose LA clinic, Kate Somerville Skin Health Experts, she had frequented.
Meghan wrote: "This spot is a hometown classic for good reason, with aestheticians who are as skilled as they are friendly. Scrubs and red-light treatments are de rigeur, and the beautifully designed space transports you on a little spa vacation for the day."
Indeed, Somerville's best known product is her ExfoliKate Intensive Exfoliating Treatment, a physical and chemical exfoliator, meaning it has little beads and also lactic acid, salicylic acid, plus papaya, pineapple, and pumpkin enzymes that all chemically exfoliate your skin to break up and dislodge dead skin cells and other unspeakables.
But it is the Kate Somerville Quench Hydrating Face Serum that Meghan waxes lyrical about. When she was interviewed by BeautyBanter, she shared: "I've been going to Kate's clinic in LA for facials for years...and use the products to maintain that glow that her facials give."
Somerville has recently launched a new line of 'Kateceuticals' - high-tech skincare inspired by the most-loved in-office treatments. The Firming Serum, Total repair Cream and Lifting Eye Cream are all powdered by peptides.
Somerville says: "If I had to choose one anti-ageing ingredient, I'd pick peptides over any top ingredient that's trending right now like vitamin C or retinol. Peptides help with the stimulation of collagen and elasticity. Start early with this ingredient, like in your mid-20s, as it hits all levels of your skin."
Perhaps Meghan has been treating herself to this line-up as the next best thing now that she lives in Santa Barbara.
Another brand Meghan seems to fangirl over is Tatcha. In particular, the Rice Enzyme Powder, for polished skin. Meghan told Allure in 2014 : "It just sort of foams on your face and gives you a really subtle exfoliation."
When it comes to serums, Meghan clearly knows that this is where you want the majority of your youth-boosting ingredients to sit as the tiny molecules and liquid formula deliver the actives deeper into the skin. While she makes no mention of the best vitamin C serums or best retinol serums as her go-tos, she is seemingly a fan of glycolic acid as she told Allure: "I love Jan Marini skincare product. I've been using their serum lately. It's a nice glycolic one that makes your skin really glow-y".
And not forgetting her lips, the Duchess has made it very clear that she really loves the ultra-nourishing Fresh Sugar Advanced Therapy Lip Treatment with sea fennel and orange extract —like, A LOT. "I have searched high and low and tried every kind of lip balm, but this is the very best," Markle said about this soothing formula in an interview with The Lady Loves Couture. "Soft, kissable, buttery lips. I swear by it."
Fiona Embleton is a multi-award-winning beauty editor who has tested over 10,000 products in her 10 years + of writing and shooting beauty stories. For the past four years, she was the Senior Beauty Editor at Marie Claire, having previously worked in the role of Beauty Editor at both Stylist and Cosmopolitan. She has recently gone freelance and alongside My Imperfect Life, she has written for titles including ELLE UK, ELLE Canada, Buro 247, Harper's Bazaar Arabia, Vogue Scandinavia, and ES Magazine. Beauty journalism allowed her to marry up her first-class degree in English Literature and Language (she's a stickler for grammar and a self-confessed ingredients geek) with a passion for make-up and skincare, photography, and catwalk trends. She loves jumping on the latest internet-breaking beauty news, dissecting the best red carpet looks, and having the crème de la crème of dermatologists, make-up artists, and hairstylists on speed dial so she can tap them for the best advice. She's a discerning beauty shopper and knows it can be confusing trying to navigate what's hype and what really works. So if she really likes something, you can trust that she has reached that opinion by vetting it against everything else she's ever tried. Her career highs? Interviewing Cate Blanchett and winning a Jasmine Award for the deeply personal feature Cancer Stole My Mother's Scent.