What a dermatologist wants you to know about blowing micellar water into foam
We asked a dermatologist whether blowing micellar water for DIY foam is actually a good idea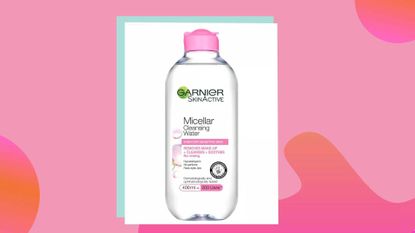 (Image credit: Garnier/Future)
If you're on beauty TikTok, chances are you've seen users blow micellar water into a foam through a cotton pad. But fun aside, using these micellar bubbles as a cleanser is a little... we're just going to come out and say it, gross.
TikTok users will know that the app is great for picking up tips and product recommendations, such as the best hyaluronic acid serums. But if you're not familiar with this particular trend, in the clips users can be seen applying their micellar water of choice to a cotton pad, blowing bubbles through said cotton pad, and using the thick, resulting foam to take off their make-up. Some users are actually claiming that this is how you're supposed to use micellar water (it's not, but we'll get to that).
To get a professional's verdict on if this trend is 1) worth trying and 2) at all hygienic, I asked consultant dermatologist Dr. Justine Kluk to share her thoughts on one of the many TikTok beauty hacks on the app.
Are you supposed to blow micellar water? A dermatologist explains
This method is potentially not great for your skin for two reasons, according to our derm. Firstly, you're potentially rendering your micellar water ineffective. "Changing the form of a cosmetic product and using it in a way that was not intended when it was tested in the lab could alter the effectiveness," Dr. Kluk tells us. "You potentially also increase the risk of having a reaction to the product."
Secondly, as we feared, this method isn't very hygienic. "While a lot of [the foam] may just be hot air, we have a whole host of microbes living inside our oral cavity that are different in composition to those that live on the surface of our skin," Dr. Kluk explains. "I'm not sure I would want to be blowing them out and spreading them all over my face!"
All in all, it's a no for the micellar water foam trick from the derm, who says: "I wouldn't do it myself. If I want a foaming cleanser, there are plenty of ones on the market—I like my micellar water as it is!"
There you have it: blowing micellar bubbles is fun, but it's best to keep them off your face. Stick to the traditional water and (reusable) cotton method, as you were.
Lucy is a beauty journalist who has written for titles including Marie Claire, Cosmopolitan, OK!, woman&home and Women's Health, as well as regularly contributing to My Imperfect Life. Her work covers everything from skin and haircare tips to trying and testing the latest beauty launches, and interviewing celebrities and experts. A certified dog person, her other interests include mental wellbeing, books, piña coladas and not getting caught in the rain.