Meet the microblading brow pen that Amazon shoppers are obsessed with
The Moonkong microblading brow pen has over 4,000 5-star reviews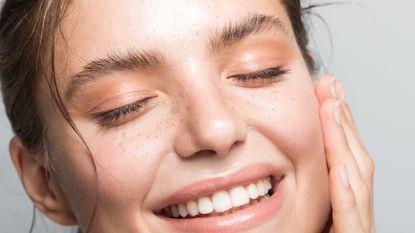 (Image credit: Svetikd/Getty Images)
Not all brow products are created equal - as proved by the MoonKong microblading brow pen, which is just about breaking the internet.
Microblading, or brow tattooing, has become the semipermanent solution for beefing up sad, sparse brows. But getting that professional service isn't exactly an option right now, which is why even die-hard microblading fans are switching to brow pens to get their fix.
With just a few flicks of a wrist, a brow pen creates hair-like strokes for fuller, perfectly-defined arches (microblading vibes minus painful incisions). Sure, the illusion only lasts until the next time you wash your face but it's a shortcut to upping your Zoom beauty game. Hallelujah.
And the product that Amazon can't sell enough of? MoonKong's Eyebrow Tattoo Pen. Not only will it only cost you $13 but shoppers are calling it the "next best thing to microblading".
What sets this microblading brow pen apart from the rest is the four brush tip. More of a marker, it adds depth, colour and definition with the finest, hair-mimicking strokes. Unlike brow pencils which create soft, bendable lines, MoonKong's formula is made of temporary waterproof ink to ensure it stays put all day without smudging or sweating off.
But don't just take our word for it. "I have tried eyebrow powders, fibers, pencils, tint, dye, you name it... I wish I had found this long ago," said one shopper. The effects really do look like hair! It's also waterproof... no smudging, no running! 100% recommend this product."
In other words, it doesn't disappoint.
Fiona Embleton is a multi-award-winning beauty editor who has tested over 10,000 products in her 10 years + of writing and shooting beauty stories. For the past four years, she was the Senior Beauty Editor at Marie Claire, having previously worked in the role of Beauty Editor at both Stylist and Cosmopolitan. She has recently gone freelance and alongside My Imperfect Life, she has written for titles including ELLE UK, ELLE Canada, Buro 247, Harper's Bazaar Arabia, Vogue Scandinavia, and ES Magazine. Beauty journalism allowed her to marry up her first-class degree in English Literature and Language (she's a stickler for grammar and a self-confessed ingredients geek) with a passion for make-up and skincare, photography, and catwalk trends. She loves jumping on the latest internet-breaking beauty news, dissecting the best red carpet looks, and having the crème de la crème of dermatologists, make-up artists, and hairstylists on speed dial so she can tap them for the best advice. She's a discerning beauty shopper and knows it can be confusing trying to navigate what's hype and what really works. So if she really likes something, you can trust that she has reached that opinion by vetting it against everything else she's ever tried. Her career highs? Interviewing Cate Blanchett and winning a Jasmine Award for the deeply personal feature Cancer Stole My Mother's Scent.