The secret behind Lily Collins' amazing eyebrows has been revealed
Less is more, according to Lily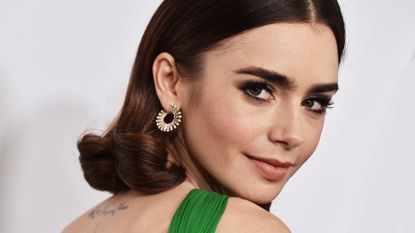 (Image credit: Getty Images / Axelle / Bauer-Griffin / FilmMagic)
Star of the Netflix series Emily in Paris, Lily Collins, revealed her make-up routine - including what it takes to get those coveted eyebrows.
Lily, who we hope could be gearing up for Emily in Paris season 2 according to the show's creator, is the ultimate definition of eyebrow goals. As well as obsessing over dreamy Lucas Bravo, Camille's strong fashion choices and Emily's phone case, Lily's eyebrows have also stole the show and we've been left wondering how we can achieve her look?
Lily Collins's eyebrow routine
Lily revealed that she actually used to overly pluck them when she was younger - until her mother told her to stop.
Talking through her day to night French girl look with Vogue, Lily says "it's all about the brows".
"For me, shape is key. It's not always something I embraced. I made the mistake a couple of times - one very specific time - of overly plucking them and I remember going to dinner that night with my mom, being very proud of what I'd done and she stared at me and was just like 'what have you done?! They may never grow back!'
"So from that day forward I've been very vigilant in not over plucking them and I've learned to embrace them. For me, they're my favorite qualities about beauty and skincare because they say so much about your personality and they accentuate your emotions. I think that it's something that's so fun to enhance and embrace about your face."
To do just that, Lily takes Lancôme's Le Monochromatique and swipes gently under the brow and across the top of the eyelid to enhance and highlight the brow.
Then, she brushes them out using a simple eyebrow brush. And that's it. Her super simple way to enhance and highlight your brows.
She even uses the same eyebrow brush on her eyelashes after applying mascara to make sure they're fanned out to create that open-eye look.
Talking through her routine, Lily says she loves creating a "French girl vibe of no-makeup, makeup". For this, she also doesn't apply foundation straight to her face, but takes a pump of Lancôme Advances Genifique serum ($52) and mixes it into a pump of Lancôme Teint Idole Ultra foundation ($47) on her face, which gives a medium coverage and a "radiant glow".
We'll certainly be trying that one.
Beth Gault is a freelance journalist and editor. She is the former news editor at fashion magazine Drapers and has written for multiple titles across lifestyle and business media, including GoodtoKnow and Woman's Own. She loves chatting about ending period poverty, is a self-confessed coffee snob, and is never one to turn down a good book.