This is why everyone on Zoom calls is obsessed with my lipstick
Prepare to become obsessed with the new Nars Air Matte Lip Colour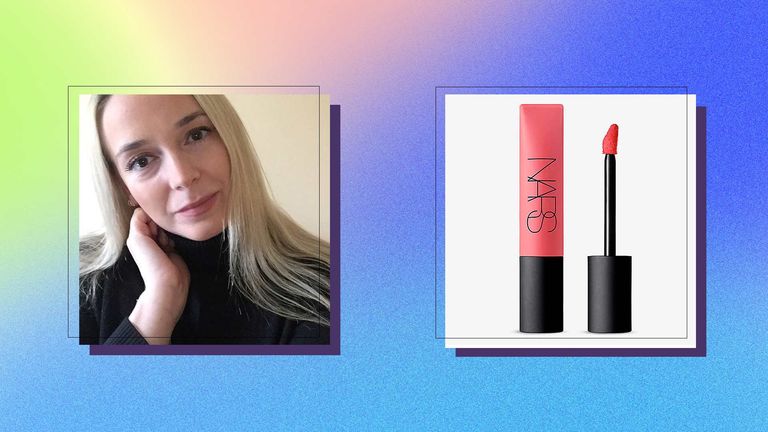 (Image credit: Future)
Here's the situation: It's 8:45am on a cold December morning and I've overslept. My Zoom meeting starts in exactly 15 minutes and I reach for the first piece of makeup to hand. It just happens to be the soon-to-be-launched Nars Air Matte Lip Colour. 
That's when something strange happens. Rather than stick to the agenda, everyone is leaning closer to their camera and asking me what I've done. 
"How have you had a facial in lockdown?", asks one colleague scrutinizing my face. Which is especially impressive, considering Zoom usually makes my skin look vampire-pale and my under eye circles look like Saturn-sized rings. "Your makeup looks incredible today - it must have taken you ages," comments another.
Actually, no. I'm wearing nothing but moisturizer and a slick of the Air Matte Lip Colour in Shag. As the shade name implies, this rose nude mimics the flushed look of lips after you've been making out. Nice.
One swipe yields a gorgeous velvety your-lips-but-better colour; two gets you an opaque, fuller-looking pout. But that's not all. Shag somehow makes my skin sing and the whites of my eyes look brighter.
Better still, once it's on it won't move - not onto your coffee cup or your face covering (trust me, it's been put through its paces on the latter point). That said, Air Matte won't go flat and chalky like so many matte lipsticks out there. Rather, it leaves lips uncommonly juicy.
Even though Air Matte is low-maintenance, there's some science involved in the making of the 10-strong shade range. Like the lovechild of a liquid lipstick and a whipped mousse, silky polymers and micro powders give it an airy feeling - like you're applying a fluffy cloud of colour to your lips.
"When it comes to matte lip products they tend to be more liquid or cream based," says Vincent Ford, Nars Global Makeup Artist. "The Air Matte Lip Colours are lighter weight and give the appearance of a soft diffused lip."
When it comes to application, Ford recommends either using the doe foot applicator for more coverage, or your fingertips if your approach is more nonchalant. I actually prefer the latter for a next-to-natural hazy effect with depth.
Let's face it, our dark circles aren't fooling anyone on Zoom. Nars Air Matte Lip Colour, on the other hand, may just may be enough to distract away from them and make us feel more polished.