Nike GO FlyEase: this is why Nike's first hands-free sneaker is so important
Just slip on and go.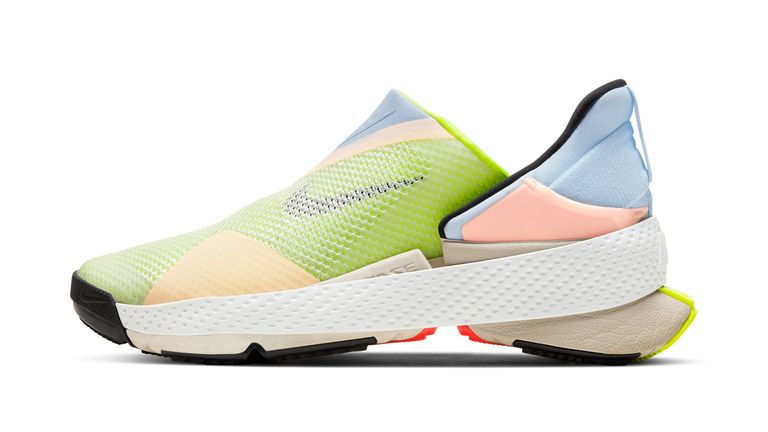 (Image credit: Nike)
The sportswear giant, known for its best workout clothes, has just announced the release of Nike GO FlyEase, its first-ever hands-free sneaker. Five years in the making, the style is an upgrade to the original FlyEase series, which created ripples of excitement in the fitness space by replacing laces with zippers and straps for users with disabilities. 
One in four adults in the US are said to have a disability and the GO FlyEase was primarily designed to make the act of putting on and taking off sneakers easier. With FlyEase technology 2.0, it allows wearers to simply slip on the shoe -  without a single adjustment or closure point - and go. 
They work by having a "bi-stable hinge that enables the shoe to be secure in fully open and fully closed states", Nike says on its website. It also features a special flexible "tensioner" within the sneaker - a fancy way of saying you can kick off the shoe by using the opposite foot against the heel, rather than using your hands.  
But that's not all: Nike is also making an important societal statement by taking the championing of diversity and inclusivity to the next level. 
It's already ignited the imagination of Twitter users. "Before anyone jumps to critique [Nike's GO FlyEase sneaker] for its 'laziness', instead think about how THIS is what accessibility can look like, and how this could benefit people with disabilities," tweeted I'm Not Wearing Pants.
Before anyone jumps to criticize this for it's "laziness," instead think about how THIS is what accessibility can look like, & how this could benefit people with disabilities https://t.co/u1HKc5vYgMFebruary 1, 2021
See more
Although designed with adaptive athletes in mind, and the campaign is being fronted by Paralympian champion fencer Bebe Vio, Nike says the sneakers's universally appealing style will appeal to everyone from busy students to moms or those simply wanting an on-the-go shoe for walks around the park.
Go FlyEase sneakers come in white, black and multicoloured and, laces aside, look not different from a regular Nike sneaker. 
Go FlyEase Sneakers will retail for $120 (£87) and be released on February 15th.