OOOOO is the UK's first live-streaming shopping app—and you're going to love it
OOOOO's dynamic new shopping experience has already beaten Amazon to the top of the shopping app charts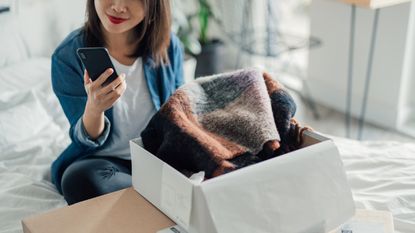 (Image credit: Getty/Oscar Wong)
We must confess that after the various lockdown restrictions, we've become a little addicted to online shopping. And, considering that stores have been closed on and off over the last year, it made total sense for a new shopping app to emerge. Cue OOOOO, the first innovative live-streaming commerce app that could forever change the way we shop.
Although OOOOO has only been around since 2020, it's already dethroned Amazon as the most popular shopping app in the UK.
OOOOO is Gen Z's answer to QVC, a live-streaming video commerce network where you can shop instantly while streaming its 25 live channels, which include trainer TV and dog TV.
Last year, collaborators Sam Jones (ex-Wish) and Erich Zhang (ex-TikTok) created the app, which now has offices in Oxford and Shanghai.
Of course, we realize that the whole concept can be a little overwhelming, so we've broken it down for you.
What is OOOOO?
The app, which is part TikTok and part Amazon, allows users to watch an endless stream of videos in which creators discuss items they've recently tried and tested. The products can then be purchased directly from the creators through videos and live broadcasts.
Described as "entertainment first, shopping second," the app's overview claims that the shopping experience "exists to provide unscripted opinions, spark live conversations and challenge the way traditional retail works. We do not have shops, trucks or inventory. Just a load of opinions and products to share."
Loafers are the hottest shoes to add to your online basket right now
The app currently has 160,000 users, and OOOOO estimates that live show audiences will exceed up to 10,000 people. Each of the "channels" included consists of content targeted towards diverse audiences.
Cofounder Sam Jones says the app is intended to disrupt the retail industry, explaining in a recent broadcast: "Our view is that the retail industry will never truly recover from this year. Instead, people will form new habits and seek new ways to earn a living. We want to be part of this inevitable shift."
Google just launched a virtual beauty counter and the timing couldn't be better
How does the OOOOO app work?
When you open the app (which is available for both Apple and Android devices), it will take you to its home screen, where you can browse through various topics and live streams.
You can switch between live and previously recorded videos, as well as see who you're following, by going to the top of the page. You can shop by category, check your updates and log into your account by scrolling to the bottom of the screen.
If you want to buy a product listed by one of the contributors, simply tap the product link in the bottom right corner of the video, which will take you to the product page with instructions on how to purchase it. A link will appear at this point, explaining that the video was made by a creator who was sent the product by OOOOO, and that the creator will be credited if you buy the product.
Orders over £20 offer free delivery, while orders under £20 pay a delivery charge of £2.95. And It can take anywhere from five to 10 days for your order to arrive.
What am I able to buy from OOOOO?
At the moment, OOOOO appears to be primarily focused on beauty products, homewares and books but as it expands, it's expected to branch out into many more areas.
The app is also dedicated to helping buskers, with a busking tab for creators. You can order songs, and buskers will be paid if you purchase the product they are selling.
Since December 2020, Kudzai has worked as a trainee journalist at FUTURE, writing about fashion, entertainment and beauty content for My Imperfect Life.

Kudzai previously worked as a freelance fashion wardrobe stylist, directing magazine photoshoots and coordinating the fashion direction of recording artists.

A fully qualified Journalism and Media graduate from De Mont Fort University, Kudzai graduated in the summer of 2020.