See Prince Philip young: a tribute in pictures
Prince Philip young in photos: from his early days at Gordonstoun School, to his enduring love story with Queen Elizabeth II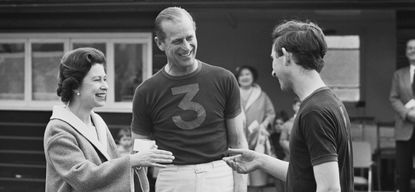 (Image credit: Michael Stroud|Getty)
The tragic news of the death of Prince Philip has rocked the world but images of Prince Philip, young and happy as a devoted husband and father, leave behind a heart-warming legacy.
Prior to his passing this morning, the Duke of Edinburgh had been married to Queen Elizabeth II for 73 years. On their golden wedding anniversary in 1997, the Queen said of her beloved companion: "He is someone who doesn't take easily to compliments. But he has, quite simply, been my strength and stay all these years, and I, and his whole family, and this and many other countries, owe him a debt greater than he would ever claim, or we shall ever know."
Prince Philip first met a young Princess Elizabeth in 1939 when King George VI toured the Naval College in Dartmouth, accompanied by his daughter and Philip's uncle. Philip, a confident and strikingly handsome Lieutenant, was asked to look after her. He reportedly showed off to her on the tennis court in the grounds of the college, marking the start of one of the world's most captivating and long-lasting love stories.
Along with children Anne, Andrew and Edward, Prince Philip is the father of heir apparent Princes Charles and grandfather to Prince William (married to Kate Middleton) and Prince Harry (married to Meghan Markle).
See Prince Philip: young in pictures
July 1935: Prince Philip of Greece dressed for the Gordonstoun School's production of 'MacBeth', in Scotland.
11th July, 1947: Princess Elizabeth and Lieutenant Philip Mountbatten outside Buckingham Palace after announcing their engagement publicly before marrying in 1948.
2nd June, 1953: Queen Elizabeth II and the Duke of Edinburgh wave at the crowds from the balcony at Buckingham Palace after Elizabeth's coronation
9th June, 1955: Prince Philip on his way to attend the State Opening of Parliament.
13th June, 1957: The Royal Family gathers on the balcony of Buckingham Palace to watch the Trooping the Colour ceremony on the Queen's official birthday.
In this undated photo, you can see a young Charles, the Prince of Wales, with his father Philip, the Duke of Edinburgh, onboard a boat
24th June, 1959: Queen Elizabeth II with her husband Prince Philip visiting an open pit mine at Knob Lakes during their royal tour of Canada.
Prince Philip as a beaming father with Prince Charles and Princess Anne.
28th March, 1960: His Royal Highness The Duke of Edinburgh enters the Leicester Square Odeon for the Royal Film Performance of "The Last Angry Man."
23rd March, 1964: Prince Philip meets Ringo Starr, George Harrison, John Lennon and Paul McCartney of the Beatles.
A keen sailor, this is Prince Philip at helm of his yawl, "Bloodhound," during Cowes Regatta.
September 1972: Prince Philip and Queen Elizabeth II visit a farm on the Balmoral estate in Scotland, during their Silver Wedding anniversary year.
July 1975: Prince Philip at a horse carriage driving event in Windsor Home Park, England
Fiona Embleton is a multi-award-winning beauty editor who has tested over 10,000 products in her 10 years + of writing and shooting beauty stories. For the past four years, she was the Senior Beauty Editor at Marie Claire, having previously worked in the role of Beauty Editor at both Stylist and Cosmopolitan. She has recently gone freelance and alongside My Imperfect Life, she has written for titles including ELLE UK, ELLE Canada, Buro 247, Harper's Bazaar Arabia, Vogue Scandinavia, and ES Magazine. Beauty journalism allowed her to marry up her first-class degree in English Literature and Language (she's a stickler for grammar and a self-confessed ingredients geek) with a passion for make-up and skincare, photography, and catwalk trends. She loves jumping on the latest internet-breaking beauty news, dissecting the best red carpet looks, and having the crème de la crème of dermatologists, make-up artists, and hairstylists on speed dial so she can tap them for the best advice. She's a discerning beauty shopper and knows it can be confusing trying to navigate what's hype and what really works. So if she really likes something, you can trust that she has reached that opinion by vetting it against everything else she's ever tried. Her career highs? Interviewing Cate Blanchett and winning a Jasmine Award for the deeply personal feature Cancer Stole My Mother's Scent.