A movie about Meghan Markle and Prince Harry's split from the Royal Family is coming out
First there was Lifetime's 'A Royal Romance'—now it's time for Meghan Markle and Prince Harry to leave the palace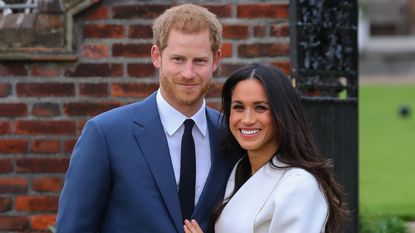 (Image credit: Alamy)
The royal couple have had a busy few weeks—following Meghan Markle and Prince Harry's Oprah Winfrey interview that went viral on March 7th, the Duke and Duchess of Sussex are now back in the news for an entirely different reason: their much-publicized departure from the Royal Family will now be made into a Lifetime movie.
According to the network, "Harry & Meghan: Escaping the Palace"—the third installment of the Harry & Meghan film franchise—has been given the go-ahead for a fall 2021 release. The latest film will follow 2018's "Harry & Meghan: A Royal Romance" and "2019's Harry & Meghan: Becoming Royal."
According to Lifetime, "Escaping the Palace" will "reveal what really happened inside the palace that drove Harry and Meghan to leave everything behind to create a future for themselves and their son Archie."
It also promises to dig into the rivalries that reportedly exist between Meghan Markle and Prince Harry and royal family members including Kate Middleton, Harry's brother Prince William, and their father Prince Charles.
Details about Markle's increasing loneliness and the couple's anger that those in power were not protecting them against the press will also reportedly be delved into in the film.
The network's press release also revealed that the plot will explore concerns that "Harry would not be able to protect his wife and son from the same forces that caused his mother's untimely death."
The film's production is set to begin this spring, and although the cast has yet to be announced, we can expect to find out who will play the royal couple in the coming months.
Given that Lifetime has already cast Parisa Fitz-Henley and Murray Fraser as Meghan Markle and Prince Harry, respectively, in "A Royal Romance," and Tiffany Smith and Charlie Field portrayed them in "Becoming Royal," it's safe to assume the network will cast two new actors for the upcoming installment.
Menhaj Huda, the director of Lifetime's previous two Harry & Meghan movies will also be involved in the upcoming film.

Surely, "Harry & Meghan: Escaping the Palace" will be one movie that you don't want to miss!
Since December 2020, Kudzai has worked as a trainee journalist at FUTURE, writing about fashion, entertainment and beauty content for My Imperfect Life.

Kudzai previously worked as a freelance fashion wardrobe stylist, directing magazine photoshoots and coordinating the fashion direction of recording artists.

A fully qualified Journalism and Media graduate from De Mont Fort University, Kudzai graduated in the summer of 2020.