What was the real reason Bridgerton's Jonathan Bailey had foundation applied to his butt?
Guaranteed to put a smile on your face.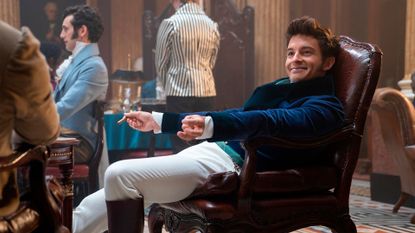 (Image credit: Everett Collection Inc / Alamy Stock Photo)
It takes less than three minutes into the first episode of Bridgerton to be treated to our inaugural sex scene. Namely Anthony Bridgerton enjoying a knee-trembler up against a tree. But did you know that for this bare-bottomed scene, Bridgerton's Jonathan Bailey had foundation applied to his butt?
And how exactly do we know this? And does this count as a genius makeup tip you're never heard before? Jonathan shared a picture on social media showing a makeup artist applying products to his derriere.
When quizzed about the snap by UK talk show host Lorraine Kelly on her morning slot Lorraine, an embarrassed Jonathan simply put the incident down to reducing shine on his bottom.
"Can we talk briefly about bottoms?" asked Lorraine.
"Now we showed this photograph ..." before an image flashed on-screen showing a make-up artist applying what looks like a non-comedogenic foundation to the actors's derriere as he stood on-set with his trousers down.
Cheeky Scot, Lorraine quipped: "Now that's got to be one of the best jobs in the world - that's the wee lady who is, I think they call it 'fluffing' - is that what they do?"
Jonathan replied: "I don't know what they call it Lorraine - I think they call it ice breaking!"
He then went on to say: "But there is a moment when they say 'can we lower the britches' and when I lowered them they were like 'can we call in make-up?'...But luckily it was just to shine the botty."
But Grazia UK has revealed that there was more to it than that. After interviewing Bridgerton's make-up and hair designer Marc Pilcher and hair and makeup supervisor Lynda Pearce, it turns out that the makeup department were actually called in that day to deal with a very un-Regency era problem.
Aka a visible Speedo tan line. Obviously not the sort of thing a vampire-pale British Viscount would be sporting.
We're not sure what's left us frozen mid-coffee slurp: the bare butt image of Anthony Bridgerton or the fact that he still wears Speedos. The mind boggles.
Fiona Embleton is a multi-award-winning beauty editor who has tested over 10,000 products in her 10 years + of writing and shooting beauty stories. For the past four years, she was the Senior Beauty Editor at Marie Claire, having previously worked in the role of Beauty Editor at both Stylist and Cosmopolitan. She has recently gone freelance and alongside My Imperfect Life, she has written for titles including ELLE UK, ELLE Canada, Buro 247, Harper's Bazaar Arabia, Vogue Scandinavia, and ES Magazine. Beauty journalism allowed her to marry up her first-class degree in English Literature and Language (she's a stickler for grammar and a self-confessed ingredients geek) with a passion for make-up and skincare, photography, and catwalk trends. She loves jumping on the latest internet-breaking beauty news, dissecting the best red carpet looks, and having the crème de la crème of dermatologists, make-up artists, and hairstylists on speed dial so she can tap them for the best advice. She's a discerning beauty shopper and knows it can be confusing trying to navigate what's hype and what really works. So if she really likes something, you can trust that she has reached that opinion by vetting it against everything else she's ever tried. Her career highs? Interviewing Cate Blanchett and winning a Jasmine Award for the deeply personal feature Cancer Stole My Mother's Scent.