These new sleep mists smell like your favourite celebrity
Yes, seriously.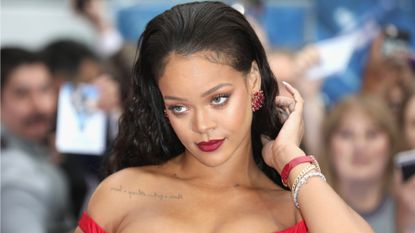 (Image credit: Getty Images:Photo by Tim P. Whitby)
Ever dreamt of getting into bed with your favourite celebrity, even if it's just for one night? Of course you have. Well, what if we told you that fantasy could actually happen in real life?
It may not be exactly what you had envisioned but there is a way you could pretend you're spending the night with the likes of Zac Efron, Margot Robbie and even Rihanna.
British lingerie brand Pour Moi has launched a new line of pillow mists that supposedly smell some of the biggest and most lusted after stars in the world - yes, really!
A little creepy, we know. But at this point, anything goes in 2020.
Each of the new pillow mists have been inspired by the signature scents of the celebrities they are named after, all of which are limited-edition. There are seven different products in total, each of which has attempted to recreate the aromas of Harry Styles, Margot Robbie, Zac Efron, Rihanna, Maya Jama, Jennifer Anniston and Bradley Cooper.
The idea is that the mist will make you fell like you're tucked into bed with the celebrity of your choice, by making your pillow smell like their reported favourite fragrance (so you can fully de-stress and reap all the sleep benefits you deserve). All you have to do is spritz a little on your pillow before bed and let the fantasising commence.
Pour Moi has even provided a little blurb on what you can expect from each fragrance...
The seven scents
The Harry: Inspired by the scent of Harry Styles and his favourite perfume, this mist is a potent melange of creamy vanilla, dry fruits and sweet wood sap.

The Margot: Drift off dreaming of Margot Robbie, with a pillow mist that captures her intoxicating aroma of persimmon, pomegranate and rich orchid.

The Ri: Go to bed with Rihanna filling up your senses with this pillow mist that pays tribute to the queen of pop's expensive taste in perfume – notes include marshmallow, neroli and orange blossom.

The Zac: Close your eyes and imagine Zac Efron and his wonderful face on the pillow next to you with this mist that encapsulates his fresh masculine scent, filled with herby notes and green apple.

The Jennifer: Breathe in the classic and sophisticated smell of Jennifer Anniston with a pillow mist that is inspired by her favourite smells of orange blossom, lily and sandalwood.

The Bradley: Fans of A Star is Born can fall asleep taking in the scent of the handsome and talented Bradley Cooper, with a pillow mist that blends notes of coriander, fir and leather.
The Maya: This seductive pillow mist captures the fresh and gorgeous spirit of UK TV presenter Maya Jama with her favourite combo of fruity and spicy notes mixed with an underlying layer of honey.
Want one? They're available to shop on the Pour Moi website now but something tells us they'll all be snapped up as soon as people catch wind of it, so you'll have to move fast.
Sagal is a journalist, specialising in lifestyle, pop culture, fashion and beauty. She has written for a number of publications including Vogue, Glamour, Stylist, Evening Standard, Bustle, You Magazine, Dazed and Wonderland to name a few.