This fact about the Super Bowl halftime performers 2022 shocked us
How much do you think the Super Bowl halftime performers 2022 will be paid?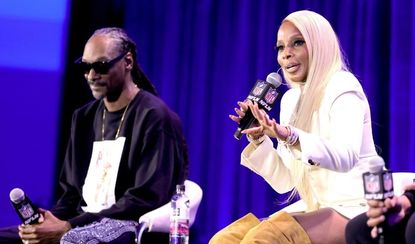 (Image credit: Amy Sussman / Getty)
The Super Bowl halftime performers 2022 have had us all reeling with excitement since the moment they were announced, especially hip-hop fans far and ide.
In what is set to be a historic moment—and possibly among the most memorable Super Bowl halftime performances of all-time—music legends Dr. Dre, Snoop Dogg, Eminem, Mary J. Blige and Kendrick Lamar will hit the stage together on Sunday, February 13. One thing you may not have expected, however, is that none of them will be getting paid for the show.
How much are the Super Bowl halftime performers 2022 paid?
Believe it or not, there are strict rules when it comes to paying performers for the Super Bowl halftime show—the main one being that they don't get paid at all. Surprising, we know. You'd expect the likes of Prince, Beyoncé and Paul McCartney to be raking in the big bucks for not only the time spent on stage in front of the entire world but months of prep, rehearsals and a plethora of logistics to make the heavily-viewed performance happen. But the truth is, they do indeed all do it for the experience and the ample opportunities that may follow.
According to league policy, the National Football League covers all costs related to the production of the halftime show as well as their travel expenses, but the performers themselves don't take home a paycheck. So what's in it for them?
You guessed it: exposure. It's no secret that the Super Bowl stage is one of the biggest and most televised in the world, meaning any artist who gets the opportunity to perform will be jumping at the chance to reach what is possibly their largest audience yet. The moment is almost always guaranteed to result in financial gain, as it leads to an inevitable increase in music sales thanks to the millions of people tuning in, some of whom are just discovering the music being performed.
When Lady Gaga performed in 2017, sales of her digital catalog spiked 1000%. Similarly, Justin Timberlake's halftime show in 2018 resulted in his music sales rising by 534% that same day. If that isn't power, we don't know what is!
This year, Dr. Dre, Snoop Dogg, Eminem, Mary J. Blige and Kendrick Lamar will all be reaping the same benefits after gracing the stage at SoFi Stadium in Los Angeles, California on February 13.
Speaking of the upcoming performance, Mary J. Blige explained in an interview that she wasn't bothered about not being paid by the NFL. "Listen, you're gonna be paid for the rest of your life off of this," she said in an interview with The Cruz Show. "People are gonna be knocking at your doors. They don't have to pay me, but if they was paying, it would be a lot of money."
Similarly, Dr. Dre, who is an LA native alongside his co-performer Snoop Dogg, said: "The opportunity to perform at the Super Bowl Halftime Show, and to do it in my own backyard, will be one of the biggest thrills of my career."
The five hip-hop egends will be following in the footsteps of The Weeknd, who performed last year, and the epic show put on by Jennifer Lopez and Shakira in 2020.
How to watch the Super Bowl halftime show 2022:
You can catch the star-studded 2022 halftime show on NBC or stream it live on Peacock.
Sagal is a journalist, specialising in lifestyle, pop culture, fashion and beauty. She has written for a number of publications including Vogue, Glamour, Stylist, Evening Standard, Bustle, You Magazine, Dazed and Wonderland to name a few.