The Weeknd's top ten best songs—ranked
What's your favourite The Weeknd song? Here's a carefully curated list of our top ten from his discography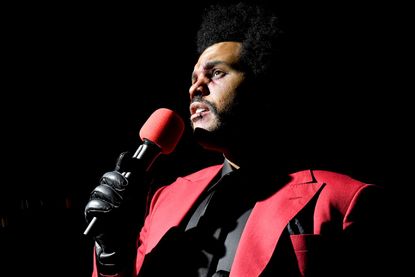 (Image credit: Photo by Kevin Mazur/MTV VMAs 2020/Getty Images for MTV)
The Weeknd is one of the biggest musicians of our generation. His upcoming Super Bowl halftime show is further proof of his universal star status and will no doubt cement him as a music legend. So as we patiently wait for the big day this Sunday, February 7, and his recently announced 2022 After Hours world tour, let's revisit some of his best songs to date.
Long before the Canadian-Ethiopian singer was the hit-making, Grammy-winning, entrepreneurial pop machine he is today, he was Abel Tesfaye—a young R&B singer from Toronto who anonymously shared moody songs on YouTube. In fact, ten years ago, in February 2011, The Weeknd dropped three songs on the platform under the username "xoxxxoooxo", one of which was cult favorite What You Need. Within a month, he released a fully fleshed mixtape titled House of Balloons, co-signed by Drake, who tweeted the free download link, and just like that, the XO fandom was born.
Listening to The Weeknd was a euphoric experience. We got high off his soft Michael Jackson-esque voice and let his emo lyrics teleport us to a beautiful pit of sadness (dark, we know, but we couldn't get enough). This continued with the release of Trilogy, an alternative R&B album compiling his three 2011 mixtapes including House of Balloons, Thursday and Echoes of Silence in one. With songs from all three, it features his signature melancholy themes of sex, drugs, loneliness and earth-shattering heartbreak. Some, if not all, of his best songs are from this project. But then came the mainstream milestones, taking his career to new heights and inviting a global pop audience courtesy of Starboy and After Hours, two award-winning albums that earned The Weeknd critical acclaim.
Not many artists can say they have a discography that ranges from tearing our hearts into a million pieces one day and making us learn novelty TikTok dances (Blinding Lights was definitely a pandemic anthem) the next. But when was The Weeknd truly at his best? Our answer is, when he made these 10 songs...
10. I Feel It Coming ft Daft Punk (Starboy)
The Weeknd has long been compared to Michael Jackson, most notably after he dropped 'D.D', a moody take on 'Dirty Diana'. However, his most reminiscent moment of the controversial 'King of Pop' is I Feel It Coming—the song is a delicious pop track with an addictive disco groove that can be played over and over again, solidifying the fact that Daft Punk and The Weeknd are an excellent duo. The song, which has MJ written all over it, is a timeless feel-good track that can be enjoyed by the masses, hence its radio and chart success.
9. Sidewalks ft Kendrick Lamar (Starboy)
Another incredible gem from the Starboy album, this time with Pulitzer-Prize winning rap genius Kendrick Lamar gracing us with a strong verse. Sidewalks is a complete standout on the album with The Weeknd's sweet falsetto combined with Kendrick's flow switch-ups, creating a match made in heaven. Then there's the electric guitar riffs, oooff!
As for the lyrics, The Weeknd opens with "I ran out of tears when I was 18,"... need we say ANY more?! A work of art.
8. Tell A Friend (Beauty Behind The Madness)
Produced by Kanye West, Tell Your Friends is Abel on top form. Adopting a Kanye-like bravado, he boasts about his success whilst highlighting his incredible come up and we love this for him. As always, he lets us in on the details of his glamorous new lifestyle but also tells us about the bizarre aspects of fame, with one of the most memorable lines being: "My cousin said I made it big and it's unusual / She tried to take a selfie at my Grandma's funeral." As always there are the usual mentions of sex and drugs, but he's very nonchalant about it all.
7. Often (Beauty Behind The Madness)
The best songs by The Weeknd are his sexy songs, there's no debate about it. In fact, his soft voice goes hand in hand with filthy lyrics, and then you add a sensual beat? It's all over. Often is a great example—the word p*ssy is mentioned about 100 times but he makes even the most explicit lyrics sound so mellow. A real skill!
6. High For This
High For This is the first track on House of Balloons and so became the first song many OG fans heard. Not only that but it's an incredible song that sets the tone for the dark R&B genre that The Weeknd has made his own but also inspired a new generation of artists to experiment with. The song is about getting high but the lyrics foreshadow his future as he gently sings "You don't know what's in store"—and at the time, we really didn't. Look at him now!
5. The Birds Pt 2. (Thursday)
In The Birds Pt 1, Abel warns a woman not to fall in love with him but as The Birds Pt 2 tells us, she clearly didn't listen. The song is hands down one of (if not the) eeriest songs he's put out so prepare to be deep in your feelings as his gentle voice pierces your heart with every verse. It's one of those songs you blast in your AirPods when you just need a sad girl moment and honestly, it's therapeutic.
4. Wasted Times (My Dear Melancholy)
Just when we thought we'd lost Abel to mainstream pop anthems and disco funk, he dropped My Dear Melancholy, an EP drawing back to his moody roots and serving all the day one fans. In Wasted Time, he is his most vulnerable self, as he pines after his ex-girlfriend Bella Hadid. "I don't want to wake up, if you ain't laying next to me" he sings hauntingly, letting us know that the old Abel is in fact back. The production for this song is also incredible (thank you Skrillex and Frank Dukes) and as always, his vocals are stunning!
3. Wicked Games (House of Balloons)
Wicked Games is The Weeknd at his finest. If you were to describe his original sound, this is the song you'd play. The lyrics, however, are slightly different from his heartbreaker tendencies. This time, he's the one looking for love but that doesn't mean he doesn't detail all the bad he's done. But in true Abel form, we can't help but sympathize with him despite his wrongdoings as he sings them so gently. Our hearts ache for him even more when he belts out: "So tell me you love me/Even though you don't love me!"
2. Loft Music (House of Balloons)
This song is an undeniable bop. We LOVE this Abel. Abandoning traditional structures, this song has no hook, giving it a freestyle feel as we get an uninterrupted two minutes and 20 seconds of The Weeknd detailing filthy sexual experiences with girls at a loft party, before interluding into psychedelic vocal riffs for the remaining three minutes of the song. It's simply genius!
1. The Morning (House of Balloons)
Most XO fans will agree when we say that this is the best song of all time by The Weeknd. From House of Balloons, the sensual track is a masterpiece that fills our ears with escapism. The production is simply stunning and his voice sounds magical as he vividly reflects on a wild night of partying with drugs, alcohol and a woman with money as her motive, and the morning after. 10/10!
Sagal is a journalist, specialising in lifestyle, pop culture, fashion and beauty. She has written for a number of publications including Vogue, Glamour, Stylist, Evening Standard, Bustle, You Magazine, Dazed and Wonderland to name a few.