The most memorable Super Bowl halftime performances of all time
The best Super Bowl halftime shows— from Justin and Janet's #nipplegate to Beyoncé's iconic Formation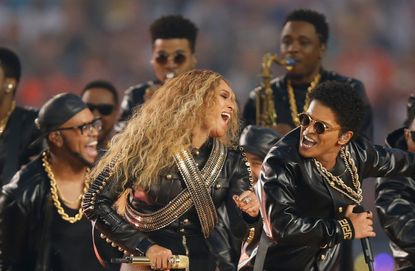 (Image credit: Photo by Ezra Shaw/Getty Images)
This year's Super Bowl halftime show is just days away and as we patiently wait for The Weeknd's highly anticipated halftime performance, we thought we'd take a trip down memory lane to relive some of our favorite halftime performances in the history of the Super Bowl.
Football fans may refuse to accept it but for many of us, the halftime show is the highlight of the annual NFL event. That, and the national day drinking and constant snack consumption that's synonymous with Super Bowl weekend, of course.
Over the years, we've seen some pretty iconic performances by the biggest and best in the music industry—from everyone like Prince and Beyoncé to Paul McCartney and Lady Gaga. Then there was Jennifer Lopez and Shakira's mesmerizing collaboration at last year's Super Bowl, and the one that'll go down in the history books of pop culture forever: Justin Timberlake and Janet Jackson's #nipplegate.
To refresh your memory, here are some of the most memorable Super Bowl halftime shows we've had over the years...
The best Super Bowl halftime shows of all time
Justin Timberlake and Janet Jackson, 2004
Cast your mind back to 2004—it's Super Bowl weekend in Houston and you can't wait to watch an all-star line up including Janet Jackson, Justin Timberlake, Nelly, P Diddy, Jessica Simpson and Kid Rock take the stage for the halftime show. When they arrive, there's a lot going on - Diddy's doing his signature two-step on a moving platform, Nelly rides onto stage in a red car whilst breaking into Hot in Here, Jessica Simpson is...well, being Jessica Simpson and there are a million dancers on stage running around as we try to distract ourselves from Kid Rock's awful outfits. Then, Justin *accidentally* rips off Janet's bralette exposing her entire boob to the world. Yep, what a moment.
Beyoncé, Bruno Mars & Coldplay 2016
Beyoncé's 2016 halftime show is one of our favorites to date and for good reason. The powerful performance blew the world away with its beautiful celebration of Black culture and references to iconic Black figures both in the past and present. The show had a HBCU theme, championing Black colleges and their traditions and most notably, she gave us Formation, an anthem uplifting Blackness and shedding light on the Black Lives Matter movement, condemning police brutality. Beyoncé was also joined by Bruno Mars and Coldplay, making the show even more special.
Prince, 2007
One of the most incredible moments in Super Bowl history is when Prince graced the stage in 2007. The late legend put on a beautiful show, performing some of his greatest hits including Baby I'm a Star and Along the Watchtower before ending with his timeless classic Purple Rain, right on cue for a downpour at the stadium. The entire performance was flawless from start to finish, creating a special moment in Super Bowl history without all the extravagance of today's performances.
Lady Gaga, 2017
The Super Bowl halftime show is all about elaborate, over-the-top performances and of course, Lady Gaga is the queen of the category: a fact she proved during her 2017 halftime show. At a time where political tension was rife in America (Trump had just been sworn in as the next President of the United States), we were all at the edge of our seats wondering how political Gaga's performance was going to be. However, she kept political references subtle and focused on her hits, performing everything from Poker Face (which she actually bungee-jumped from the top of the stadium onto the stage to sing) and Bad Romance to Born This Way and Joanne.
Diana Ross, 1996
The icon that is Diana Ross headlined the Super Bowl in 1996 and what a performance it was. In true diva form, she descended from the sky on a sparking platform to perform a special medley of some of her biggest hits, from Baby Love to Stop in the Name of Love. For each song, she has a different outfit which is impressive in itself. Then, she rises up to the sky to sing Ain't No Mountain High Enough before an actual helicopter emerges, landing on the field to pick her up. She waves to the crowd and she's off. If that isn't the best exit in Super Bowl history, we don't know what is.
Jennifer Lopez & Shakira, 2020
In 2020, before the world went to sh*t, Jennifer Lopez and Shakira teamed up for the ultimate celebration of Latin culture at the Superbowl halftime. The stage was packed with glitter costumes, mesmerizing dancers, a Puerto Rican flag on one side and an American flag on the other. At one point, JLo even jumped on a pole to show off her moves (a subtle nod to her latest movie at the time, Hustlers) and Shakira proved that her hips still don't lie. However, the most endearing moment came when JLo's daughter joined her mother on stage to sing Let's Get Loud alongside a sea of other tween girls. It was adorable!
Sagal is a journalist, specialising in lifestyle, pop culture, fashion and beauty. She has written for a number of publications including Vogue, Glamour, Stylist, Evening Standard, Bustle, You Magazine, Dazed and Wonderland to name a few.