Are Sydney Sweeney and Glen Powell dating? Why fans think so
Those Sydney Sweeney Glen Powell dating rumors are flooding social media. But are they just close co-stars or something more?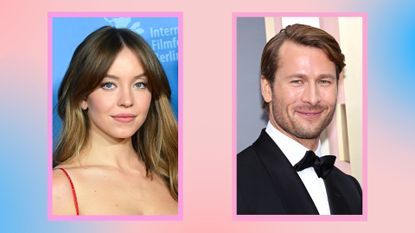 (Image credit: Monica Schipper/The Hollywood Reporter/Getty; Stephane Cardinale/Corbis/Corbis/Getty )
Those Sydney Sweeney Glen Powell dating rumors are the talk of the town—but are these two merely friendly coworkers or is that romance real?
The 25-year-old Euphoria-slash-The White Lotus starlet and the 34-year-old Top Gun: Maverick actor first started making waves online rom-com when it was announced that they were co-starring in an untitled rom-com directed by Will Gluck.
The twosome clearly has chemistry, as evidenced by the PDA-packed photos that paparazzi have been snapping onset in Australia and the chummy personal pics the two stars have posted together. They even spent Easter together with Powell's visiting family.
But it looks like all that romantic tension may have made its way offscreen, too. Why does everyone think Sydney Sweeney and Glen Powell? Here's everything we know so far.
All about those Sydney Sweeney Glen Powell rumors
First things first: last we officially heard, both Sydney Sweeney and Glen Powell were taken.

Powell has reportedly been dating Jehane-Marie "Gigi" Paris since 2020, with the two going Instagram official a year later and the 30-year-old model-turned-designer popping up frequently on the actor's arm during the red-carpet promo for Top Gun: Maverick in the of summer 2022.
For her part, there was news that Sydney Sweeney's boyfriend, 37-year-old Chicago-based businessman Jonathan Davino, was actually her fiancé, with People confirming the couple's engagement after four years of dating back in summer 2022.
However, social-media sleuths have pointed to several online clues that seemingly suggest that those relationships might not be current and that Sweeney and Powell may now be together instead.
For one, a video of the two actors with face-splitting smiles as Sydney falls into Glen's lap on a sofa has gone viral. The clip is only five seconds but it was long enough for romance rumors to spread like wildfire on Twitter and Instagram.
Glen Powell and Sydney Sweeney in new video. pic.twitter.com/52iuJ1rn06April 24, 2023
See more
Adding fuel to the fire was the reaction of Glen's girlfriend Gigi, who allegedly unfollowed Sydney Sweeney on Instagram since visiting Powell onset in Australia back in March 2023. She was previously supportive of Sweeney, commenting "🎉🎉🎉" on her post announcing the project back in January 2023.
What's more, Gigi scrubbed her Instagram page clean of all photos of her actor beau, and has also made several pointed Instagram Story posts recently, featuring famous breakup songs like Fleetwood Mac's "Silver Springs" and Aretha Franklin's "Respect."
So has Glen and Gigi officially split? Popular gossip account DeuxMoi suely seems to believe so, posting a recent segment from the brand's podcast on April 22: "I heard from multiple trusted people that it's over between Glen and Gigi. It's not the first time they've broken up but it feels real this time."
Fans react to Sydney Sweeney Glen Powell dating rumors
Of course, none of the aforementioned parties have made official confirmation one way or another, but that hasn't stopped people from taking to social media to discuss the rumored new couple:
Glen Powell and Sydney Sweeney between takes….. yep something's brewing over there 😳 pic.twitter.com/Sq5736iYyoApril 20, 2023
See more
sydney sweeney and glen powell took that personally https://t.co/VfrixQYUmn pic.twitter.com/NmK05Ohq4fApril 18, 2023
See more
Sydney Sweeney and Glen Powell in a rom com movie about fake dating like i can already FEEL the chemistry pic.twitter.com/ZQNYlqYF86April 17, 2023
See more
either sydney sweeney and glen powell have the greatest chemistry since kate hudson and matthew mcconaughey in how to lose a guy in 10 days or they're doing it together every weekendApril 23, 2023
See more
That viral vid of Glen Powell & Sydney Sweeney going around w pics of them cozy together, Gigi Paris posting Silver Springs by Fleetwood Mac & Respect by Aretha Franklin on her IG story & she deleted all her pics w Glen OH IT IS GETTING GOOD IN THE HOUSE OF COMMONS pic.twitter.com/MTnyJOeejlApril 24, 2023
See more
i'm expecting glen powell and sydney sweeney to show up like this for that red carpet pic.twitter.com/vtIaoGzoL7April 23, 2023
See more
Christina Izzo is the Deputy Editor of My Imperfect Life.
More generally, she is a writer-editor covering food and drink, travel, lifestyle and culture in New York City. She was previously the Features Editor at Rachael Ray In Season and Reveal, as well as the Food & Drink Editor and chief restaurant critic at Time Out New York.
When she's not doing all that, she can probably be found eating cheese somewhere.