Taylor Swift's Grammy dress is a floral dream as she makes music history
We love Taylor Swift's Grammy dress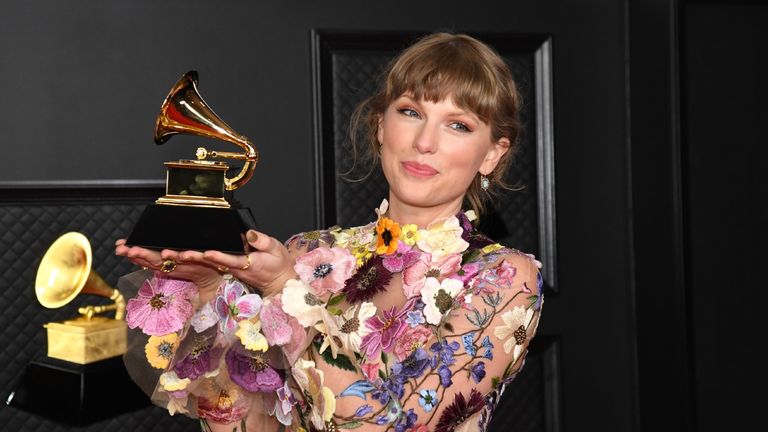 (Image credit: Getty Images / Kevin Mazur / Contributor)
The Grammy Awards are the music event of the year, where we're treated to not only groundbreaking performances but all the gorgeous celebrity looks—and Taylor Swift's Grammy dress did not disappoint. 
On the same night Beyoncé became the most-awarded woman in Grammys history, Taylor made history by bringing home Album of the Year for the third time.
But Swift fans were also delighted with her Oscar de la Renta mini dress—the sheer mini dress was covered in multicolored embroidered flowers which she paired with pink heels and a matching face mask. Florals for spring? We're actually into it.
The dress is being described as the most Taylor Swift dress ever—that she and only she could pull off. She gave us some serious flower power as she won Album of the Year for her lockdown release, Folklore.
Fans took to Twitter to appreciate Taylor's epic flower dress, one tweeted: "Can we talk about miss Taylor Swift's Dress For a minute or two @taylorswift13".
Another fan said (in all caps because excitement): "THE TAYLOR SWIFT SET WAS FROM MY COTTAGE CORE DREAMS, HER DRESS WAS STUNNING @taylorswift13".
A third fan jokingly compared her floral dress to Florence Pugh's iconic flowered covered outfit in Midsomer saying: "Really love Taylor Swift's dress." 
Twitter is full of appreciation posts to her dress and adorable matching face mask, not to mention her historical musical achievement.
Taylor is the third artist ever to win the Album of the Year three times, and the first woman to ever do this. The only other artists to win this accolade are Frank Sinatra, Paul Simon, and Stevie Wonder. 
She won Album of the Year for Fearless in 2010, 1989 in 2016, and now Folklore in 2021.