Taylor Swift has rerecorded Fearless and will release a new version of Love Story tonight
Is this the best news of 2021?!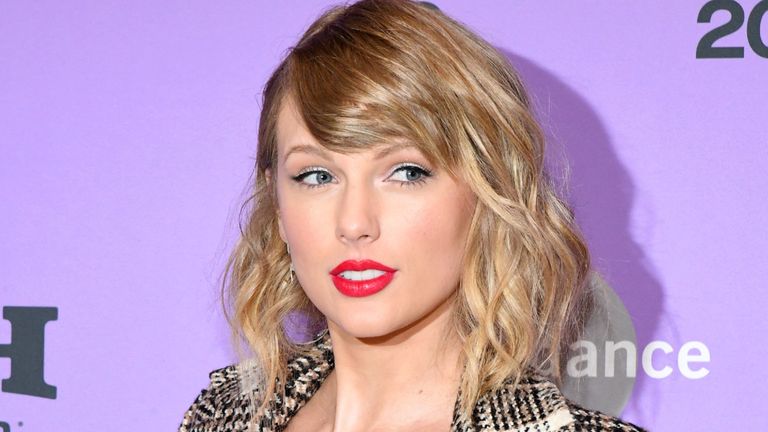 (Image credit: Getty Images / Kevin Mazur / Contributor)
Taylor Swift is the mastermind behind some of the best break up songs ever, and now she's treating us to even more epic tunes. This morning, the pop icon announced on Good Morning America that she has re-recorded her 2008 Grammy Award-winning album Fearless and it will be released soon. (Cue our excited shrieks here!)
The new album, entitled Fearless: Taylor's Version, will include six bonus, never-before-heard tracks that Swift wrote between the ages of 13 and 16. It will also include a brand-new recording of one of our favorite T Swift songs, Love Story, as the album's first single, reportedly dropping Thursday, February 11th at midnight. (Yes, that means tonight.)
The singer-songwriter even treated fans to a sneak peek at the new album artwork: the cover art features a picture of Swift recreating the iconic Fearless pose in sepia tone.
She also took to Twitter and said: "I'm thrilled to tell you that my new version of Fearless (Taylor's Version) is done and will be with you soon." Along with her picture, she posted a statement where eagle-eyed fans spotted the hidden release date. In capitals throughout the text, 'APRIL NINTH' is spelled out.
The bonus track names are yet to be announced, but the 20 original Fearless tracks that you know and love and karaoke to often—yes, including the new Love Story—are all accounted for.
This news follows Taylor's announcement in August 2019 that she would be re-recording all of her albums that are currently under the ownership of problematic record executive Scooter Braun. In 2017, Braun conducted a multi-million dollar acquisition of Big Machine label and took ownership of all of Swift's work—the majority of which Taylor herself wrote the lyrics and arranged the melodies for—up to her album Reputation. Swift has said she has never been given the opportunity to own her own masters and therefore is re-recording them to take back some ownership of her musical catalog.
Fans are beside themselves, with one saying: "Taylor Swift is seriously just feeding us through this pandemic oh my god.'" Another joined in: "Ily omg I can't believe this, I was 5 or something when I heard love story for the first time this is gonna be magical."
Check out the track listing of the new Fearless album below and make sure to mark your calendars for April 9th!
Fearless (Taylor's Version) Track Listing
1. Fearless (Taylor's Version)
2. Fifteen (Taylor's Version)
3. Love Story (Taylor's Version)
4. Hey Stephen (Taylor's Version)
5. White Horse (Taylor's Version)
6. You Belong With Me (Taylor's Version)
7. Breathe (feat. Colbie Caillat) (Taylor's Version)
8. Tell Me Why (Taylor's Version)
9. You're Not Sorry (Taylor's Version)
10. The Way I Loved You (Taylor's Version)
11. Forever & Always (Taylor's Version)
12. The Best Day (Taylor's Version)
13. Change (Taylor's Version)
14. Jump Then Fall (Taylor's Version)
15. Untouchable (Taylor's Version)
16. Forever & Always (Piano Version) (Taylor's Version)
17. Come In With The Rain (Taylor's Version)
18. Superstar (Taylor's Version)
19. The Other Side Of The Door (Taylor's Version)
20. Today Was A Fairytale (Taylor's Version)
21. Bonus Track 1 (From The Vault)
22. Bonus Track 2 (From The Vault)
23. Bonus Track 3 (From The Vault)
24. Bonus Track 4 (From The Vault)
25. Bonus Track 5 (From The Vault)
26. Bonus Track 6 (From The Vault)