This £6 non-comedogenic foundation is on the Amazon best seller list
Rimmel's Lasting Matte Foundation has received rave reviews for being a great option for acne-prone skin.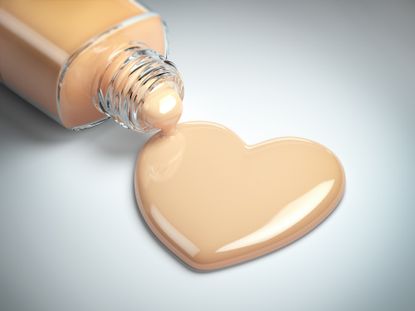 (Image credit: Getty Images)
Finding the right foundation is a real task, especially for those of us with acne or breakout prone skin. That's where the best non-comedogenic foundations come into play. Why? Well, they have special formulas that have been created to avoid clogging up your pores. And at the moment, there's one foundation in particular that's been getting lots of attention for working magic.
Rimmel London's Lasting Matte Foundation is currently on the Amazon bestseller list and has been for some time now, with hundreds of four star ratings. The purse-friendly product is just £6.38 and is said to work wonders with its non-comedogenic formula.
For those who aren't familiar with the term 'non-comedogenic', it stems from the word 'comedone' which is just the fancy medical term for clogged pores.
Comedones can be open (to us, blackheads) which occurs when the oil and bacteria clogging the pore have become oxidized by the air and, as a result, the change colour. Alternatively, they can be closed (whiteheads this time) and placed just underneath the skin.
The last thing we want to do when we've got a blackhead or a whitehead is congest our skin by piling make-up onto these open pores as this only results in more comedones. But similarly, we don't want to walk around with the spots on show. So what do we do? Use a non-comedogenic foundation, that's what!
Rimmel London's Lasting Matte Foundation provides full coverage but feels super light-weight on the skin, according to reviews.
The formula also contains a triple-balance powder technology which absorbs twice its weight in oil to create an ultimate matte finish, which is what we all want!
"I love this product. Great coverage and lasts all day" one happy customer wrote in an Amazon review. Meanwhile another said: "Really good coverage and colour match is perfect. Applies very smoothly." And yet another commented: "My skin feels really soft to the touch when wearing this. I don't put it on the laughter lines however, as it shows them up more. You only need a small amount. Will be buying more in the future."
Considering the reviews and the price, so will we!
Sagal is a journalist, specialising in lifestyle, pop culture, fashion and beauty. She has written for a number of publications including Vogue, Glamour, Stylist, Evening Standard, Bustle, You Magazine, Dazed and Wonderland to name a few.