The 60-second skin rule that could transform your face
Using cleanser the right way could change everything...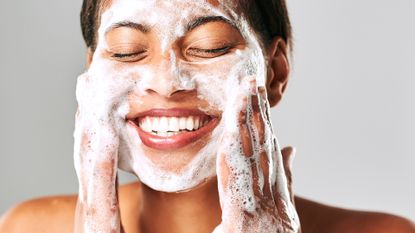 (Image credit: Moyo Studio/Getty Images)
Facial cleanser - it's not exactly sexy compared to that slick superstar serum that leaves skin plumper than a hotel pillow. But using cleanser the right way - now that has a whole new ring to it and, right now, could be the one thing standing between you and 'maskne' (mask-related acne).
Did you know that your cleanser plays a key role in how hydrated your skin is? Or that it's responsible for how well your skin responds to the other products in your routine like your vitamin C serum? No? Well consider this a page to bookmark, then.
The key to ticking all those boxes is to wash your face, morning and night, for a full 60 seconds each time. It's easy to remember, doesn't require a whole new regime and, literally, only takes a minute.
Why should you cleanse for 60 seconds?
In the same way that you should to wash your hands for the length of time it takes to sing Happy Birthday in your head, 60 seconds is the amount of time it takes for ingredients like pore-purging salicylic acid to actually do a good job of cleansing.
"A lot of women make the mistake of only cleansing for 10-15 seconds. A minute-long cleanse is the amount of time it takes to fully remove dirt, sunscreen and make-up, all of which can clog pores and prevent the serum you apply next from penetrating as well," says New York dermatologist, Dr Dennis Gross.
That's just as true of normal foundation FYI as the best non-comedogenic foundations.
Acne-prone skin, in particular, will generally benefit. "Remember, acne starts with blocked pores and congestion," he adds. "As well as removing excess oil, a minute-long cleanse using alpha and beta hydroxy acids such as glycolic, mandelic and azelaic acids has the added benefits of gently exfoliating the skin. I recommend my Alpha Beta Perfecting Cleansing Gel to patients with blemish-prone skin as it eliminates bacteria while also loosening the glue that sticks dead skin cells to the new ones underneath."
There are, however, two caveats. First, if you cleanse in the shower make sure the water isn't too hot - "60 seconds of cleansing with hot water can dry out the skin and cause irritation," says Gross.
Second, if your skin feels tight and uncomfortable after a minute-long cleanse, it's likely your cleanser is too astringent. The ideal product will also have ingredients to hydrate and keep the skin barrier strong such as aloe vera and urea - both off which you'll find in Dr Barbara Sturm's Cleanser. Result.
Fiona Embleton is a multi-award-winning beauty editor who has tested over 10,000 products in her 10 years + of writing and shooting beauty stories. For the past four years, she was the Senior Beauty Editor at Marie Claire, having previously worked in the role of Beauty Editor at both Stylist and Cosmopolitan. She has recently gone freelance and alongside My Imperfect Life, she has written for titles including ELLE UK, ELLE Canada, Buro 247, Harper's Bazaar Arabia, Vogue Scandinavia, and ES Magazine. Beauty journalism allowed her to marry up her first-class degree in English Literature and Language (she's a stickler for grammar and a self-confessed ingredients geek) with a passion for make-up and skincare, photography, and catwalk trends. She loves jumping on the latest internet-breaking beauty news, dissecting the best red carpet looks, and having the crème de la crème of dermatologists, make-up artists, and hairstylists on speed dial so she can tap them for the best advice. She's a discerning beauty shopper and knows it can be confusing trying to navigate what's hype and what really works. So if she really likes something, you can trust that she has reached that opinion by vetting it against everything else she's ever tried. Her career highs? Interviewing Cate Blanchett and winning a Jasmine Award for the deeply personal feature Cancer Stole My Mother's Scent.