This is why you get spots on the cheeks
For real.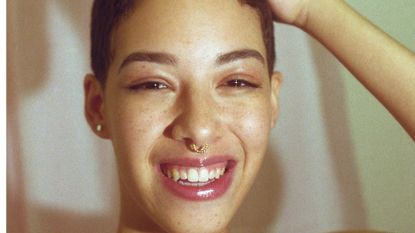 (Image credit: Ashley Armitage / Refinery29 for Getty Images)
In the age of 'maskne' we've become well-acquainted with breakouts on our chin, but what causes spots on the cheeks?
According to face mapping, breakouts on the jawline and chin are often linked to hormones as well as the occlusive nature of face masks that suffocate pores. Meanwhile, breakouts on the forehead can be blamed on stress, which causes a spike in cortisol and oil production.
But when it comes to our cheeks, the root cause is more likely to be found in those habits that cause bad bacteria to have a party on our skin. From cradling our faces in our hands, to dirty phones and pillowcases, not to mention grimy makeup brushes and swerving the best non-comedogenic foundations in favour of pore-clogging formulas, our cheeks bear the brunt of our bad behaviour.
It's no exaggeration to say that our cell phones have become extensions of our arms, and, in doing so, our screens have become magnets for facial oil, makeup and pollution. And with each call we make, we smear that grime all over our cheeks. In fact, one study revealed that our phones have more bacteria on them than a public restroom.
Our beds pose another threat to healthy skin. In just two weeks, your bedsheets are a breeding ground for bacteria, dust, dirt, fungi and pollen. And, you guessed it, your cheeks come in direct contact with these unmentionables (um, ew).
But there is a silver lining to all this: a positive, more considered shift in behaviour is all it's going to take to nix the spots on your cheeks and restore calm.
How to get rid of spots on the cheeks
As well as a new weekly rota of changing your sheets and cleaning your makeup brushes, stepping up your daily skincare is another preventative measure worth taking.
As for the best acne skin care routine, dermatologist Dr Anjali Mahto says oil cleansers are a beauty fad best avoided if you want to swerve spots: "They leave behind residue, which can block pores." Opt for a gentle foaming cleanser, ideally one spiked with salicylic acid, instead.
And to ensure that said salicylic acid and your best retinol serums don't have a drying effect on your skin, Dr Mona Gohara, a Yale-trained dermatologist, is an avid believer in including a non-comedogenic moisturizer to your regime. Skip this stage at your peril as there may be a surge of oil deep within your skin to compensate [read: more clogged pores and breakouts].
She says: "If you skin's oily, go for a lighter lotion made up primarily of water. If your skin's dry from the acne treatments you're using choose a cream that contains more oil."
Fiona Embleton is a multi-award-winning beauty editor who has tested over 10,000 products in her 10 years + of writing and shooting beauty stories. For the past four years, she was the Senior Beauty Editor at Marie Claire, having previously worked in the role of Beauty Editor at both Stylist and Cosmopolitan. She has recently gone freelance and alongside My Imperfect Life, she has written for titles including ELLE UK, ELLE Canada, Buro 247, Harper's Bazaar Arabia, Vogue Scandinavia, and ES Magazine. Beauty journalism allowed her to marry up her first-class degree in English Literature and Language (she's a stickler for grammar and a self-confessed ingredients geek) with a passion for make-up and skincare, photography, and catwalk trends. She loves jumping on the latest internet-breaking beauty news, dissecting the best red carpet looks, and having the crème de la crème of dermatologists, make-up artists, and hairstylists on speed dial so she can tap them for the best advice. She's a discerning beauty shopper and knows it can be confusing trying to navigate what's hype and what really works. So if she really likes something, you can trust that she has reached that opinion by vetting it against everything else she's ever tried. Her career highs? Interviewing Cate Blanchett and winning a Jasmine Award for the deeply personal feature Cancer Stole My Mother's Scent.