Skincare expert reveals why vitamin C might not always be a good idea for your skin
This is not a drill.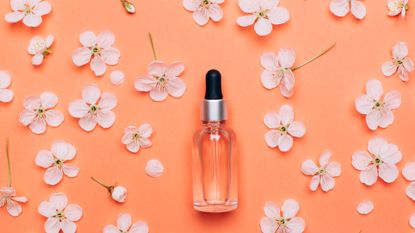 (Image credit: Anna Efetova/ Getty Images)
It's been hailed as one of the most robust skincare ingredients, the benefits of using a vitamin C serum extending beyond just brightening uneven skin tone to boosting collagen production. So if we told you that vitamin C side effects are real - that it can irritate skin, and potentially not even work, you'd probably be left aghast.
To clarify things, myimperfectlife spoke to Dr Barbara Sturm, an aesthetic doctor whose clients include Hailey Bieber, who only recently added a well-considered vitamin C serum (the aptly named, Good C Vitamin C Serum) to her arsenal of best-selling skincare. The reason for the wait? Ensuring the formula was just right, even for sensitive skin.

"Two common mistakes when using a topical Vitamin C product are applying too high a dosage and using non-THD vitamin C," Sturm told us. "If you apply a large amount of water-soluble ascorbic acid to the skin all at once, it can cause irritation."
Vitamin C's genius tends to only be matched by its instability in skincare formulas. If you've ever applied your best vitamin C serum and found that it smells off and the color has turned dark brown, the likelihood is it's oxidised and lost its potency as a result of exposure to sunlight or air.
According to Sturm, the way to side step this issue is by replacing water-soluble vitamin C (ascorbic acid) with one that is lipid soluble (tetrahexyldecyl ascorbate, or THD, to be precise). "If vitamin C is protected by fat in a lipid-rich formula, it is released more slowly and regularly into the skin," Sturm explains.
The percentage of vitamin C is also crucial, especially when you consider some serums boast anywhere up to a 20% concentration. "More is not always more," says Sturm. "In fac,t at very high concentrations of 15% to 20%, the effects of vitamin C are reduced and, at that level, can also be highly irritating. Keep in mind: the higher the Vitamin C content, the more likely it will be harmful to your skin and cause irritation."
To offset any side effects, Sturm's The Good C Vitamin C Serum uses an optimal concentration of 5% vitamin C in a stable form that is easily absorbed and gentle on the skin. Paula's Choice Resist Ultra-Light Super Antioxidant Concentrate Serum, also boasts THD vitamin C to combat the ageing effects of pollution and UV, while Sunday Riley C.E.O Rapid Flash Brightening uses the same stabile form of vitamin C but at a much higher percentage.
Fiona Embleton is a multi-award-winning beauty editor who has tested over 10,000 products in her 10 years + of writing and shooting beauty stories. For the past four years, she was the Senior Beauty Editor at Marie Claire, having previously worked in the role of Beauty Editor at both Stylist and Cosmopolitan. She has recently gone freelance and alongside My Imperfect Life, she has written for titles including ELLE UK, ELLE Canada, Buro 247, Harper's Bazaar Arabia, Vogue Scandinavia, and ES Magazine. Beauty journalism allowed her to marry up her first-class degree in English Literature and Language (she's a stickler for grammar and a self-confessed ingredients geek) with a passion for make-up and skincare, photography, and catwalk trends. She loves jumping on the latest internet-breaking beauty news, dissecting the best red carpet looks, and having the crème de la crème of dermatologists, make-up artists, and hairstylists on speed dial so she can tap them for the best advice. She's a discerning beauty shopper and knows it can be confusing trying to navigate what's hype and what really works. So if she really likes something, you can trust that she has reached that opinion by vetting it against everything else she's ever tried. Her career highs? Interviewing Cate Blanchett and winning a Jasmine Award for the deeply personal feature Cancer Stole My Mother's Scent.