Vitamin C serum benefits: all the reasons why it works wonder for your skin
Turns out that vitamin C serum benefits are endless — from younger-looking skin to a brighter complexion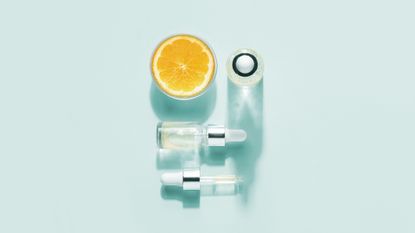 (Image credit: Getty Images)
The power of vitamin C serum benefits are impressive to say the least. So if you're debating whether adding it to your skincare routine is worth the hassle, then we're here to tell you why it really is.
We all know that the world of skincare can be a tricky place to navigate; there are so many products and just when you think you've got your routine nailed, another new ingredient comes along.
However, experts and dermatologists all agree that a vitamin C serum is a necessary and vital part of any routine. A good, well-formulated product is up there with the most effective skincare ingredients. It's one of the only scientifically proven products, sitting alongside retinol and SPF.
Vitamin C isn't just good for one thing, either—it's actually got a whole host of benefits that promise to have a positive impact on both the appearance of your skin and the overall health of it. So, if you're not already a convert, we've rounded up the most impressive results that you'll benefit from by just incorporating it into your daily routine.
1. It's tolerated by most skin types
Although it's always recommended to do a patch test before using a new serum for the first time, it's worth knowing that most skin types can tolerate vitamin C despite the fact that it is fairly potent. There are some formulas that have been created specifically for sensitive skin, like La Roche-Posay Pure Vitamin C10 Serum, but generally speaking, most products should be safe for most skin types as long as you start with a lower-strength product and gradually work your way up. All you need to do is master how to use vitamin C serum properly.
2. It's a powerhouse antioxidant
Antioxidants are a vital part of any skincare regime. They work to protect your skin against environmental damage that can be caused by factors like pollution and free radicals, both of which can have a detrimental impact on the appearance and health of skin. Without antioxidants, free radical damage can deplete collagen levels and it can cause the DNA in cells to mutate which negatively impacts your skin's natural healing abilities.
3. It promotes collagen production
One of the most impressive benefits of using a vitamin C serum every day is the fact that it can help promote the production of collagen in skin. Collagen is a vital part of skin, as it helps it maintain its elasticity and firmness, but sadly our natural levels start to deplete as we age. However, vitamin C works with cells to stimulate collagen production to keep skin looking plump and ensures fine lines and wrinkles are kept at bay.
4. It can help improve existing sun damage
It's an extremely bold claim, but studies have shown – and proven – that using a vitamin C serum regularly can actually help improve the visible signs of sun damage. Pair a vitamin C serum with a sunscreen (with a protection factor of 30 or above) and you'll have a super powerful duo that works to not only protect skin against the damaging UVA and UVB rays that the sun emits, but they also help to repair any damage that's already been caused.
5. It helps fade hyperpigmentation and dark spots
It almost sounds too good to be true, but it's really not: vitamin C is such a powerhouse that it's able to restore dull, uneven skin back to its former, glowy glory. Pigmentation and dark spots in skin are caused by increased melanin production, which is usually a direct result of sun exposure, pollutants, pregnancy or some medication. In those cases, vitamin C works to slow down that melanin production while simultaneously speeding up cell turnover, meaning any uneven patches on skin gradually become less visible, making skin appear brighter and more even.
6. It helps reduce redness and inflammation
If you suffer from acne or rosacea, then you'll be well aware of the impact that both redness and inflammation can have. While it's always best to consult your doctor or dermatologist for personalised advice, it's worth knowing that various studies have shown that vitamin C — specifically l-ascorbic acid, which is the most potent form of it — can strengthen the capillary network, helping to constrict dilated blood vessels. In turn, that will help reduce existing inflammation AKA one of the main causes of redness in skin.
Lucy Partington has been a beauty journalist for eight years, writing for titles including Stylist and Cosmopolitan. She's a true skincare nerd who's on a lifelong quest for a glowing complexion and loves nothing more than learning about new ingredients and products. She's obsessed with having perfect eyebrows and collecting eyeshadow palettes she'll probably never use.