The woman who went viral for her Gorilla Glue hair has had another hair disaster
Tessica Brown no longer has Gorilla Glue in her hair but she's not out of the woods yet...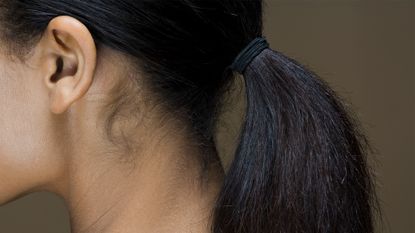 (Image credit: Lena Clara/Getty Images)
As TikTok beauty swaps go, a woman using Gorilla Glue spray as hairspray is always going to be a bad idea. Tessica Brown's story is a cautionary tale and one that today saw her undergo medical treatment with a plastic surgeon for her still-hardened hair and scalp.
When TikTok user Tessica ran out of her go-to hairspray she traded her regular Got 2b Glued Blasting Freezing Spray for Gorilla Spray Adhesive—yes the same brand of glue formulated to hold pieces of wood together.
As she demonstrated in a video, the industrial-strength ingredients left her slicked-back ponytail a seemingly permanent fixture on her head. Unsurprisingly, the original post and its updates are trending as TikTok and Twitter users can't believe their eyes.
"When I do my hair, I like to finish it off with the Got 2b Glued spray just to keep it in place—well, I didn't have any more Glued spray so I used this, Gorilla Glue spray," Tessica says in the original video. She pats and rubs the hair on the top of her head, but it shows no signs of moving. "Bad, bad, bad idea. Y'all, look, my hair, it don't move. You hear what I'm telling you? It don't move."
One month and 15 washes later there was still no change. Her sister Juanita can even be seen trying to soak off the glue with acetone wipes and water in a YouTube video.
In an even more bizarre twist to the tale of Tessica Brown and the Gorilla Glue, Chance the Rapper has taken to Twitter to wish her a speedy recovery:
"I'm glad mfs actually supporting her thru this. When I watched the video the second time it was hard to laugh cause I could tell shorty genuinely didn't know she had put one of the worlds most powerful adhesives in her s---. I hope she recovers well 🙏🏾 #gorillagluegirl," Chance the Rapper tweeted.
I'm glad mfs actually supporting her thru this. When I watched the video the second time it was hard to laugh cause I could tell shorty genuinely didn't know she had put one of the worlds most powerful adhesives in her shit. I hope she recovers well 🙏🏾 #gorillagluegirlFebruary 6, 2021
See more
Thankfully now, according to several reports, Tessica had the surgery to have the adhesive removed from her scalp.
Tessica's manager, Gina Rodriguez, told Entertainment Tonight that plastic surgeon Dr. Michael Obeng was able to successfully "remove all of the Gorilla Glue out of her hair."
Rodriguez said: "She is currently resting and healing from the ordeal. As you can imagine, Tessica's scalp is extremely sensitive right now and will need some time to recover."
And while the removal was estimated to cost around $12,500, Dr. Obeng reportedly provided the service pro bono.
Lesson learnt: if it's not meant to be put in your hair don't try to create a new beauty hack by sticking it in your hair.
Sadly for Tessica, this wasn't the end of her hair saga, and she was in for yet another hair mishap...
What's happened to Tessica Brown's hair ?
After having an absolute nightmare with her hair at the beginning of this year, after putting Gorilla Glue instead of hairspray onto her locks—Tessica is not out of the woods yet.
Taking to TikTok, she shared to users that she had started to spot some grey hairs, and like many of us, had wanted to cover them with hair dye. She wrote in the caption: "I thought my hair was strong enough to for chemicals"—can you see where this is going?
Tessica applied the dye to her hair, but while she was washing it out her hair started to come out in clumps! She was left with exposed scalp and elasticated hair that just breaks off when she tried to comb through her hair.
Talking to the New York Post, Tessica's representative Gina Rodriguez claimed that the chemicals used to remove the Gorilla glue interacted with the dye, causing her hair to melt off.
The Post has also reported that Tessica has now undergone stem cell therapy to help save her hair at the La Fue Hair Clinic in Pasadena, California.
La Fue hair specialist, Jacques Abrahamian said that the treatment will help: "promote new hair growth and expand the life cycle of the existing hairs that she has."
He added: "Nothing that's gonna happen overnight, but the shedding should stop real soon."
Fiona Embleton is a multi-award-winning beauty editor who has tested over 10,000 products in her 10 years + of writing and shooting beauty stories. For the past four years, she was the Senior Beauty Editor at Marie Claire, having previously worked in the role of Beauty Editor at both Stylist and Cosmopolitan. She has recently gone freelance and alongside My Imperfect Life, she has written for titles including ELLE UK, ELLE Canada, Buro 247, Harper's Bazaar Arabia, Vogue Scandinavia, and ES Magazine. Beauty journalism allowed her to marry up her first-class degree in English Literature and Language (she's a stickler for grammar and a self-confessed ingredients geek) with a passion for make-up and skincare, photography, and catwalk trends. She loves jumping on the latest internet-breaking beauty news, dissecting the best red carpet looks, and having the crème de la crème of dermatologists, make-up artists, and hairstylists on speed dial so she can tap them for the best advice. She's a discerning beauty shopper and knows it can be confusing trying to navigate what's hype and what really works. So if she really likes something, you can trust that she has reached that opinion by vetting it against everything else she's ever tried. Her career highs? Interviewing Cate Blanchett and winning a Jasmine Award for the deeply personal feature Cancer Stole My Mother's Scent.