The best 2022 planners for your most organized year yet
These 2022 planner choices from Moleskin, Rife Paper Co. and other designers are downright adorable—and functional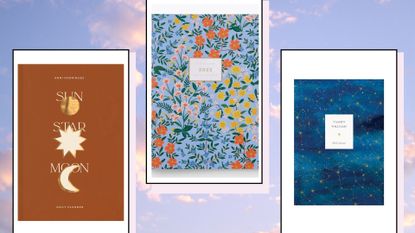 (Image credit: Future)
2022 is fast approaching so you know it's time to gear up for the next 365 days around the sun with a 2022 planner that's as chic as it is functional.
As the world begins to open up once more, you're going to want a place to store all of your future plans. From business meetings to getaways, birthdays and anniversaries, 2022 happenings are aplenty.
In the event you haven't seen your 2022 horoscope predictions (including your love horoscope for 2022) allow us to fill you in: change is on the horizon, and our in-house astrologer, Athena Antares, says the only way to keep up with this new era is to actualize our hopes and dreams. Sounds like staying organized is a must!
These diaries are not only practical but also adorable—a welcome addition to your home desk or office cubicle. Snag one (or perhaps two) of the cuties below and start filling them in—then you'll see just how much awaits you over the next 12 months!
The best 2022 planners to get yourself organized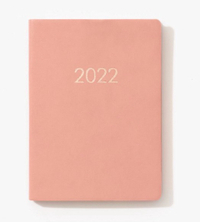 (opens in new tab)
The faux leather millennial pink planner—accentuated with a light-pink "2022"—will look perfect on your bookshelf or in your purse. The chic offering from the Paper Source is versatile and provides both 2021 (August on) and 2022 calendar overviews, a list of holidays, weekly and monthly pages and a ribbon bookmark to keep you in place.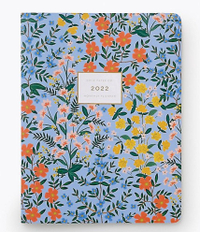 (opens in new tab)
This floral fantasy provides 2022 at a convenient glance: there are monthly calendars for you to scribble in, note pages where you can jot down reminders and a list of important dates to keep you abreast of what's coming down the pipeline.
Rifle Paper Co. 2022 Wildwood Large Booklet Planner: $22.95 | Paper Source (opens in new tab)
Rifle Paper Co. 2022 Wildwood Large Booklet Planner: £15 | papermash (opens in new tab)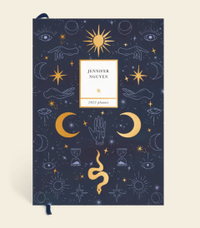 (opens in new tab)
Ideal for the zodiac enthusiasts in your life, this astrology-themed planner has weekly and monthly overviews beginning in December 2021. It's the perfect place to keep track of those career and money horoscope 2022 (opens in new tab) plans.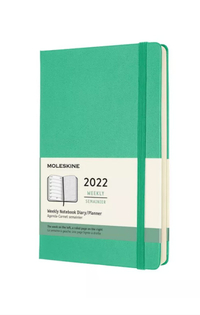 (opens in new tab)
A classic brand in a bold color, this ice-green 2022 diary from Moleskin is a weekly planner that also includes other helpful tidbits, such as time zones, international measurements and dialing codes, to name a few.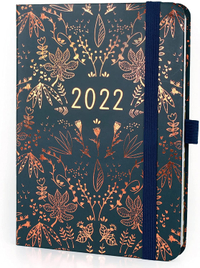 (opens in new tab)
From monthly and week-to-week views, this journal doesn't miss a trick. Plus its dotted note pages are great for bullet journaling.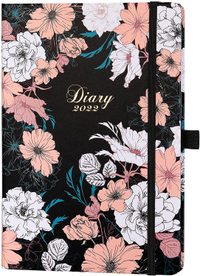 (opens in new tab)
Store your to-do in this weekly and monthly diary that runs from 2022 to 2023. The small details set this floral find apart from its contenders, including a pen holder, interior folder and two bookmarks.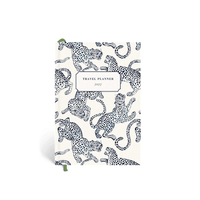 (opens in new tab)
This fierce pocked planner, which includes monthly and (unlined) weekly glances, is available in both a standard size (6" x 8.5") and pocket size (6" x 8.5").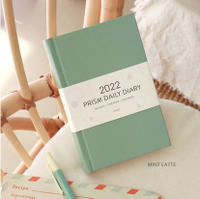 (opens in new tab)
This gorgeous offering can almost double as part of your book collection. These 400 pages include daily note pages, 30 lined pages, 2-page calendars and much more. It's almost too gorgeous to write in...almost.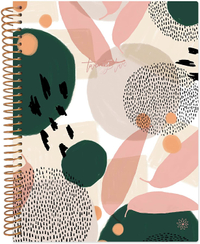 (opens in new tab)
Part artwork, part planner, this paperback planner offers a two-page monthly calendar spread as well as weekly views from January to December 2022. It's all wrapped together with a fun print.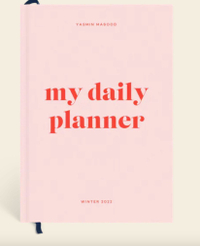 (opens in new tab)
Keep track of priorities, to-do's and notes with this adorably chic 16-week planner. It runs from December 2021 to January 2023.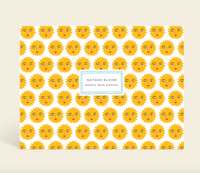 (opens in new tab)
Your work-life just got a lot easier thanks to this weekly desk planner. You'll be able to keep track of your daily to-do's (yes, even over the weekend), make a list and jot down a few tidbits for the following week. It runs from January to December.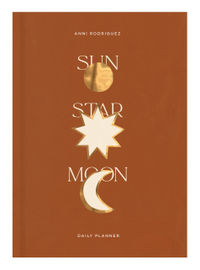 (opens in new tab)
Perfect if you like to plan your week carefully, this wellness journal has 12-weeks worth of pages for reflecting on your self-care habits, meals, water intake, hours of sleep and more.