Lost your career ambition during the pandemic? Here's how to get it back
If the pandemic has impacted your motivation and passion for your work, you're not alone. Here's why your ambition might need rekindling, and some tips on how to do it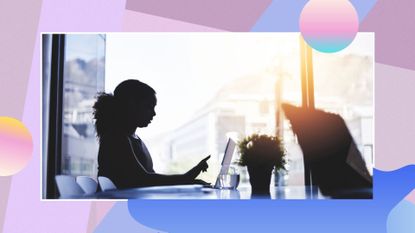 (Image credit: Getty Images/Future)
This article is part of our Lost Years series, where we investigate the two years since the COVID-19 pandemic was declared by WHO on March 11, 2020. Did we collectively change, how and will we ever go back? How has this time affected our relationship with work, our loved ones, dating and even entertainment? And can we take action to reclaim what we may have lost?
---
With everything that's been going on the past couple of years (we're looking at you, pandemic), it's no surprise that lots of us are feeling unmotivated and uninspired when it comes to our work.
Gen Z in particular seem to be more adversely impacted by workplace isolation and finding a sense of career purpose, according to research from Microsoft, which found that 60% of those between the ages of 18 and 25 described themselves as "merely surviving" or "flat-out struggling."
And they're likely not alone—years of uncertainty and fear have left many of us floundering in our careers, with plenty questioning their career path and missing the passion they used to have for work, pre-pandemic.
If that sounds just like you, never fear; here are some straightforward ideas for getting that workplace motivation back and rediscovering excitement for your career.
5 ways to reclaim your ambition and passion for your career
Often, rediscovering motivation is just a case of remembering why you're on the career path you've chosen, and all the great bits about it. Here are career coach Claire Brown's top five tips for how to do this…
1. Carry out an 'audit' (including a skills audit)
Reflect on what is and isn't working for you right now in relation to your career. The more specific you can be about what's missing, the more you can take steps to address it. Make a list—writing it down and getting it out can help us to make sense of our thoughts.
When you think about the things you excel in and enjoy, to what extent do these feature in your current work? What opportunities are available for you to use your strengths more often? A helpful guide is to spend 80% of your time doing things that come naturally to you that sit in your "sweet spot", and spending 20% in the "stretch zone," developing those newer skills utilized less frequently, Brown suggests.
Ensuring you are doing things you enjoy and are good at can help give you a big boost, especially if you are struggling with career ambition right now.
2. Discover what really energizes you in the workplace
It can also be beneficial to carry out an "energy audit", to see what makes you buzz with excitement. How energized and enthused are you by most of the activities within your working week?
Brown suggests noting down key tasks and giving them a score out of five to determine what brings you the greatest joy, fulfillment, and sense of achievement, and what the weight of these is across your working week.
If you're doing more of what drains you than energizes you, this may be a sign that something needs to change.
As part of the exercise, you can also design what your ideal working week looks like. How does it compare to your current situation? If you're a spreadsheet person, create a timetable. If you're creative, design a vision board or journal your ideal scenario. Again—if your ideal and your current reality don't match up, it may be time to rethink some things, to fully reclaim your career path.
3. Gather people who can support and inspire you
Seek out a mentor, colleague or coach with whom you can establish a high-trust relationship, who will champion you and help you to reach your full potential.
This could be someone at your existing place of work, or a professional peer you know outside of the company. It could even be someone altogether separate, such as an external career coach.
Speaking to someone about any lack of motivation for your career can really help to address why you might feel a certain way—especially someone with experience in your industry. That may be able to point you in other directions, or give you advice that could help you reclaim some of the passion you felt for your job pre-pandemic.
---
---
4. Identify where you're making a positive impact
It can be easy to disconnect from the actual purpose of our job roles when we're so caught up in the day-to-day. But taking the time to consider the impact your work has can help to reignite your passion for the area. Perhaps you make your clients' or customers' lives easier by solving a problem? Or maybe you inspire people with your work? It could be something smaller, relating to your immediate team, too. Maybe you support your colleagues in achieving their targets, or help to reduce the company's carbon footprint?
To remind yourself of your purpose on a daily basis, consider keeping a folder on your computer entitled 'Wins'. For example, you could keep copies of emails in there from a client who loved your work, or a friend who really enjoyed something you wrote.
Whatever it might be, seek to reconnect to the importance of your role even if you don't feel it right now—because what you do does matter.
5. Actively look for inspiration, new projects and new skills
Break up the monotony of your daily work routine by looking for new projects or skill-sets to develop—which will also put you in good stead if you're hoping to be considered for a promotion at work down the line.
If you're considering a career change, explore potential new avenues and opportunities in a very light-touch way (i.e. if you'd like to go freelance, why not book a coffee with someone you know who has already embarked upon this journey?). Brown also suggests looking at career change stories online and networking with others in a similar field to see what sparks your interest.
And if you're looking to stay in your career but want to explore new parts of it, why not ask your manager if you can take on some different responsibilities? Sometimes, discovering a brand new part of your industry can be enough to reignite your passion and excitement for your career path.
Why the pandemic has had such an impact on our work mental health
We may be returning to work "normality", but it's safe to say that two years of pandemic-related uncertainty, constant life-and-death discussions and isolation have taken a toll. And it's natural that that stress on our mental health has permeated into our work.
Claire Brown noticed an increase in the number of clients coming to her feeling dissatisfied and unfulfilled in their working lives. "The pandemic facilitated a radical shift in how people view their careers, as it brought about an opportunity for many to reassess their lives and what they really want for their future," she said.
Dr Jan Smith, a leading chartered psychologist, agrees that the sustained stress of the pandemic led people to de-prioritize their careers. "Since the pandemic began, many people have been in survival mode.
"Having some stress is okay, but when we experience sustained stress and fear, this has a significant impact on our physical and mental health. When our mental health deteriorates, it is difficult to focus, our motivation reduces, and ambition wavers. Getting through each day might be the goal, so focusing on bigger things, like our careers, is less of a priority," she explains.
Essentially, it's totally normal if the pandemic has stripped you of your passion for work. But that doesn't mean you can't get it back.
If you can't fight your lack of motivation, it can help to work out whether it's pandemic-related or part of something bigger, like dissatisfaction with your current role. Claire Brown suggests trying to pinpoint the source of your unhappiness in this case – is it due to added workplace stress and a lack of opportunities or are these issues values-related (and perhaps an indicator that your career isn't aligned with what you truly want to be doing?).
Jennifer Barton is a freelance writer who swapped New York City for London. She writes on a range of topics, from trends to tech, fitness to finance, for publications including British Vogue, WIRED, Stylist, Grazia, InStyle, The Telegraph, Romper, StyleCaster and more.