'Why quitting my dream job during the pandemic was the best decision I could have made'
Katie, 24, quit a job she'd coveted for years for her mental health—and she's never looked back...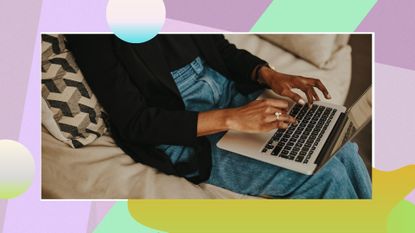 (Image credit: Getty Images)
This essay is part of our Lost Years series, where we investigate the two years since the COVID-19 pandemic was declared by WHO on March 11, 2020. Did we collectively change, how and will we ever go back? How has this time affected our relationship with work, our loved ones, dating and even entertainment? And can we take action to reclaim what we may have lost?
---
Katie Alexander, 24, is a marketing professional, and quit what she thought would be her dream job months into the pandemic. Here's why the move proved to be the best option for her and her mental health...
Growing up, I never really had any idea what I wanted to do. But applying for university made that decision much more pressing. I chose to study sociology in the end—I had no idea what I wanted to be when 'when I grew up' so thought it best to leave my options open.
During my second and third years, I developed a huge interest in reproductive healthcare. Finally, I had found something I had a passion for. I devoted my time to researching potential companies I would enjoy working for. After attending a university webinar hosted by a number of reproductive healthcare charities, I found myself engrossed by one of the organizations. Everything they did and stood for felt right to me.
When I graduated in 2018, I didn't want to throw myself into just any job, so I stayed in retail waiting for something that felt right to come up. I never loved working in retail, but it served a purpose. Finally, in January 2020 the PERFECT role came about, working within communications and campaigning, in the reproductive healthcare organization I loved—it felt a little like serendipity.
I applied, interviewed and got the job. I remember crying with happiness that they had actually chosen me out of all their other applicants.
My first day in the big wide corporate world was on the 2nd March 2020—and roughly a week later we were working from home as a result of the Covid-19 pandemic.
How the Covid-19 pandemic and WFH turned my dream job into a nightmare
I enjoyed working from home for the first month. There was so much extra time in my day. Initially, the role was based in their London office, which was about a three hour round commute for me. I now had the opportunity to shut my laptop at 5pm and go for a walk, or have dinner with my family. Like everyone, lockdown felt scary and foreboding, but it initially had an exciting freedom to it.
Then, it got really hard. It's tough to settle into a job when everything is changing, and a lot of companies didn't have things in place to suddenly work from home. A big part of my role was supposed to be interacting with the organization's staff, but from home, that felt impossible—especially because I didn't know anyone.
I also found it really hard to fit in with the existing team. Working alongside people who had known each other for years while having only met them a handful of times is difficult. I definitely felt like the odd one out. I know people love WFH, but for me, it just didn't work.
Combine not feeling settled in a team with the isolation of lockdown, and my mental health quickly plummeted. I went from starting my dream job, to struggling in that job without the support of my friends or boyfriend, in the space of just a few weeks.
If I'm being honest, my relationship with my mental health has been on and off for a long time. I had been on a very long journey of self-help before lockdown hit—but I didn't expect lockdown or a new job to knock me back so far.
By July 2020, I was at my lowest in a long time. All I had was my anxiety and my bedroom, so it became difficult to escape thoughts of self-doubt. The only way I knew how to cope was by bottling it up.
Had I been working in an office with the team, I may have felt different. I might have felt more supported, but I don't know. Regardless of the working location, I felt like I didn't fit in. I was the youngest on my team, at 22, and that was bought up a lot. I actually remember one of my colleagues asking me if I knew who Britney Spears was. I also struggled with the lack of understanding from my workplace. I suppose it's hard to understand mental health issues if you don't battle them yourself.
But outside of the WFH difficulties, I also realized that I just didn't enjoy the job as much as I thought I would—it was a huge disappointment.
That was when I referred myself to therapy, but so had everyone else. My initial waiting time was 12 weeks. I don't blame mental health services, they were extremely overrun and attempted to prioritize those in the most need. But how do you deal with such dark thoughts for 12 weeks on your own?
I finally started cognitive behavioral therapy in November and boy, did I need it. Taking that step to start therapy is difficult, but I felt myself slowly emerging from the fog.
At work though, I felt a huge pressure to just 'be okay'. I really wasn't, but there was an overwhelming pressure from my workplace to just carry on, whether they intended it or not. I understood that work still needs to get done, but I suppose I thought given the circumstances there would have been more internal support.
You hear stories all the time of poor workplaces undervaluing staff, but I didn't think that would be me. This was an organization that I looked up to. They stood for what I stood for. Yet, I felt like I had no support. I was just being pushed and given more and more responsibilities I didn't feel ready to take on. I continued to communicate that with my managers, but I never felt it was accepted well.
Over the course of a year, my dream job had turned into a nightmare, compounded by working from home and a lack of support.
Making a big change
I had thought about leaving for a while, but I also recognized that I needed a steady job, as my partner and I were going through the process of buying our first home. But I was miserable. I hated waking up and having to switch on my laptop. I was avoiding meetings and procrastinating a lot, so decided it was time.
I eventually found a role working with the marketing team for a UK theme park. It wasn't exactly where I wanted to be, but it couldn't be worse. Plus, at this point I felt I wanted—or needed—work that felt more lighthearted.
When I started in April 2021, I was back to working in an office. It was a much closer commute, only a 30 minute drive. I never thought I'd enjoy going into an office as much as I did that first week.
---
---
It felt so nice to be back with people, and ones who supported your decisions. I found myself in a team with like-minded people, and I felt much more comfortable. My mental health began to feel like it was on a more even keel, too.
While I wouldn't say I'm doing my 'dream job' now, I'm happy. I enjoy what I do, I feel like I'm good at it, and I fit in with the team. At the moment, that's all that matters to me. I'm happy to build my skills in my current role and reassess when I'm ready.
The whole experience made me realize how important it is to put your health first. We're sold the of a 'dream career path', but sometimes life just isn't about work. We can prioritize other parts of our lives. You are always replaceable in a workplace—you are not replaceable in your life.
Katie Alexander is a marketing professional and freelance writer, specializing in women's health, mental health, pregnancy and motherhood and reproductive healthcare.