Should you cut curly hair wet or dry? We asked top hairdressers
It's the age-old question—should you cut curly hair wet or dry? Three top stylists explain the benefits of a dry curly cut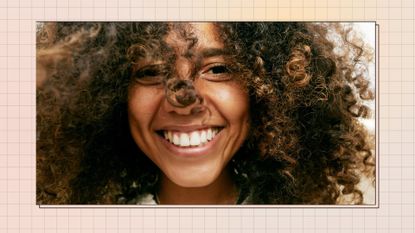 (Image credit: Getty)
If you're embracing your natural hair texture for the first time and want to enhance your curl pattern, at some point you've probably thought to yourself: should you cut curly hair wet or dry?
As well as trying out the Curly Girl Method (or the Curly Girl Method for beginners if you're just starting out), stocking up on low-poo shampoos and the best brushes for curly hair and familiarizing yourself with the different curly hair types, another great way to get the most out of your natural texture is to opt for a specialised curly haircut.
Of course, curly hair spans a huge range of different hair types and patterns, meaning there won't necessarily be a "one-size-fits-all" answer for the entire curly umbrella as to how it should be cut. But to dig a little deeper, we asked some top of the industry's top hairdressers if you should cut curly hair wet or dry.
Should you cut curly hair wet or dry?
Generally speaking, many hairdressers prefer to cut curly hair dry if the end goal is enhanced natural definition. "For curly hair types, the ideal way to cut is when the hair is dry," says award-winning hairdresser and textured hair specialist Charlotte Mensah. "When Afro and or curly hair is wet, the natural curl pattern is loosened.
"When the hair dries, the curl pattern returns, and the hair appears shorter. This is referred to as shrinkage, therefore, when Afro/curly hair is cut while wet, the length of hair seen after the trim will be much shorter once the hair has dried."
"It is best to stretch the hair with a light blow dry, to see the results or effect the cut has had on the hair's length," she adds. "Sectioning curly hair is the best way to trim it."
Joleigh Wynter, founder of East London's Curl Talk salon, was trained by curly girl method creator Lorraine Massey in the dry "curl by curl" cut method. She is also certified in New York's Devachan salon's Devacut method of cutting curly hair—and now, her own salon's signature cuts are influenced by these two methods.
"We believe in cutting the curl in its natural state," she tells My Imperfect Life. "We don't wear our hair wet, so why cut it wet? You are also able to see how the curl sits, if it bounces more or less in certain areas and the different curl patterns, and take that all in to account. Shrinkage is real!"
Of course, there are some instances where cutting hair slightly damp can be beneficial, according to textured hair expert Lorriane Dublin, hairdresser to the likes of Serena Williams and Gabrielle Union.
"It depends on the curl pattern or texture and what style you are trying to achieve," she explains. "If someone has tight, kinky curls and they want a low Afro, then I'd cut it dry. But the bigger the curl, the more likely that I'd cut it damp."
In some cases, dampening the hair will improve the formation of your natural curl pattern and mean that the stylist can better understand—and more effectively cut—your curls.
"If you have long curly hair the curl pattern can drop due to the weight of the hair, so by dampening it the stylist can see the natural curl pattern and cut accordingly," Lorraine adds.
All in all, while there are definitely some plus factors to cutting hair wet, visiting a salon that offers dry cuts is definitely worth a go if you wear your hair curly and are trying to enhance your curl pattern.
No two heads of curls are the same, so if you're still not sure whether a dry cut is right for you, you'll be able to chat to a stylist IRL before making an appointment.
Lucy is a beauty journalist who has written for titles including Marie Claire, Cosmopolitan, OK!, woman&home and Women's Health, as well as regularly contributing to My Imperfect Life. Her work covers everything from skin and haircare tips to trying and testing the latest beauty launches, and interviewing celebrities and experts. A certified dog person, her other interests include mental wellbeing, books, piña coladas and not getting caught in the rain.