The best brushes for curly hair: 5 incredible products to define coils and curls
Discover the best brushes for curly hair and watch your hair journey become a whole lot easier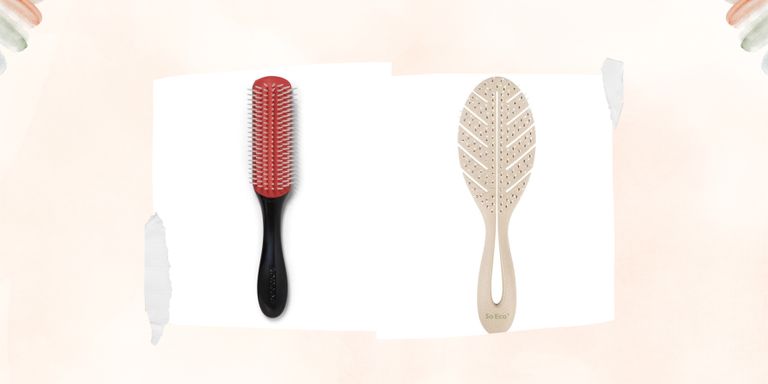 (Image credit: Future/Canva)
Those graced with waves, coils and ringlets know that the best brushes for curly hair are necessary to sufficiently handle and style that gorgeous 'do. Luckily, we've teased and combed our way through several brush options to separate the chaff from the wheat and bring you the very best option that'll make caring for your curls a breeze.
We know that using the wrong brush with the wrong products can be a recipe for frizz and lack of definition—or worse, tangles and knots. So it's a no-brainer that we're after the best of the best. But whatever curly hair tips or styling method you employ (like the Curly Girl Method for beginners), there's a brush out there for you to use at different steps of your hair routine.
To find the cream of the crop, we put several brushes to the test and can confirm that we found The One. The Denman D3 is hands-down the best versatile brush for curly and coiled hair, thanks to its firm teeth and comfortable grip. But there are loads of other options on the market that offer different designs for various curl patterns and styling needs, which we've put together in this essential guide. Keep reading to find your brush made in heaven.
---
The best brushes for curly hair, tried and tested
1. Denman D3 Classic 7 Row Styling Hairbrush
This great all-rounder for styling curls and coils is suitable for all types of curls
Specifications
Showerproof: Yes
Detangling: Not really
Dry styling: Yes
RRP: $21.95/£10.00
Reasons to buy
+
For forming curls
+
Versatile for definition and heat-styling
Reasons to avoid
-
The handle can get slippery
-
Can only lightly detangle
The Denman D3 brush is the perfect buy if you are looking for something that can pretty much do it all, and especially if you want to learn how to brush curly hair without losing curls as a beginner.
Firstly, there's a reason this is a cult buy for the natural hair community—while many brushes are used to work the product into strands to create definition, not many can actually be used to create definition like this one. If you are used to finger-coiling your hair post-wash, you'll know just how long that process can take, but using this can cut the styling time in half.
This versatile brush is also great for gently stretching curls if you ever want to brush them out for volume. Just make sure you detangle beforehand, even if it's just with your fingers, as the teeth aren't the best for cutting through knots.
2. WetBrush Pro Detangler
This premium brush makes light work of detangling
Specifications
Showerproof: Yes
Detangling: Yes
Dry styling: No
RRP: $13.99/£6.95
Reasons to buy
+
Glides through curls easily
+
Comfortable to hold
+
Non-slip handle
Reasons to avoid
-
Base can fill with water
-
Not for dry hair
We all love the O.G. Wet Brush, but this Pro edition has been souped-up and is way more hard-wearing than the original. We found that the best time to use this was when you have finished rinsing out your conditioner in the shower and you need to detangle before you start to dry your hair and use serums, like Olaplex Number 8. What we loved is that it doesn't snag or pull at knots because the flexible bristles move with your hair.
To get the best results from this brush, rinse your hair and then squeeze out the excess water and spray in your favorite water-based leave-in conditioner. Then, brush through your hair in sections to detangle and ensure you have an even coating of your product for hydrated curls once styled.
3. So Eco Biodegradable Detangling Leaf Brush
A budget-friendly, environment friendly curly girl brush
Specifications
Showerproof: Yes
Detangling: Yes
Dry styling: Yes
RRP: $13.00/£9.00
Reasons to buy
+
Biodegradable and compostable
+
For wet and dry hair
Reasons to avoid
-
The teeth can become misshapen
-
Won't dry-style super-tight coils well
Not only has So Eco has raised the game with this brush—and how environmentally friendly it is—but it's also a really great brush for easing out kinks and knots in curly and coiled hair.
Whether you prefer brushing your hair exclusively when it's wet or don't mind brushing through it for volume when it's dry, this option can work for both. And the flat base means that there's nowhere for water to get trapped if you use it in the shower after one of the best shampoo bars.
However, because of the super-bendy material of the teeth, they can become misshapen quicker than others. This means that the brush will need to be changed sooner than other hairbrushes.
Also, if you use this to blow-dry, try not to keep the heat on the bristles for too long as it'll soften then they'll go out of shape quicker.
4. Kent NARROW OVAL BRISTLE BRUSH
Best for smoothing curly hair this brush is a must-have for creating updos
Specifications
Showerproof: No
Detangling: No
Dry styling: Yes
RRP: $24.00/£10.00
Reasons to buy
+
Encourages shine
+
Affordable and long-lasting
+
Not scratchy
Reasons to avoid
-
Only good for smoothing
-
Can create frizz if used incorrectly
Your ponytails and updos will not be the same once you have this in your hair tool kit. A medium-firm bristle brush is key for creating a kink-free pulled-together hairstyle on curly hair, so you can recreate Bella Hadid's bun all day long. This hairbrush from Kent is affordable and the perfect size for brushing up curls with no lumps before you secure it into a ponytail holder. If you have coily hair, you can smooth your edges with a bit of gel or pomade before you brush and if your curls are looser then you can spray the brush itself with a bit of hairspray to secure.
Word to the wise: if you aren't looking to smooth your curls into a style, then this isn't the tool you need as using it to brush out curls that you're wearing down will create fluff rather than definition.
5. Hairstory scalp brush
Best for brushing your scalp. If you thought you didn't need a scalp brush you are wrong
Specifications
Showerproof: Yes
Detangling: No
Dry styling: No
RRP: $10.00/£14.50
Reasons to buy
+
Stimulates blood flow
+
Removes build-up from the scalp
+
Self-head massage
Reasons to avoid
-
Only beneficial for scalp care
Obviously there's debate on whether you should brush curly hair when dry or wet, but regardless of all of that, if you've never used a scalp brush before then prepare to have your life changed. Yes, we realize it sounds a touch dramatic, but once you have a scalp brush in your life, you won't do a wash day without it. It's especially beneficial for curly hair as the gels, mousse, and conditioners used can build up on the scalp so it loosens that for an even cleaner wash day routine.
This one from Hairstory is great for running over your scalp and encouraging blood flow which helps promote hair growth too—something that coily hair types can struggle with.
If you enjoy a hair massage at the backwash in the salon, this helps to recreate this experience at home. Your hair doesn't get tangled either—in fact, you can use it to rinse out any product under the shower if you have type three curls or looser.
How to choose the best brushes for curly hair
It can be hard to know exactly where to begin—the hair tools market goes on forever, and to be honest, everything kind of looks the same. And if you have damaged hair, then the likelihood is you'll be even more desperate to find something that really works. But, if you're going to start somewhere when it comes to choosing the best brush, it really comes down to the question: what is it for?
If you're looking for something to use exclusively in the shower because you don't use tools on your hair once it's dry, then you need to get your hands on a shower scalp brush, which helps to stimulate blood flow to your scalp as you wash.
If you need to mainly detangle, then an exclusively plastic brush will be best as it'll stand the test of time (no matter how hard your water is) and will be easier to clean.
If you like to wear your curly or coily hair in a variety of styles, then bristle brushes and paddle brushes will have a place on your beauty shelf, depending on the look you're going for.
Paddle brushes work well to stretch coils or use in conjunction with a hairdryer if you ever want to blow-dry your hair. Boar bristle or synthetic bristle brushes work to smooth an updo or edges to finish off your look.
Keeks is an award-winning digital & social content specialist a hair & beauty writer and a brand consultant. You can find her work in Cosmopolitan (in print and online), Refinery29, Harper's Bazaar, Woman and Home, Women's Health, My Imperfect Life, OK! Online and Hairdressers Journal