What is low-poo shampoo for curly hair and which ones should you buy?
What is low-poo shampoo? We break it down plus bring you our edit of the best low-poo shampoos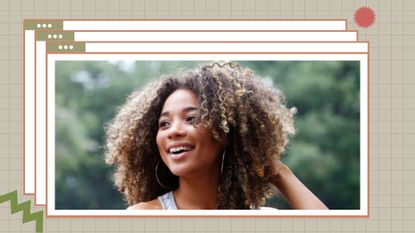 (Image credit: Getty)
If you have curly hair, you've probably tested out a wide variety of strategies for keeping your hair healthy, defined and bouncy.
Whether you're a lifelong "plopper", a religious comber and leave-in conditioner person, or are just starting out with the curly girl method for beginners, you deserve to finally discover your perfect wash day routine.
For many, the secret lies not only in the best brushes for curly hair, but also in your wash day routine. It's tempting to get your hair to a squeaky-clean state, especially when your curls often feel tangled or oily. But despite feeling initially clean, that's a recipe for ultra dry curly hair.
Many traditional shampoos contain sulfates, the ingredient responsible for that classic lather while washing your hair. But for curly girls, regular use of sulfates is advised against as it can lead to dryness and a lack of definition (read more on what sulfates to do hair in our guide if you're unsure). Enter, the best low-poo shampoos.
Meet the experts on low-poo shampoo
What is low-poo shampoo?
"A low poo shampoo is a cleanser made without sulphates or silicones," explains Michelle Sultan, textured hair expert and Creative Director for curly hair brand Imbue. "Some people like to avoid using a shampoo altogether and instead opt for a co-wash, however this can result in build-up on the hair and scalp, which results in poor curl definition and scalp issues."
Michelle's curly hair tips include using sulfate-free shampoos or hair cleansers to help keep your hair moisturised and improving curls' strength and bounce. (Which every curly girl wants, right?)
"You'll find numerous benefits [from using them], but the main one is that the moisture level in your hair is maintained much more by using low-poo shampoo," she adds. "Healthy hair starts with a clean, healthy scalp so be sure to wash your hair regularly using the right products."
So you see, these low-sulfate or sulfate-free alternatives could be your first step toward healthier-feeling and better-defined hair. Here are some of our favorites.
The best low-poo shampoos to shop now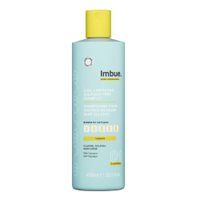 Imbue Curl Liberating Sulfate-Free Shampoo
RRP: $16/£8.99
Imbue launched in 2020 and has been taking over the curly world ever since. With all products suitable for followers of the curly girl method, the brand is all about respecting and enhancing naturally curly textures (in fact, they make one of the best shampoos for curly hair around). With the help of creative director Michelle Sultan, who has styled the likes of Jennifer Hudson and Jordyn Woods,
The Curl Liberating shampoo is suitable for all types of curls, coils and kinky hair, this light cleansing shampoo helps to hydrate without any non-curly friendly ingredients. Imbue also offers the Coil Awakening Cream Cleanser for type 4 coils and kinks.
---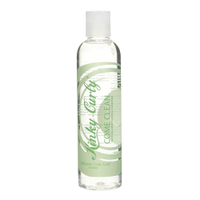 Kinky Curly Come Clean Natural Moisturizing Shampoo
RRP: $9.99/£13.99
Sulfates main role has historically been to easily eliminate grime and residue, meaning some fear that switching to a sulfate-free alternative will result in dirtier hair. This isn't true, but those who do get a lot of build-up can try the Kinky Curly Come Clean formula.
The product uses phytic acid to naturally break down harsh minerals, like magnesium and calcium. At the same time, corn and mandarin orange extract help to keep your curls balanced and soft. Although using the recommended amount should cause you no problems, some users say pre-treating with coconut oil creates a protective layer and mitigates the risk of stripping so you don't have to worry about how to repair damaged hair later.
---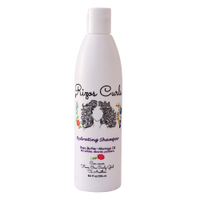 Rizos Hydrating Shampoo
RRP: $19.99/£17.99
Rizos Curls low-poo formula contains Shea butter and moringa oil. It's the natural incorporation of key vitamins and nutrients that allow you easily strengthen your hair. The company prides itself on giving every hair type the VIP treatment. No matter the shape, size, or texture of your curly hair type, these shampoos seek to leave you with hydrated and manageable locks.
Growing up, founder Julissa Prado and her family were constantly battling to manage their hair. She promised herself that one day she would develop the perfect product for girls like her. As a winner of a 2020 Leaders in Curl award, we'd say she succeeded!
---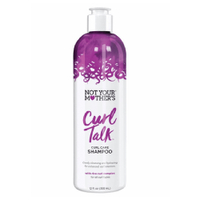 Not Your Mother's Curl Talk Curl Care Shampoo
RRP: $8.99 (US only)
The Not Your Mother's shampoo brand seems to be adored by everyone. Their Curl Talk curl care product uses a delicate formula to get powerful results. It's sulfate and silicone-free, allowing you to reach for the bottle without fear of build-up when double shampooing.
Those who worry that their hair won't be properly cleaned by a sulfate-free 'poo can also try the Curl Talk Scalp Care Cleansing Oil. This curl companion is the perfect shampoo sidekick, ensuring that your hair is sleek, not greasy.
---
Fingers crossed that, armed with our guide to the best low-poo shampoos, you're one step closer to the healthiest, bounciest hair of your life.
Lucy is a beauty journalist who has written for titles including Marie Claire, Cosmopolitan, OK!, woman&home and Women's Health, as well as regularly contributing to My Imperfect Life. Her work covers everything from skin and haircare tips to trying and testing the latest beauty launches, and interviewing celebrities and experts. A certified dog person, her other interests include mental wellbeing, books, piña coladas and not getting caught in the rain.