Curly Girl Method for beginners: how to nail the cult regime in three steps
From coils to curls to waves, the Curly Girl Method for beginners has become a cult regime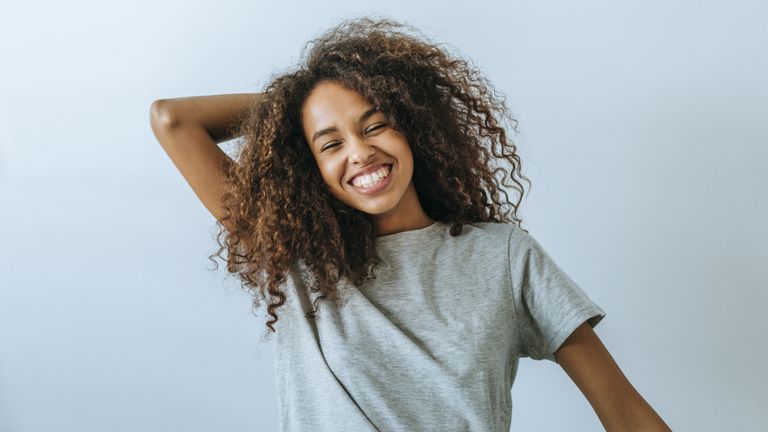 (Image credit: Getty Images)
Wondering how to nail the Curly Girl Method for beginners? We've got you covered. With so many steps, do's, and don'ts, it's easy to get overwhelmed with all the curly hair information out there. Our foolproof step-by-step guide delivers everything you need to know about following the Curly Girl Method, so you can bring out the very best of your natural hair texture.
We're in the age where curls, coils and waves have been the most able to flourish in all their glory. Brands and products are constantly launching with the intent of nurturing our natural hair, and we're finally seeing better representation of all types and textures. With that comes the ever so special journey of crafting a curly hair routine, a system of trial and error which is often based on the very popular Curly Girl Method, or CGM - a routine created by curl expert Lorraine Massey to get the most out of textured hair.
Whether you've only just started thinking of transitioning to your natural hair, or have been a curl and coil connoisseur for a while, you've most likely heard of the CGM and the rules that stem out from it. Sulphate-free shampoo? It's been a no-go according to the CGM for a while. It's the same for things like silicones, alcohols, and heat tools, all of which dry the hair out over time and ruin the curl pattern. In fact, many people are introduced to the CGM via the things they can't do and should avoid, and it's largely based on the do-nots. Before we get into the 'avoid' list and correct steps, it's worth stating that the CGM doesn't work for everybody. If any of the steps don't agree with you or your hair texture, then feel free to skip or substitute for what makes your hair look and feel the healthiest.
The Curly Girl Method for beginners
Step 1: Cleansing
The main rule of the first step is to avoid sulphates at all costs. Commonly labelled as sodium lauryl sulphate or ammonium laureth sulphate on the ingredients list of both shampoos and washing up liquid (yikes), they're responsible for lathering everything up and stripping away oils - a little bit too much. There are safer alternatives like sodium cocoyl glycinate that still create suds and cleanse effectively, but the CGM goes as far as to eliminate all foaming shampoos for curly and coily hair types.
Wavy hair can be shampooed once a week, but needs to be conditioned before and after; curly and afro hair, which is drier and less oil-prone, should be co-washed (washing with conditioner) once a week or every ten days. There's often a transition period where the scalp tries to adjust by producing more oil, but it usually evens out - if you experience irritation, dandruff or hair loss, then go back to using a sulphate-free shampoo. Try As I Am Coconut Cowash, or Noughty Wave Hello Curl Defining Shampoo.
Step 2: Conditioning
Conditioners and hair masks are the staples of every good curly hair routine, as they provide the hydration needed to bring out the curl pattern. Use this as your detangling time, as the slipperiness will help your fingers (the CGM doesn't advise using brushes or combs as hair is the most fragile when wet). Either rinse it partly out with cold water if your hair is wavy or curly, or wrap it in a shower cap for 20 minutes and add heat with a hair dryer or heated towel to help the goodness penetrate deeper. That last step is crucial for coily hair, but really beneficial for looser curls too. Try Dizziak Deep Conditioner, or Holy Curls Curl Conditioner.
Step 3: Dry & Style
The next two rules might make you rethink everything you thought you knew about your hair. Firstly, get used to never running your fingers through your hair once out of the shower (here's all you need to know on how to brush curly hair without losing your curls). All the detangling work has been done, and all the curls that have clumped together will break up. Apply your products, like leave-in conditioner, curl cream, and gel, to soaking wet hair using your hands to glide it downwards in a prayer hands motion. Grab individual pieces that aren't clumping together and finger twirl for extra definition.
The second rule? Ditch the standard towel: those tiny terrycloth loops rough up the hair shaft and create damage and frizz. Instead, opt for a microfibre towel or humble T-shirt, bend your hair over, and gently squeeze the excess moisture out. Scrunch upwards if your hair is wavy or curly, to encourage curly formation; coily hair can either scrunch or gently squeeze hair dry. Lastly, the CGM advises leaving your hair to dry (otherwise known as a wash and go), but you can diffuse on cold or low heat if needed. Try Big Hair Curl Defining Cremé Gel, and the Boucleme Curl Towel.