6 of the best sunscreens for acne-prone skin that won't exacerbate breakouts
Our beauty contributor reviews the best sunscreens for acne-prone skin to help you find a new skincare staple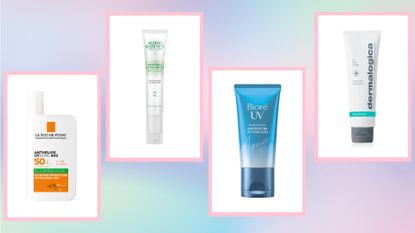 (Image credit: Brands pictured / Future)
It may seem like so many formulas clog pores and make breakouts worse, but the best sunscreens for acne-prone skin do exist, protecting skin without fuelling spots. Tricky though it can be, SPF is not optional when it comes to skincare, so finding a formula that plays well with your skin is a must.
All skin types and tones need to be protected year-round, using one of the best face sunscreens, in order to prevent long-term damage and reduce the risk of melanoma. With acne being such a common skin condition that so many of us battle, many brands are now ensuring their sunscreen formulas are developed with acne-prone skin in mind, allowing them to protect skin without causing further breakouts and blackheads.
According to Dr. Marisa Garshick: "Those with acne-prone skin should opt for sunscreen that is non-comedogenic or oil-free so it won't clog pores. It can also help to use sunscreen that contains niacinamide which can help to calm inflammation and reduce redness."
Meet the experts on sunscreen for acne-prone skin
Dr Marisa Garshick is a board-certified dermatologist and Clinical Assistant Professor at Cornell University. She spoke to My Imperfect Life about the best ingredients and formulas for sunscreens for those with acne-prone skin.
Heather Wish is Skincare Education Manager at Paula's Choice and an industry expert in ingredients and formulation. She spoke to us about ingredients that can be sensitizing for those with acne-prone skin.
How we tested the best sunscreens for acne-prone skin
In order to give each sunscreen a fair trial, our tester took the formulas on holiday and tried each one for at least three applications. The main factors considered were ingredients, breakouts following usage, how they sat under makeup, packaging, hydration, and oil-control (for those that claim to do so).
The sunscreens tested were selected from brands that are trusted for acne-prone skin, previously tried favorites, and those containing ingredients known to be beneficial for acne. We also conducted some informal research with acne-prone friends and loved ones to take into account their recommendations. When testing, we also took note of how easy each sunscreen was to apply and travel with, as it's important to top up regularly even when on-the-go.
Meet the tester
Meet the tester
Sidra Imtiaz
I have acne-prone skin, and find that I break out most weeks. As well as pimples, I also suffer from blackheads and whiteheads. My skin tends to be oily on the T-zone, and dehydrated on the cheeks, but I prefer a dewier finish, so I tend to look for formulas that don't feel too rich or heavy but still give me a boost of hydration. I'm extra conscious of using anything that causes acne, as I suffer from post-breakout hyperpigmentation, so it can often be tricky to shift dark spots left from old breakouts. I tested these sunscreens while on holiday, therefore looked for more oil absorption than usual. Above all, I like my sunscreens to be invisible and feel weightless so that makeup can be applied over the top with ease. I usually use a serum beneath sunscreen, but will often skip moisturizer.
The best sunscreens for acne-prone skin as reviewed by a beauty expert
1. La Roche-Posay UVMune 400 Oil Control Invisible Fluid
Best dermatologist-recommneded sunscreen for acne-prone skin
Specifications
RRP : $37.99 for 50ml (for similar)
White cast : No
Reasons to buy
+
Dermatologist recommended
+
Keeps oil under control
+
Lightweight and easily absorb
Reasons to avoid
-
Very runny and less hydrating than other formulas
-
Formula is different in the US, though a similar alternative is available
La Roche Posay is renowned for being a dermatologist favorite. From the affordable price to the tried and tested formulas, I've always known this is a brand I can trust with my acne-prone skin. This sunscreen is designed to be sweat-resistant, and oil-controlling, absorbing excess sebum and minimizing the appearance of pores. I was worried that this would leave a chalky or drying finish on my skin, but was pleasantly surprised by the lightweight fluid formula, which absorbed quickly.
As for the actual wear, I found that it kept oil at bay throughout the day and my T-zone was less shiny than usual after a few hours, but there was no dry or tight feeling. Also noteworthy is that the packaging is rectangular and flat, making it easy to slip into my bag for top-ups.
2. BYOMA Gel Face Moisturizer SPF 30
Best drugstore sunscreen for acne-prone skin
Specifications
RRP : $18.99
Sizes available: 50ml
White cast: No
Reasons to buy
+
Lightweight and hydrating
+
Barrier repairing
+
Affordable
Reasons to avoid
-
Bulky packaging
-
SPF 50 not available
Having seen this brand everywhere, I was excited to finally give it a try with their gel-cream sunscreen. My acne-prone skin loves gel formulas in general, as they hydrate without feeling thick or heavy. This is one of my favorite sunscreens out of those I tried. BYOMA's proprietary Tri-Ceramide Complex works to hydrate the skin and protect the skin barrier, but with a lightweight formula that blends in and leaves skin feeling plump and glowing, but not at all sticky or oily.
I used this one regularly for around a month and found it didn't lead to any breakouts and was completely invisible on the skin. It provided hydration where I needed it but didn't clog pores or feel thick on my oilier T-zone. The only downside for me was the packaging, which I found quite bulky and made it hard to know when the product was running low.
3. Dermalogica Oil-Free Matte SPF 30
Best fragrance-free sunscreen for acne-prone skin
Specifications
RRP : $58 for 50ml
White cast : No
Reasons to buy
+
Thicker formula is better makeup base
+
Soothes and brightens skin
+
Fragrance-free
Reasons to avoid
-
Quite expensive
-
Doesn't come in SPF 50
Many sunscreen formulas designed for acne-prone skin are fluid and absorb almost instantly, which is great for skin but can be tricky for those who want to apply make-up over the top. This Dermalogica sunscreen has a thicker consistency which takes a little longer to absorb into the skin, making it the perfect base for concealer and foundation. It does this without making skin excessively oily or shiny and works to keep sebum at bay throughout the day.
The key ingredients include niacinamide, which soothes existing breakouts, and caffeine to brighten any dark spots from acne. My husband is also acne-prone and despite my offering of all the sunscreens in this feature, this is the one he always goes back to and swears by for keeping his breakouts under control. The fact that it is fragrance-free definitely plays a role in this. As Heather Wish tells us: "Breakout-prone skin is especially susceptible to the effects of sensitising ingredients. When harsh, irritating ingredients aggravate skin's surface, a chain reaction can occur that makes oily skin worse, possibly triggering more breakouts. Fragrance can be sensitising, whether synthetic or natural."
4. Mario Badescu Mineral Sunscreen SPF 30
Best mineral sunscreen for acne-prone skin
Specifications
RRP : $28 for 50ml
White cast: No
Reasons to buy
+
Mineral formula suits sensitive skin types
+
Free from alcohol, parabens, silicone and fragrance
Mario Badescu is another brand that knows acne-prone skin and one that I trust with mine. I'm lucky that chemical sunscreens don't break me out, but I know that some acne-prone skin requires mineral or physical sunscreens. As Dr Marisa Garshick tells us: "For those dealing with acne, sensitivity or dryness, chemical filters can be more irritating on the skin."
This mineral sunscreen has a light, serum-like consistency which hydrates the skin without leading to breakouts or blackheads. It contains hyaluronic acid, which I love for keeping my skin plump and balanced. I also find that this is a great sunscreen that suits most types of acne-prone skin as the formula is free from sulfates, mineral oil, alcohol, parabens, silicone, and fragrance. The packaging is a thin tube, making it easy to use up without any product wastage and easy to travel with.
5. Bioré UV Aqua Rich SPF 50
Best Japanese sunscreen for acne-prone skin
Specifications
RRP : $17.50 for 50ml
White cast : No
Reasons to buy
+
Hydrating formula
+
No. 1 sunscreen brand in Japan
+
Affordable
+
Available in both SPF 30 and 50
This sunscreen is a cult favorite in Japan and upon trialing it, it's easy to see why. The hydrating, hyaluronic acid-based formula left my skin feeling as though I'd applied a serum, sunscreen and moisturizer all in one. Unlike many formulas targeted toward acne-prone skin, this one goes up to SPF 50 providing full broad spectrum UVA/UVB protection.
I love that it leaves my skin feeling soft and smooth; it's the perfect canvas for make-up application but without adding to my already oily T-zone. At such an affordable price, it's definitely one to try—but do keep in mind that, if you are sensitive to fragrance, this one does contain limonene and linalool.
6. Paula's Choice Clear Moisturizer SPF 30
Best lightweight sunscreen for acne-prone skin
Specifications
RRP : $48 for 60ml
White cast : No
Reasons to buy
+
Lightweight and hydrating
+
Soothes skin and redness
This is a lightweight, fuss-free formula for acne-prone skin that I found myself reaching for more often than not on holiday. The sheer formula did exactly what it promised to hydrating and mattifying skin, without clogging pores. Although I don't suffer with redness, the ingredients in this sunscreen are designed to also help with that.
The finish was non-greasy and water light, making it easy to apply and top up without feeling as though there was any sticky residue left on the skin. And, as with most of the brand's sunscreens, this came in a tube, which made it easy to travel with.