Best sunscreen for face: SPF picks to wear every day to protect your skin
We've rounded up the best sunscreen for face buys—no matter your skin type or concern—including picks to wear under makeup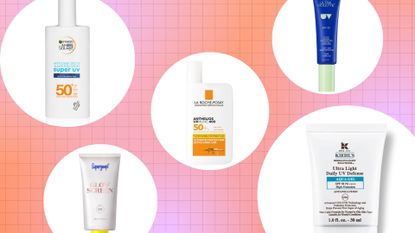 (Image credit: Future/brands pictured)
The best sunscreen for face should be comfortable to wear, look good on the skin and, most importantly, be a formula that will protect it from the sun effectively—no matter your skin type.
90% of skin aging is caused by sun damage, so wearing a minimum SPF of 30 (or better yet SPF 50) is a non-negotiable part of your skincare routine every day of the year. But it's especially important during the summer months, when the sun is out for longer and you're likely to be spending more time outside. In these cases it's important to reapply sunscreen to any exposed area every two hours—especially on your face.
SPF is still a must on cloudy days or when you're inside, as UVA rays are still present and can pass through both clouds and glass. Even if the sun doesn't look like it's making much of an appearance, if you're in contact with daylight then SPF is still very much required.
"Choose a sunscreen that offers a minimum of SPF 30 and has a UVA symbol too, indicating that it provides broad-spectrum protection," says consultant dermatologist Dr. Justine Kluk. This means it'll protect against harmful UVA rays (the ones that cause premature aging) and UVB rays (the ones that burn your skin) and therefore, as Dr. Kluk puts it, "is important for reducing our risks of skin cancer and premature aging."
"Choose a tinted sunscreen for extended protection against visible light wavelengths, too," she adds. "This is especially relevant if you are prone to dark marks such as melasma or post-inflammatory hyperpigmentation. If you don't get on well with tinted products some plain sunscreens, such as the Heliocare 360 range, are formulated to give this extra visible light protection, too."
Meet the expert on facial sunscreens
Dr Justine Kluk (opens in new tab) is a London-based consultant dermatologist with a particular interest in acne and rosacea. She has advised My Imperfect Life readers on why facial sunscreen is so important and what to look for when shopping for one that'll best suit your skin.
How to choose the best sunscreen for face
Consider your skin type. "If you are prone to spots, opt for a non-comedogenic product where possible, and if you have very oily skin, look for formulas with a mattifying or anti-shine claim," says Dr. Kluk. "For very sensitive or reactive skin, or if you have had difficulty tolerating multiple different sunscreens, you may want to try a mineral/physical sunscreen—and consider seeing a doctor to discuss the possibility of allergy."
Chemical vs mineral sunscreen. Chemical formulas work by absorbing UV rays, with active ingredients including avobenzone, octinoxate, and oxybenzone. Meanwhile, mineral formulas sit on the skin and reflect rays, using active ingredients like titanium dioxide and zinc oxide. Both are equally effective but, as Dr. Kluk touches on above, some chemical sunscreens can be irritating to very sensitive skin types. "Mineral sunscreens tend to be well tolerated but are often thicker, harder to spread, and more likely to leave a white cast on skin of color," she adds.
Always choose a dedicated SPF skincare product. Unless you are applying a very large amount of foundation to your face and neck, you won't get the same protection as you will by applying a dedicated facial sunscreen. "Don't rely on your makeup for sun protection," our doctor says. "Studies have shown that we don't typically apply our makeup in a thick enough layer to get the SPF on the label."
How we tested the best sunscreen for face
When testing these sunscreens, our tester wore each one for at least three days, taking the following factors into account.
Cost
Formula—whether it's mineral, chemical, or a mix of both
Texture and how lightweight it is
Ease of application
What it looks like 5-10 minutes after application
How it looks and feels on skin (ideally there will be no trace of it)
How makeup applies and wears on top of it
The finish—is it matte, dewy, or glowy, for example?
When it came to picking which products to test, we took into account numerous price points, different formulas and also included both tried-and-tested favorites alongside newer formulas. As with our guides to the best retinol serums and best vitamin C serums, we've detailed exactly what each one is like to use and wear, including the pros and cons of each pick, to help you make the right sunscreen choice for you and your skin—including those that can slot into the best acne skincare routine.
Meet the tester
Meet the tester
Lucy Partington
My skin can be sensitive to some ingredients but it's generally quite hardy, is a bit blemish-prone, and falls on the slightly oily side. It always responds well to strong acids (as long as I use them properly and don't go OTT) and retinols, but it equally loves a good hydrating moisturizer, too—which is a good job, as they are the products I tend to favor. I love PHAs for their ability to gently slough away dead skin cells and boost hydration, vitamin A for its does-it-all approach and, of course, sunscreen—because without it, every other step is pointless.
Sunscreen is a forever non-negotiable for me and it has to be lightweight, virtually invisible once applied, and absolutely must sit well under makeup. I don't like anything that I can feel on my skin and, personally, I will always lean more towards a glow-giving formula than something mattifying.
The best sunscreen for face as reviewed by a beauty editor
1. La Roche-Posay Anthelios UVMune 400 Invisible Fluid SPF50+ Sun Cream
Best everyday sunscreen for face
Specifications
RRP: $18.38/£18 for 50ml
Mineral or chemical : Mineral
Size: 50ml
SPF rating: 30 and 50
Broad spectrum: Yes
Reasons to buy
+
Very lightweight on the skin
+
Not at all greasy
+
Pleasant scent
+
Slightly airbrushed finish
+
Offers the full spectrum of sun protection
Reasons to avoid
-
Very thin formula, meaning risks of dripping
La Roche-Posay Anthelios Ultra-Light Fluid sunscreen is a dream to apply. Being both unscented and with a super lightweight forumla, it feels as though you're applying a skin-friendly moisturizer rather than a protective sunscreen (if you're wondering whether to apply sunscreen or moisturizer first, SPF is always the last step in your regime before makeup).
Yes, it's unscented, but I actually didn't mind this, as it felt far less artificial than some other options. It comes in two protection options, SPF 30 or SPF 50, so it's a great option for those spending a lot of time in the sun. It protected my skin well and I felt little to no redness after a day outside. The one drawback is that the formula is so thin that it can easily run or drip if you're not careful. However, this is easily solved by pouring some into your hand before application to manage the flow; it's not one you can spray or place right onto the area you need it.
"This is one of my all-time favorite formulas," agrees My Imperfect Life's deputy editor and in-house beauty expert, Aleesha Badkar. "Yes, it does come out a little runny, but I actually quite like the thin texture as it absorbs into the skin quickly and prevents any greasy or white cast on the skin after use. I also found that it had an almost blurring effect on my oily, large pore-prone complexion, so—for me at least—it gave the impression that I'd actually applied a sheer makeup base and worked as almost a sunscreen and primer in one."
2. Glossier Invisible Shield SPF30
Best sunscreen for face to suit most skin types
Specifications
Mineral or chemical: Chemical
Size: 30ml
SPF rating: 30
Broad spectrum: Yes
RRP: $25/£30 for 30ml
Reasons to buy
+
Truly invisible formula
+
Absorbs instantly into skin
+
Pleasing and slightly refreshing texture
+
Chic packaging
Reasons to avoid
-
Slight fragrance so potentially not suitable for those with sensitive or acne-prone skin
-
Some users say that the bottle size—30ml—is too small for the price
Glossier is one of the few companies that have managed to combine chic packaging with hard-working, effective skincare products, and Invisible Shield is one of the brand's most loved products. The gel-like formula feels a bit like a serum and is entirely invisible, making it suitable for all skin colors because it will never leave a white cast. It's formulated with so-called "active microcapsules" which will instantly absorb into the skin, meaning it makes for a great makeup base.
The only downside is that it contains fragrance, so if you're somebody with super sensitive skin or skin that's easily irritated, it's probably best to avoid this particular sunscreen. Aleesha actually quite enjoys the scent though, saying that it "starts her day with a fresh and energizing aroma". Invisible Shield is also great for those with oily and blemish-prone skin, as it's non-comedogenic—just like the best non-comedogenic foundations—meaning it won't clog pores. Plus it's also vegan and, like all Glossier products, is cruelty-free.
3. Garnier Ambre Solaire Super UV Anti Dark Spots & Anti Pollution Face Fluid SPF50+
Best affordable sunscreen for face
Specifications
Mineral or chemical: Chemical
Size: 40ml
SPF rating: 50+
Broad spectrum: Yes
RRP: $17/£12 for 40ml
Reasons to buy
+
Incredibly affordable
+
Hypo-allergenic and promises not to sting eyes
+
Recommended by dermatologists
+
Leaves slight glow
+
Fragrance free
Reasons to avoid
-
Super runny formula that can be harder to apply
One of the most affordable and effective daily sunscreens currently on the market, Garnier's Ultra Light Sensitive Face Fluid SPF 50 is formulated with hyaluronic acid to help hydrate skin. It also utilizes the antioxidant power of vitamin E for added protection against pollution and other environmental aggressors. I did find when testing, that the formula was fairly runny—more like milk than a cream—so be aware of that before you crack yours open.
However, I found that it was easy to blend in and when wearing it's virtually invisible, which is something I look for in sunscreen. It sits well under makeup and thanks to the low price point, it's a great starting point for anybody who's still yet to make SPF a solid part of their daily skincare routine. Plus, it also comes in a sizeable bottle, which is great for those who are reading this and wondering, "Does sunscreen expire?". Beauty contributor Lucy Abbersteen agrees that it sinks into the skin brilliantly and, particularly because of the price point, is one of the sunscreens she most often recommends.
4. Carbon Theory Day-Lite SPF 50
Best sunscreen for face for those that love a super lightweight formula
Specifications
Mineral or chemical: Chemical
Size: 50ml
SPF rating: 50
Broad spectrum: Yes
RRP: $24.95/£16.00 for 50ml