Best sunscreen for face: essential SPF picks to wear everyday to protect your skin
We've rounded up the best sunscreen for face—no matter what your skin type or concern— including picks to wear under makeup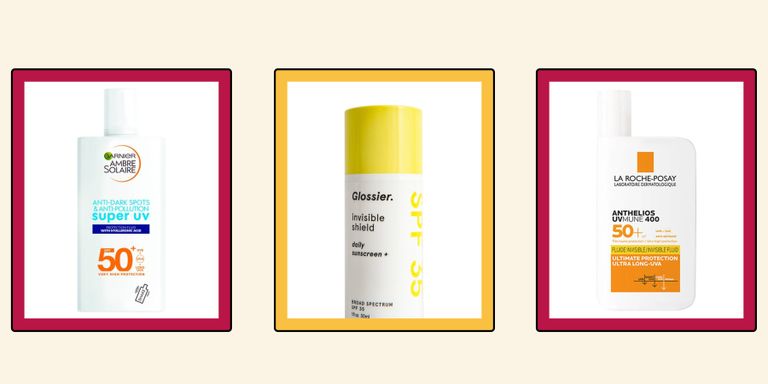 (Image credit: Future/Canva)
SPF is non-negotiable, so we've rounded up the best sunscreen for face for you to protect yourself with. Speak to any skincare expert or dermatologist and they will tell you the same thing: sunscreen is the single most effective skincare product you can use and getting into the habit of wearing it every single day is one of the very best habits you can get into.
90% of skin ageing is caused by sun damage, which means it's vital that you wear a minimum of SPF30—ideally SPF50—daily and ensure it's a broad spectrum formula, which means it'll protect against harmful UVA (the ones that cause premature ageing) and UVB (the ones that burn skin) rays. It's also important that you wear it every day—UVA rays can pass through clouds and glass, so even if the sun hasn't made an appearance or if you're inside all day, SPF is still very much required.
Just like our guide to the best retinol serums, the selection below includes both premium and budget options ensuring there's something for everyone, and we've detailed the pros and cons of each pick, to help you make the right sunscreen choice for you and your skin, including those that can slot into the best acne skincare routine.
How we tested the best sunscreen for face
When testing sunscreen, our tester wore them for at least three days each, taking into account:
Cost
Formula—whether it's mineral or chemical or a mix of both
Texture and how lightweight it is
How easy it is to apply and blend onto skin
What it looks like five to ten minutes after application
How it looks and feels on skin, ideally there will be no trace of it
How makeup applies and wears on top of it
The finish—is it matte, dewy, glowy?
When it came to picking which products to test, we took into account numerous price points, different formulas and also included some tried-and-tested favorites alongside newer formulas.
Meet the tester
My skin can be sensitive to some ingredients but it's generally quite hardy, is a bit blemish-prone and falls on the slightly oily side. It always responds well to strong acids (as long as I use them properly and don't go OTT) and retinols, but it equally loves a good hydrating moisturiser, too—which is a good job, as they are the products I tend to favour. I love PHAs for their ability to gently slough away dead skin cells and boost hydration, vitamin A for it's does-it-all approach and, of course, sunscreen because without it, every other step is pointless.
Sunscreen is forever non-negotiable for me, and it has to be lightweight, virtually invisible once applied and it absolutely must sit well under makeup. I don't like anything that I can feel on my skin—and personally I will always sway more towards a glow-giving formula than something mattifying.
The best sunscreen for face as reviewed by a beauty editor
1. La Roche-Posay Anthelios UVMune 400 Invisible Fluid SPF50+ Sun Cream
Best everyday sunscreen for face
Specifications
Mineral or chemical: Mineral
Size: 50ml
SPF rating: 30 and 50
Broad spectrum: Yes
RRP: $18.38/£18 for 50ml
Reasons to buy
+
Very lightweight on the skin
+
Not greasy at all
+
Has a pleasant scent
+
Leaves a slightly airbrushed finish
+
Offers the full spectrum of sun protection
Reasons to avoid
-
Very thin formula meaning risks of dripping
La Roche-Posay Anthelios Ultra-Light Fluid sunscreen is a dream to apply—being both unscented and with a super lightweight forumla, it feels as though you're applying a skin-friendly moisturizer rather than a protective sunscreen, which is great if you're wondering if sunscreen prevents tanning.
Yes, it's unscented, but I actually didn't mind this, as it felt far less artificial than some other options. It comes in two protection options, SPF 30 or SPF 50, so it's a great choice for those spending a lot of time in the sun. It protected my skin well and I felt little to no redness after a day sunbathing.
The one drawback is that the formula is so thin that it can easily run or drip if you're not careful. However, this is easily solved by pouring some into your hand before application to manage the flow; it's not one you can spray or place right onto the area you need it.
"This is one of my all-time favorite formulas," agrees My Imperfect Life's deputy editor and in-house beauty expert, Aleesha Badkar. "Yes, it does come out a little runny, but I actually quite like that thin texture as it absorbs into the skin quickly and prevents any greasy or white cast on the skin after use. I also found that it had an almost blurring effect on my oily large pore-prone complexion, so—for me at least—it gave the impression that I'd actually applied a sheer makeup base and worked as almost a sunscreen and primer in one."
2. Glossier Invisible Shield SPF30
Best sunscreen for face to suit most skin types
Specifications
Mineral or chemical: Chemical
Size: 30ml
SPF rating: 30
Broad spectrum: Yes
RRP: $25/£30 for 30ml
Reasons to buy
+
Truly invisible formula
+
Absorbs instantly into skin
+
Pleasing and slightly refreshing texture
+
Chic packaging
Reasons to avoid
-
Slight fragrance so potentially not suitable for those with sensitive or acne-prone skin
-
Some users say that the bottle size—30ml—is too small for the price
Glossier is one of the few companies that have managed to combine chic packaging with hard-working, effective skincare products, and Invisible Shield is one of the brand's most loved products. The gel-like formula feels a bit like a serum and is entirely invisible, making it suitable for all skin colors because it will never leave a white cast. It's formulated with so-called 'active microcapsules' which will instantly absorb into skin, meaning it makes for a great makeup base.
The only downside is that it contains fragrance, so if you're somebody with super sensitive skin or skin that's easily irritated, it's probably best to avoid this particular sunscreen. Aleesha actually quite enjoys the scent though, saying that it "starts her day with a fresh and energizing aroma". Invisible Shield is also great for those with oily and blemish-prone skin, as it's non-comedogenic—just like our best best non-comedogenic foundations—meaning it won't clog pores. Plus it's also vegan and—like all Glossier products—is cruelty-free.
3. Garnier Ambre Solaire Super UV Anti Dark Spots & Anti Pollution Face Fluid SPF50+
Best affordable sunscreen for face
Specifications
Mineral or chemical: Chemical
Size: 40ml
SPF rating: 50+
Broad spectrum: Yes
RRP: $17/£12 for 40ml
Reasons to buy
+
Incredibly affordable
+
Hypo-allergenic and promises not to sting eyes
+
Recommended by dermatologists
+
Leaves slight glow
+
Fragrance free
Reasons to avoid
-
Super runny formula that can be harder to apply
One of the most affordable and effective daily sunscreens currently on the market, Garnier's Ultra Light Sensitive Face Fluid SPF50 is formulated with hyaluronic acid to help hydrate skin. It also utilizes the antioxidant power of vitamin E for added protection against pollution and other environmental aggressors. I did find when testing, that the formula was fairly runny—more like milk than a cream—so be aware of that before you crack yours open.
However, I found that it was easy to blend in and when wearing it's virtually invisible, which is something I look for in a sunscreen. It sits well under makeup and thanks to the low price point, it's a great starting point for anybody who's still yet to make SPF a solid part of their daily skincare routine. Plus, it also comes in a sizeable bottle, which is great for those with sunscreen expiration dates on their mind.
4. Carbon Theory Day-Lite SPF 50
Best sunscreen for face for those that love a super lightweight formula
Specifications
Mineral or chemical: Chemical
Size: 50ml
SPF rating: 50
Broad spectrum: Yes
RRP: $24.95/£16.00 for 50ml
Reasons to buy
+
Super lightweight formula
+
Goes on smoothly
+
Doesn't leave a greasy finish
+
Vegan and cruelty-free
+
Formulated with the brands patent anti-breakout technology
I had big expectations for this one, as Carbon Theory products are well-known for their impressive breakout-busting technology—and after testing, I definitely wasn't disappointed by this new kid on the block. It is formulated with the brand's own formula of SymSave® H alongside glycerin, both of which work together to calm sensitive skin and restore the skin's balance to protect against irritation.
I found that the formula felt super-light, which meant that it glided onto my skin easily and didn't leave me feeling greasy at all. To make sure this washes off effectively, the brand recommends doing a double cleanse as part of your evening skincare routine—especially if you have breakout-prone skin.
Best sunscreen for face for normal to oily skin
Specifications
Mineral or chemical: Mineral
Size: 30 and 60 ml
SPF rating: 50
Broad spectrum: Yes
RRP: $40.00/£37.50 for 30ml
Reasons to buy
+
Super lightweight texture
+
Absorbs into skin quickly and easily into skin
+
Doesn't leave residue
+
Contains added antioxidant and blue light protection
+
Leaves a shine-free finish
Reasons to avoid
-
Contains alcohol denat which may cause slight dryness in some skin types
-
Is on the more expensive side
A firm favorite of many beauty editors, Kiehl's Ultra Light Daily UV Defense Aqua Gel has an intensely satisfying texture that feels cooling on the skin. I found that it sported a lightweight feel and absorbed quickly into the skin—meaning that it sat well on top of existing skincare as well as underneath makeup. It's non-comedogenic so it won't block pores, plus it's fragrance-free, is tested by dermatologists, and has the added benefit of vitamin E which provides antioxidant protection.
The only downside is that it does fall on the more expensive side. It does also contain alcohol denat, which, while it can be good for oily skin types, means it's probably not the best choice for those with dry skin. Follow with one of the best foundations for oily skin if this sunscreen sounds like the one for you.
See our full Kiehl's Ultra Light Daily UV Defense Aqua Gel SPF50 review to read why more on it's a great pick for oily and combination skin types
6. Ultra Violette Clean Screen Sensitive
Best for sensitive and acne-prone skin
Specifications
Mineral or chemical: Combination of both
Size: 50ml
SPF rating: 30
Broad spectrum: Yes
RRP: $40/£32 for 50ml
Reasons to buy
+
Boasts skincare benefits
+
Soothes inflammation
+
Fragrance free formula
+
Formulated in Australia—which is the hardest place in the world to get SPF approved
Reasons to avoid
-
Combines mineral and chemical filters so not for people who prefer mineral formulas
-
Some users have said it leaves a very slight white cast on darker skin colours (although it is easily covered with makeup)
Ultra Violette is an Australian sunscreen brand that prides itself on developing 'skinscreens'—which, in their words, is a combination of skincare products, like the best vitamin c serums, with sunscreen. Each product is developed with hydrating ingredients that are just as effective as the SPF elements, meaning it'll work just as hard when it comes to looking after your skin and protecting it against UVA and UVB rays.
This one, Clean Screen, is formulated especially for sensitive, reactive and acne-prone skin, is entirely weightless on the skin, and is free from both alcohol and fragrance, and promises to help soothe inflammation. I fond that it felt really refreshing on the skin, helping to calm any slightly redder areas on my complexion.
7. Supergoop! Glowscreen
Best sunscreen for face for a glowy finish
Specifications
Mineral or chemical: Chemical
Size: 15 and 50ml
SPF rating: 30
Broad spectrum: Yes
RRP: $20.00/£15.00 for 15ml
Reasons to buy
+
Instantly gives skin a lit-from-within glow
+
Doesn't feel like sunscreen
+
Formulated with hyaluronic acid and vitamin b5
+
Works as a makeup primer too
Reasons to avoid
-
Drier skin types might not find it hydrating enough
-
Not suitable for anybody who doesn't like a glowy finish
Also new to the UK, Supergoop! originates from the USA (it was also around long before—and isn't at all affiliated with Gwynnie's Goop) and is a sunscreen-only brand, meaning it's spent the last 16 years really working to perfect its formulas and make them as cosmetically pleasing as possible. It's a brand that prides itself on creating different formulas for different occasions and for every skin type.
Glowscreen is perhaps their most popular product—and I can see why. I found that it gave my skin a natural-looking glow and provided an incredible dewy finish without a speck of glitter in sight—it truly lived up to what it says on the box. It blends out really nicely, doesn't feel at all like sunscreen, and instead creates the perfect base for makeup—in short, it's essentially all but a glow-giving primer with the added benefit of having broad-spectrum sun protection. The formula also contains hyaluronic acid to hydrate along with niacinamide to soothe while added antioxidant protection comes from sea lavender and cocoa peptides.
---
How to choose the best SPF for you
Find the right formula for your individual skin type.
Know the difference between physical and chemical formulas, and the difference between sunscreen vs sunblock. Physical sunscreens—also known as mineral sunscreen—sit on the surface of the skin and deflect the sun's rays. The active ingredients in them are usually titanium dioxide and zinc oxide. On the other hand, chemical sunscreens absorb into the skin and then absorb UV rays, converting them into heat and then releasing them from the body. The active ingredients in them include avobenzone, octinoxate, and oxybenzone.
Know that while chemical sunscreens tend to be easier to apply, both are as effective as each other when it comes to protecting skin and really it comes down to personal preference—however, experts tend to agree that mineral is better for those with sensitive skin, for children and people with melasma.
Remember that above all else, that the SPF that works for you is the right one for you to use.
Lucy Partington has been a beauty journalist for eight years, writing for titles including Stylist and Cosmopolitan. She's a true skincare nerd who's on a lifelong quest for a glowing complexion and loves nothing more than learning about new ingredients and products. She's obsessed with having perfect eyebrows and collecting eyeshadow palettes she'll probably never use.