Season 10 of American Horror Story Double Feature: what we know so far
Here's everything we know about Season 10 of AHS: American Horror Story Double Feature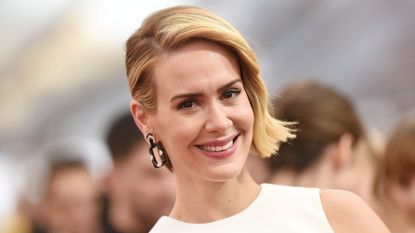 (Image credit: Getty Images)
FX has finally given Season 10 of American Horror Story a name and a theme. Some fans, however, were taken aback by the news. Because there was no warning about what 'American Horror Story Double Feature' actually entails. Thankfully, co-creator Ryan Murphy updated us on the new season's cast and storylines.
Murphy gave us the juicy details we had been looking for by sharing a new American Horror Story Season 10 promo on Instagram and Twitter.
Murphy explained: 'The title of American Horror Story Season 10 is Double Feature. Two horrifying stories, one season.'
Murphy teased fans with a little more details as he said: 'Double the viewing will be available as one set is filmed by the sea and already has the cast announced. And a second series will be by the sand and that casting announcement is coming.'
#AHSDoubleFeature#AHS10 #AHS @AHSFX @FXNetworks pic.twitter.com/Mo0JAM4HmHMarch 19, 2021
See more
Who is in Season 10 American Horror Story Double feature cast so far?
For the time being, fans of American Horror Story will have to wait and see when FX chooses to air season 10 of the show. According to Deadline, 'AHS: Double Feature will be released in 2021. However, the cast for the first half of the new season has been revealed.'
The returning cast for AHS features a number of our favourite actors including Angelica Ross, Kathy Bates, Sarah Paulson, Evan Peters, Adina Porter, Lily Rabe, Billie Lourd, Leslie Grossman, Frances Conroy, and Finn Wittrock.
American Horror Story Double Feature new cast members
Macaulay Culkin and Kaia Gerber, two newcomers to the American Horror Story franchise, are expected to join the original cast.
If you don't recognise Macaulay Culkin, he's Kevin McCallister from Home Alone, and you're probably wondering what role that sweet boy will play. Well according to Murphy he told Culkin that "the character has crazy, erotic sex with Kathy Bates and does other things."
Obviously that might be surprising, given Macaulay's history, but Murphy recalls Macaulay "pausing" and adding: "'This sounds like the role I was born to play.' So, he signed up right then and there."
Who is Sarah Paulson playing?
In February, Sarah told EW, "It's a slightly different story this time." Paulson added: "Let's just say that the character I'm portraying on Horror Story this year has some issues."
The prolific Horror Story actor was teasing about her character throughout the interview as she spilt: "I have a hair colour that I've never had before. That's all I've got to say on the subject. I have a fantastic name that I will not reveal to you."
When will AHS premiere?
Season 10 of AHS has yet to be given an official release date. The season, which was supposed to premiere in September 2020, was pushed back due to Covid-19.
Since December 2020, Kudzai has worked as a trainee journalist at FUTURE, writing about fashion, entertainment and beauty content for My Imperfect Life.

Kudzai previously worked as a freelance fashion wardrobe stylist, directing magazine photoshoots and coordinating the fashion direction of recording artists.

A fully qualified Journalism and Media graduate from De Mont Fort University, Kudzai graduated in the summer of 2020.