The release date of Sarah Paulson's new thriller Run has finally been confirmed
Delve into the twists of Sarah Paulson's wild thriller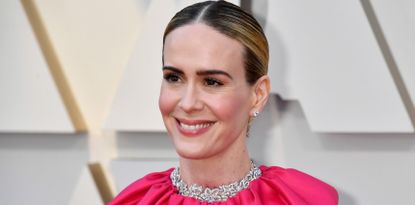 (Image credit: Jeff Kravitz|Getty)
American Horror Story's Sarah Paulson stars as the mother from hell in Netflix's upcoming horror film Run, which will be released on April 2nd.
The film follows Kiera Allen's character Chloe, a teenager who is homeschooled by her controlling mother Diane Sherman (Sarah Paulson).
Chloe starts to question her mother's intentions after spending her entire life in complete isolation. Chloe is shocked to learn that the label on one of her many prescription bottles peels away, revealing that the drugs are actually dispensed in Diane's name—yikes! After learning that her mother is totally zonkers, Chloe tries to escape.
Throughout the film, director Aneesh Chaganty looks into the possibility that a mother's love for her child is motivated by self-interest. And, with all of the movie's unexpected twists and turns, there are so many unanswered questions.
Paulson spoke to Collider, saying of the film: "Things just aren't always what they seem. The character I play has a past and it has informed some of her decisions and her behavior in ways that do, of course, for every person, but what she has done with this past and how she has sort of shifted her worldview to accommodate some of that is kind of compelling, I hope."
Like many movies that had to skip over in-person theater screenings for streaming launches due to COVID-19, the film was picked up by Hulu. After Hulu snagged the rights to show the film in the U.S., the production team decided to take it to other streaming giants for international screening like Netflix, who have confirmed that the highly-anticipated movie will be available to stream in the U.K.

Two of Paulson's upcoming projects were initially delayed during the coronavirus pandemic: her turn as Linda Tripp in the Bill Clinton-Monica Lewinsky scandal season of Impeachment: American Crime Story, as well as her season 10 return to American Horror Story. She told The Wrap that working on the latter during COVID-19 was "definitely intimidating and nervewracking" but thanked her colleagues for their "extraordinary" treatment in enabling everyone to return to filming.
Since December 2020, Kudzai has worked as a trainee journalist at FUTURE, writing about fashion, entertainment and beauty content for My Imperfect Life.

Kudzai previously worked as a freelance fashion wardrobe stylist, directing magazine photoshoots and coordinating the fashion direction of recording artists.

A fully qualified Journalism and Media graduate from De Mont Fort University, Kudzai graduated in the summer of 2020.