Apple cider vinegar for hair: it will give you stupidly shiny strands
Rinse your way to happy hair.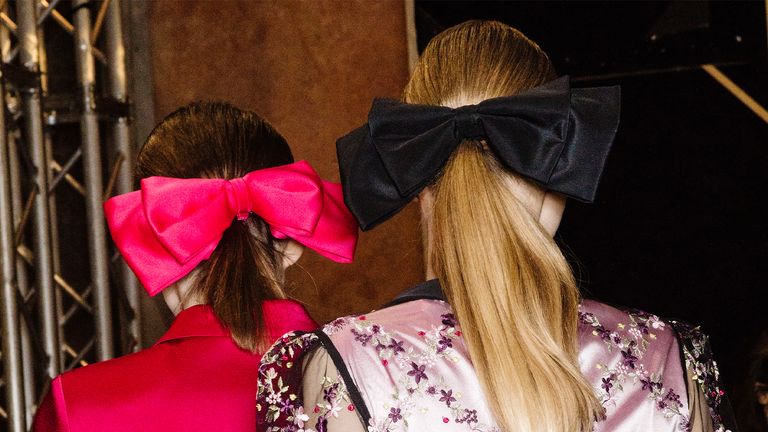 (Image credit: Rosdiana Ciaravolo/Getty Images)
The abundant benefits of apple cider vinegar for hair make it the most underrated product in your kitchen cupboard. So while vinegar may not be the first thing you reach for to restore lustre and life to dull strands - it should be.
Styling products, pollution, dead skin and oil all cause scalp build up. Anyone who has tried to forgo even the best shampoo bar for more than a day knows exactly how limp, greasy and well, gross, that build-up can feel.
If your regular lather isn't getting the job done, you could switch to a fancy clarifying shampoo. Or you could fix the problem with apple cider vinegar.
Basically it's the OG for 'descaling' your strands. Just ask Amazon, which shifted 80,000 bottles of the Wow Apple Cider Vinegar Shampoo and Conditioner Set containing the hero ingredient in a single day.
The benefits of apple cider vinegar for hair
1. Helps to treat dandruff
To be clear, we're not saying apple cider vinegar is anywhere near as powerful as zinc pyrithione, the science-backed anti-dandruff ingredient that powers Head & Shoulders. However, apple cider vinegar has both antibacterial and anti fungal properties, which makes it a gentler option for killing dandruff-causing yeast on the scalp. Moreover, it's an anti-inflammatory so it should help to reduce the irritation, which causes scaly patches and flakes in the first place.
2. Beats a clarifying shampoo
Cool fact: apple cider vinegar contains malic acid, a type of AHA exfoliator. In the same way that malic acid buffs away dead cells from your face, so too does it lift debris from your scalp without stripping your strands of moisture.
3. Makes strands shiny and smooth
According to Dr Mona Gohara, a dermatologist at the Yale School of Medicine, the acidity of apple cider vinegar can help to close your cuticles, so hair is not only smoother but it reflects light better for the win.
How do you rinse your hair with apple cider vinegar?
Please DO NOT pour neat apple cider vinegar onto your hair as you risk burning, or at the very least irritating, your scalp. Instead, dilute it heavily with water - usually one part apple cider vinegar with five parts water.
After shampooing, slowly drizzle the concoction over your scalp. When evenly coated rake the vinegar through your hair and leave it for three to five minutes. Rinse with cool water and follow with conditioner.
Disclaimer: your hair will smell like salad dressing for a bit but that fades as your hair air dries.
How often should I use apple cider vinegar on my hair?
Once a week is a good rule of thumb. Even diluted, it's still vinegar, which means it's not exactly the most moisturizing ingredient in the world. Note, too: very dry hair and Afro hair shouldn't be using apple cider vinegar or any sort of clarifying shampoo as it can strip strands of much-needed oils.
Take caution if you color your hair, too. A shampoo containing apple cider vinegar, like Amazon's aforementioned best-selling Wow Apple Cider Vinegar Shampoo, would be a gentler option as the aloe vera and coconut oil provide a buffer to any possible interaction between the vinegar and your colour.