The best white eyeliner looks to recreate at home
From graphic liner to cat eyes, these are the white eyeliner looks to try now and love forever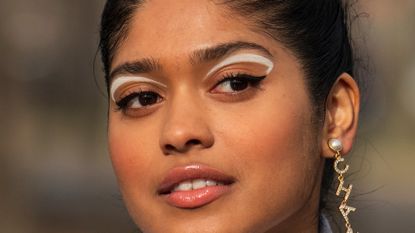 (Image credit: Kirstin Sinclair/Getty Images)
If you're a make-up lover, few things are more fun than taking time out of your day to browse beauty inspiration, like the best white eyeliner looks, or to play with new color palettes.
With endless possible combinations, new make-up trends are constantly springing up, providing fresh ideas for your make-up look roster. White eyeliner looks, in particular, are making a big splash right now as beauty brands, make-up artists and their celebrity clients turn out awe-inspiring creations.
From Fenty Beauty to MAC to Maybelline, tons of brands are using eye-popping pencils or liquid liners to bring these white eyeliner looks to life. Using the best eyeliner will give you a smooth line that doesn't smudge too easily or, in the case of liquid liners, flake off before the end of the night.
Try one of these popular white eyeliner looks for a cool new update to your regular make-up look...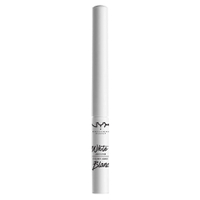 Nyx Professional Cosmetics Long-Lasting Matte White Liner, $7 | Ulta (UK £7 | Beauty Bay)
This white eyeliner by Nyx Professional Cosmetics promises a matte finish and long-wearing—essential for any nighttime look.
The best white eyeliner looks to try now
1. Graphic white eyeliner
This eyeliner look is less about following traditional rules and more about making a statement. A white graphic liner looks great on its own, or you could pair it with another eyeliner color to take it to the next level. White compliments virtually any color, making it easy for the whole look to pop regardless of your chosen palette.
Try this look featured on Maybelline's Instagram page using a white liquid liner, accented by a bright neon orange. The trick is to get a smooth stroke, matching the line height and curve on both eyes. Try one of the best eyeliners for beginners to practice, and keep the rest of your look subtle and clean to put the focus on the awesome eye artistry.
2. Accent white eyeliner
The best thing about a white eyeliner is that it will stand out against just about any other color. Sometimes white liner is simply used as an accent, but that doesn't mean it's not a very key part of a cool make-up look.
For stand-out eyes, copy this bedazzled eye look by Kylie Jenner featured on the Kylie Cosmetics Instagram, which features a cool pop of white eyeliner.
To get Kylie's sparkly eyes, start with the best eyeshadow primer to create a smooth, matte canvas for your masterpiece. Then, create a classic smokey eye with brown or neutral-toned eyeshadow shades.
Add a flick of black liquid liner before accenting your crease with a swipe of white. And if you're feeling bold, finish the look with tiny jewels for eyes that feel like a million dollars.
3. Exaggerated white cat eye
The classic cat-eye gets a major update with exaggerated winged liner in this #FENTYFACE posted by Fenty Beauty. Elegant yet totally dramatic, this white cat-eye is a show-stopper.
To get the look, begin with a matte eyelid primer so your strokes stay smooth and soft. Begin in the inside corner of your eye and draw the outermost line of your wing. You'll need a steady hand, so rest your elbow on a level surface if you're more of a beginner. Then, fill in the white to your lash line.
Finally, create a smaller wing immediately above your lash line in black—use a completely opaque black liquid liner for best results to avoid smudging the white. Finish with dramatic lashes and a sweep of lip gloss.
4. Floating white eyeliner
This eye look is a little subtler than graphic eyeliner but more fun than your classic cat-eye, thanks to the variety of colors used alongside white eyeliner. Floating eyeliner looks, like this one by MAC Cosmetics, can perfectly strike a balance of fun and understated.
To create the look, first center your white eyeliner wing as this will sit between the two brighter shades. Draw the top half of your wing first from your eyelid, then join up the bottom half to create your wing.
To make the whole thing pop, use a black liquid liner along your top lash line, angling down past the inner corner of your eye. Finish with false lashes or a lengthening black mascara on top, and for an extra playful look, some of the white and yellow along your lower lid.
5. White eyeliner cut crease
Cut creasing is a popular eyeshadow trend, so if you're ready to try a bolder look, bring your cut crease game to white eyeliner. We love this bold cut crease shared by Rimmel, inspired by pop icon Ariana Grande.
If you've never used white eyeliner—or if it's been collecting dust at the bottom of your make-up drawer—it's high time you gave it a spin. It's a cool addition to any look, whether you choose a subtle accent for everyday wear or a statement liner that pushes creative boundaries.
Pro tip: a steady hand is key with eyeliner application, so keep practicing and don't get discouraged if you don't nail it the first time; keep a cotton bud and a bottle of eye make-up remover handy for small touch-ups.
Most importantly, have fun and make these white eyeliner looks your own. In the words of the great Coco Chanel, "beauty begins the moment you decide to be yourself."
The My Imperfect Life team is all about helping you navigate your world. We bring you the latest on fashion, beauty, travel and wellness so you can live life on your terms.