9 of the best eyeliner for beginners options for easy application every time
A beauty editor tests the best eyeliner for beginners to bring you those that are super easy to apply and comfortable to wear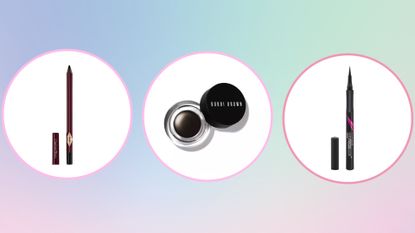 (Image credit: Charlotte Tilbury / Bobbi Brown / Maybelline)
The best eyeliners for beginners make this often trickier part of makeup application a whole lot easier. If you like an impactful eye look but haven't quite mastered the feline flick yet, then these easy-to-apply products are guaranteed to give you a whole lot more confidence in that department.
Before you make a purchase, though, it's important to know the difference between each type of best eyeliner. The main categories are liquid, gel, pencil, and felt tip liners; felt options are a standout for those just starting out on their eyeliner journey, while liquid liner—though trickier to master—creates that distinctive flick you've seen on so many Hollywood icons from history.
Battling an unsteady hand? Gel liner can be a lifesaver and might just help you to become a master of application. To save you hours of frustration perfecting your winged liner with zero know-how, our guide features eyeliner hacks and an edit of the best eyeliner for beginners. You'll be a master of this iconic beauty bag buy before you know it.
The best eyeliner for beginners, reviewed by a beauty editor
How we tested the best eyeliner for beginners
Our tester has tried dozens of eyeliners over the years, but when examining buys that both perform well and suit beginners specifically, she also looked out for the following factors.
Ease of application
Type of liner
Intensity of pigments
Longevity of wear
Whether it's waterproof
How well it smudged, if applicable
Whether it moved or smudged unwantedly throughout the day
Price
Packaging
1. Charlotte Tilbury Rock'n'Kohl Eyeliner Pencil
Best pencil eyeliner for beginners
Specifications
RRP : $29
Number of shades : 6
Waterproof? : Yes
Claims to last: Up to 14 hours
Reasons to buy
+
Pearl powder hydrates and stimulates collagen
+
Easily melts into skin for foolproof application
+
Nice shade range
Reasons to avoid
-
Requires frequent sharpening
-
Doesn't come with built-in smudger
This is definitely one of the most impressive kohl pencil formulas we've ever tried. Rock'n'Kohl is both super easy to use and glides across lids without dragging, leaving a perfectly pigmented line in its wake. Despite the fact it doesn't have a built-in smudger, as some kohl pencils do, I found that it blended nicely into the lash line and outwards into a soft wing when applied with a small and fluffy domed eyeliner brush.
The variety of available shades is also very impressive: these pencils are available in everything from a very popular sooty black shade (Bedroom Black) to Midnight Blue and vibrant purple (Velvet Violet). However, my personal favorite is Barbarella Brown because it's a perfect everyday shade that really helps elevate any eye look—without looking too intense. Along with one of the best eyeshadow palettes, you'll be well equipped with these in your makeup kit. Plus, can I take a moment for the burgundy and rose gold packaging? Seriously chic.
2. Collection Fast Stroke Liquid Eye Liner
Best affordable eyeliner for beginners
Specifications
RRP: £2.99 (UK only)
Number of shades: 4
Waterproof?: Yes, but only 1/5
Claims to last: N/A
Reasons to buy
+
Very affordable
+
Smudge-proof
+
Promises to be long-wearing
+
Fine tip yields precise application
Reasons to avoid
-
Only one shade (black) is available in waterproof
-
Not suitable for very sensitive eyes
Taking its price tag into account, this is easily one of the best liquid liners on the market. It has a cult following for a reason, and that's because it dries down quickly to a matte finish, has an intense pigment (better than you'd expect for the price) and the little brush makes creating precise lines that much easier. I was very impressed, particularly considering the fact that it only costs a few quid.
While the brand doesn't specify how long the liner should last once applied, I found it to be pretty long-lasting and it didn't smudge or budge easily while I wore it. Not only that but the product itself lasts a long time too, making the cost per use extremely good value. Despite the fact that it goes the distance in terms of staying power, I don't consider it at all difficult to remove at the end of the day; a good oil-based cleanser or remover will lift off every last scrap.
3. Surratt Auto Graphique Liner
Best eyeliner for beginners who want bold lines
Specifications
RRP : $44 (refill $20)
Number of shades : 4
Waterproof?: No
Claims to last: N/A
Reasons to buy
+
Satisfyingly smooth ink flow
+
Fexible nib that moulds to lids
+
Luxurious
+
Refillable
Reasons to avoid
-
Expensive; refills have to be bought separately
-
Doesn't promise long wear
Be still my beating heart, as this number from Surratt is as boujie as eyeliners get. There's no getting around the fact that this calligraphy-inspired liner is expensive, but I found it extremely easy to use and that it creates impressive lines without much focus or skill. That said, it's worth noting that I found it neither as long-lasting as other formulas (though it did last well throughout the day), nor is it waterproof. But other than that, it's an absolute pleasure to use and it helped me to create some of the smoothest, most impressive compliment inducing flicks I ever have— so for that, I love it.
A nice touch is that the luxurious packaging is actually refillable, so once you've invested in this pricey pen, when you need more liner it'll be less of a cost than your initial investment. Ink refills can be purchased individually, which might feel like a bit of a pain for some, but is cheaper and more sustainable than having to buy a whole new eyeliner every time the ink runs out. I'm a fan.
4. Maybelline Hyper Precise All Day Liquid Eyeliner
Best eyeliner for beginners to create '60s-inspired flicks
Specifications
RRP : $8.99
Number of shades available: 2 (3 in the US)
Waterproof?: No
Claims to last: All day
Reasons to buy
+
Super-precise, thin tip that makes sharp wings a breeze
+
Intensely pigmented formula
Reasons to avoid
-
May transfer on oily eyelids
-
Only a couple of shades
This is one for those with a well-practised steady hand, but you can work up to that, right? The ultra-fine nib (which measures at an extremely precise 0.4mm) meant that I deem this a great choice for any eyeliner novices who want to achieve a perfect black flick—a timeless and classic beauty look—with a little practise.
Unlike other felt tip liners, there's no need to worry about having to stop and shake the pen to get more ink out mid-drawing, because I found the intense black pigment supplies a continuous flow for a perfectly smooth line, every time. As well as being long-lasting and smudge-proof, lasting me the day, it's also available in black and brown shades (and a matte black in the US). I'd also note that, if you're prone to having sensitive skin and eyes, you'll be glad to hear it's ophthalmologist-tested, too.
5. Bobbi Brown Long-Wear Gel Eyeliner
Best eyeliner for beginners with an unsteady hand
Specifications
RRP: $32
Number of shades : 8
Waterproof?: Yes
Claims to last: 8 hours
Reasons to buy
+
Great value for money
+
Highly pigmented
+
Layers easily for a more dramatic, intense look
Reasons to avoid
-
Doesn't come with a brush
-
Will dry out if the lid isn't screwed on properly
Although she's since parted ways with her eponymous brand, Bobbi Brown invented this product after she used waterproof mascara and the stick of a Q-tip to line her eyes when she'd run out of eyeliner—which then stayed put all night. After checking this was actually safe to do, and learning the formula was gel-based, Gel Liner was born.
If you're looking for training wheels before you work up to a liquid felt tip, I wholeheartedly recommend this. It's applied using a tiny brush, meaning you have the ease of using a handheld tool over a fiddly brush within the lid, you can also use a stop-start application method if you prefer—rendering it ideal for those who haven't really used eyeliner before.
There are eight different shades to choose from, all of which are densely pigmented, and I found they looked great either alone or as a finishing touch to a colorful eyeliner look. It also perfectly adds a subtle bit of definition to the outer corners of the eyes. While the price point seems more of an investment, a pot will last you ages if you keep the lid on when you're not using it—a must!
6. Pat McGrath Labs PermaGel Ultra Glide Eye Pencil
Best precision pencil eyeliner for beginners
Specifications
RRP: $29
Number of shades : 6
Waterproof?: Yes
Claims to last: All day
Reasons to buy
+
Super impressive pigment that can be tailored to different looks
+
You won't find colors like this anywhere else
+
Created by a legendary makeup artist
When it comes to makeup, it doesn't get much better than those created by Pat McGrath Labs, the eponymous brand from the legendary makeup artist of the same name. Over her near-three decade career, Pat McGrath DBE has created countless iconic celebrity and runway looks and her brand is known for excellent foundation and concealer shade ranges, bold and comfortable lipsticks, and some of the very best eyeshadows for dark skin (the coveted palettes are to die for). I'm equally obsessed with this pencil liner, which comes in six different shades, because I don't think you can find colors this rich and pigmented anywhere else—they are truly special.
During the testing process, I tried out the shade BLK Coffee, which is just the right side of dark brown without having the flatness of some black liners, adding depth to your look. It's very easy to use and without a doubt one of my favorites to apply, as it glides on like a dream and is both precise and smooth.
7. Sculpted By Aimee Brighten & Define Eyeliner Duo
Best dual-ended eyeliner for beginners
Specifications
RRP : £16 (UK only)
Number of shades: 3
Waterproof?: No
Claims to last: N/A
Reasons to buy
+
Reasonably priced
+
Two shades including one to brighten the eyes
+
Long-wearing
+
Smudges nicely before setting in place
Reasons to avoid
-
You may go through the darker shade more quickly than the brightening shade
This pencil eyeliner from Irish brand Sculpted by Aimee, founded by makeup artist Aimee Connolly, is incredibly good value because you're essentially getting two products in one. And I don't know about you, but I do love a bargain! With a creamy and pigment-rich formula that comes in three different color combinations—black, brown, and rust brown—each pencil features a brightening shade to make the eyes pop and look more awake.
As for how these pencils fare usage-wise, I found that they smudge super easily, either with a brush or your finger, which is nice for creating both subtle and smoky eye looks. From there on out, I found that they stay put for a good amount of time, lasting through the day or nigh. Not only that, but I found they also had great color payoff to boot.
8. Victoria Beckham Satin Kajal Liner
Best smokey eyeliner for beginners
Specifications
RRP: $28
Number of shades: 9
Waterproof?: Yes
Claims to last: All day
Reasons to buy
+
Glides on without tugging, creasing or transferring
+
Costs $2/£2 less if you don't need a sharpener
+
Available in both softly iridescent and matte finishes
Reasons to avoid
-
Texture is great for smudging but too soft for solid, graphic lines
-
Kind of expensive
Waterproof eyeliners often require a bit of speed to smoke them out before they set and become budge-proof, as they dry down quite quickly. But not this luxury option. The creamy texture—a balanced blend of waxes and emollients, including panthenol and vitamin E—meant that I could ring around my eyes effortlessly before using the built-in blending sponge to smudge the liner out for a speedy smoky eye. (You could also use your ring finger to smudge if that's your preference, but I wanted to put the built-in tool to the test.)
But it's actually the nine-strong shade range that really impressed me. Even if you're hesitant about branching out from traditional brown or black, these colors pack a punch. Switch from a soft bronze shimmer to Cocoa, one of the most natural-looking daytime browns I've ever worn. Or opt for Navy Noir, a modern, dramatic alternative to black. I will say that I found these pencils lent themselves better to smoky looks over precise lines, but boy, are they great.
9. Makeup by Mario Master Pigment Pro Pencil
Best versatile pencil eyeliner for beginners
Specifications
RRP: $22
Number of shades : 5
is it waterproof: No
Claims to last: N/A
Reasons to buy
+
Dual-ended with a built-in brush to smudge and blend
+
Sharpener comes with a removable cleaning stick
Mario Dedivanovic, AKA makeup artist to Kim Kardashian, no less, is a big name in the beauty world, so it's no surprise that his makeup brand has cemented itself as one of the go-to names within a couple of years of launching. In my opinion, Master Pigment Pro Pencils are one of the must-check-outs. The formula is velvety with a gel-like glide that makes even flicks easy to master in one swift stroke without any "skipping" (that unintentional dotted look) on the skin.
But the standout here is that each pencil also comes with a built-in brush for smudging the liner into a smoky eye look like celebrities on the red carpet, so there's no need for multiple eyeshadows. I love a does-it-all product, so this was a big tick in my book. You also get a sharpener and a removable cleansing stick to get rid of excess shavings, ensuring the resulting nib is always even and pin-sharp for creating graphic lines. Versatility is the buzzword here, and this pencil's ergonomically fitted added extras makes for a more streamlined makeup bag, too. I highly recommend.
How to choose the best eyeliner for beginners to suit your needs
At a glance there are a lot of different types of eyeliner, but we promise that working out which to go for doesn't have to be a taxing process. It all comes down to what sort of look you're trying to create—here's what you need to know about each type.
Types of eyeliner
For the most part, an eyeliner will fall into one of four different categories, below. Pencils are fairly easy and can usually be smudged out for a subtle wing or lived-in look, while gel formulas are very long-wearing. Felt tip pens are great for precision when it comes to a winged eye, while liquids take a little longer to master.
Pencil
Felt tip pen
Liquid
Gel
Color choices
Who says that you have to stick to black ink or pencil? Yes, we know we're starting to veer into more advanced territory here, but swapping in a swoosh of color across the lids can really work wonders. We're not saying you need to grab a neon yellow for your next look (unless you want to, of course), but there are tons of rich colors, like dark greens and navies, or even the best white eyeliner looks, all of which can take your liner game to a whole new level.
Lucy Partington has been a beauty journalist for eight years, writing for titles including Stylist and Cosmopolitan. She's a true skincare nerd who's on a lifelong quest for a glowing complexion and loves nothing more than learning about new ingredients and products. She's obsessed with having perfect eyebrows and collecting eyeshadow palettes she'll probably never use.
With contributions from