Best eyeliners: 5 expert picks to add to your makeup bag
Add a touch of subtle impact to your peepers with our pick of the best eyeliners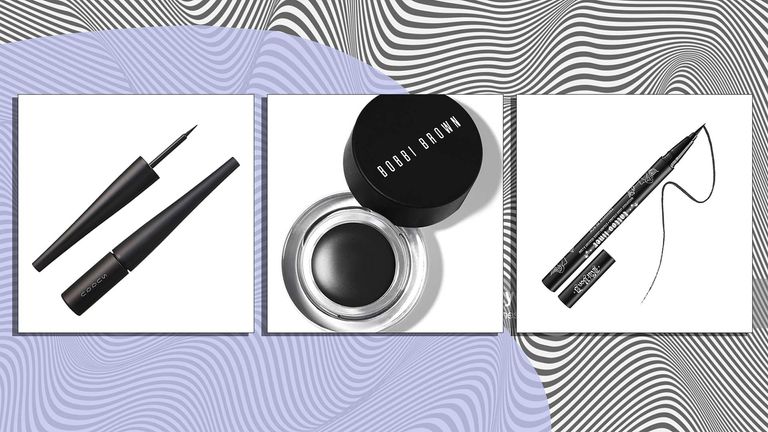 (Image credit: Getty/Future)
If there's one product in our make-up bags that is seriously underrated it has to be eyeliner. Sure, there's always some level of fuss made over picking the best liquid eyeliners for our repertoire, but liquid offerings can't take all the credit for the best eyeliners on offer.
While liquid liners can help you make a statement with bold wings or feline flicks, the OG pencil kind that has been a humble staple ever since the days of Cleopatra and the like can add another dimension of impact to our eyes that is difficult to replicate with any other kind of product. And then of course there are gel liners that are kind of a hybrid of the two and are unmatched when it comes to adding a touch of defined smokiness.
For a top pick, we love the Benefit Badgal Bang! 24 Hour Eye Pencil that delivers all the long wear and impact you would expect from its reputation. But if you want to treat yourself to something more premium, we'd go for the Marc Jacobs Highliner Gel Eye Crayon Eyeliner that comes in 22 different shades and has the sleekest packaging. We're also obsessed with the Charlotte Tilbury Rock 'N' Kohl in Eye Cheat for making our peepers look bigger and brighter – layer this on the inside of your waterline before dotting a darker pencil along the lash line for ultimate impact.
Tried & tested: the best eyeliners
Tried & tested: the best eyeliners
Benefit BADgal BANG! 24 Hour Eye Pencil
The overall best eyeliner
Specifications
Colours available: Black, brown, blue, purple
Waterproof/water-resistant?: Yes
Reasons to buy
+Creamy and non-irritating formula+Long-lasting and waterproof+No need for sharpener+Strong pigment+Built-in smudger for creating smokey eye effect
Reasons to avoid
-Casing is quite scratchy when pencil is blunt
A steadfast favourite that will win over pros and rookies alike
Hailing from the creators of the cult They're Real mascara, this reliable liner is the younger sister of the newer Benefit Badgal Bang! mascara that has given its iconic rival a real run for its money in the big lash stakes. So of course, this liner was destined to take our top spot – but nepotism this is not, Badgal Bang! 24 hour pencil has done all the hard work for itself.
With a creamy formula that glides onto lids without catching, it can be blended for a smokey effect with the built-in smudger. This is a robust trailblazer that we can freely admit to stockpiling. It has a strong pigment that covers even the teariest of waterlines and doesn't itch or irritate when you're filling in the waterline. And after sporting this on a few wild nights over the years, we can definitely attest to its bold 24-hour claims...
Marc Jacobs Highliner Gel Eye Crayon Eyeliner
The best premium eyeliner
Specifications
Colours available: 22, including black, brown, blue, purple and pink
Waterproof/water-resistant?: Yes
Reasons to buy
+Strong pigmented colours+Resilient staying power+Built-in sharpener+Fancy packaging
Reasons to avoid
-Dries very quickly so have to work fast if you want to blend it
Luxury meets fun with this easy-to-use gel that spans the colour spectrum
With its sleek silver and black packaging, this one makes a hell of a chic statement. And it's a treat when it comes to both application and staying power. The gel formula means that it glides on without sticking or drying up and the waterproof liner gives this some serious resilience – even when used on the waterline.
We also love the pigment of all the colours – bright and muted alike – but have to say the rich mauve of the Jazzberry shade is a particular standout for us, especially when paired with one of the best eyeshadow palettes among our collection. And its nifty built-in sharpener means we're no longer caught off-guard when the pencil eventually goes blunt.
NYX Professional Makeup Slide on Eye Pencil
The best budget eyeliner
Specifications
Colours available: 16 including, black, white, deep brown, blue and gold
Waterproof/water-resistant?: No
Reasons to buy
+Smooth and creamy formula+Striking bold colours+Strong pigment
Reasons to avoid
-Runs out quicker than others-Can fade/smudge slightly during the day, especially when using on waterline
Bold shades and a strong pigment give you bang for your buck
NYX is always here to prove that a budget option doesn't mean a compromise in quality – and this eyeliner definitely lives up to the legacy. The creamy formula glides on smoothly with a pigment that is rarely seen in such pocket-friendly offerings. With a result that is almost liquid-like in its boldness, this is one for those who really want to pack in the definition. We also love that there are such striking colours on offer, with bright turquoise, deep green and pure gold options among the repertoire of shades available.
One gripe that we do have is that is can tend to smudge or fade during the day and the actual pencil isn't the longest-lasting, as the creaminess of the formula means that a lot is used during each application and goes hand in hand with it not holding up super well when sharpened. But at such a steal we don't mind forking out to replace this stunner once it runs out.
Charlotte Tilbury Rock 'N' Kohl
The best eyeliner for the waterline
Specifications
Colours available: Nude, black, brown, blue, grey and violet
Waterproof/water-resistant?: Yes
Reasons to buy
+Comfortable and creamy formula+Strong and pigmented colour+Brilliant staying power
Reasons to avoid
-Needs regular sharpening
Ticks all the boxes for a waterproof staple
While make-up pros are well accustomed to popping a touch of white liner on the waterline to make your peepers look bigger and brighter, it can be a slightly garish look if you go a bit over the top – especially on darker skin tones. So we are obsessed with Charlotte Tilbury's nude version (shade: Eye Cheat) that gives you the doe-eyed effect without transforming you into a beauty faux pas of the 90s.
The formula is so creamy that it needs to be sharpened every couple of times you use it, but it delivers mega pigment – even with the lightest touch – and the resilient cream basically sticks to the waterline, effortlessly staying put all the way until it's time to tap into Calm for your nightly sleep story.
Bobbi Brown Long-Wear Gel Eyeliner
The best eyeliner gel
Specifications
Colours available: Jet black, deep black-brown, black-brown, rich brown, chocolate brown, shimmering chocolate mauve, dark blue and violet
Waterproof/water-resistant?: Yes
Reasons to buy
+Very forgiving formula+Long-lasting+Versatile
Reasons to avoid
-Have to buy the liner brush separately-Doesn't create super defined lines
A multi-tasking hybrid that seamlessly creates both smokey and striking looks
If you can't decide between pencil or liquid liner or want something that will work as a hybrid of the two, then this innovative gel pot formula is well worth a try. A trailblazer on the eyeliner scene, this stretchy gel can be stroked on with its fine liner brush to create a fierce (albeit slightly softer than a liquid liner) line or smudged in for a smokier more dramatic effect.
The thickness of the robust formula means that it stays put all day long and it has a customisable pigment that is soft enough to build up for whatever impact you're going for. However, we must point out that you will have to fork out on a decent brush to apply this well, otherwise you could be left looking like you're sporting a different type of black eye than you were hoping for...
How to choose the best eyeliner for you
When it comes to choosing the best eyeliner, one of the first things to take into consideration is of course what kind of look you're going for. Eyeliner is one make-up bag staple that encourages a touch of polyamorism, as it's really best to have at least one of each type among your stash – pencil, liquid and gel. If you're after flicks and wings then opting for one of the best liquid eyeliners is your best bet, but if it's smokiness and impact you're looking for then you have to have a pencil eyeliner on hand. We also love gel liners, as they work somewhat as a hybrid of the two. And then of course there's the need for different colours...
Our number one parameter when picking an effective pencil eyeliner is the creaminess of the formula. Not only will a creamy formula give you the smoothness you need to create diverse looks – from defined to smokey – but it causes less irritation in the eye and generally makes for a more pigmented hue.
It's also important to pay attention to whether it comes with waterproof/water-resistant status, as this badge of honour not only makes it easier to use on the waterline, but also means that it boasts a more resilient formula that is less likely to fade or leave you looking like an endangered animal at the end of a long day.
Best eyeliner deals