Headspace vs. Calm: which is the best meditation app for you?
Calm or Headspace—which meditation app should you go for if you're after a mental tonic?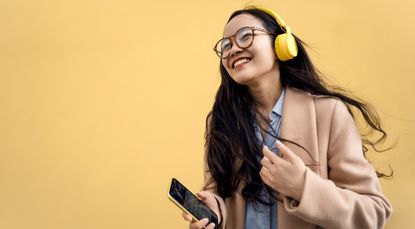 (Image credit: Getty)
It's been an uncertain few months, and it would be a surprise if you weren't feeling a little off-kilter right now. Research shows that the pressures of this time have had a significant impact on our mental health. Luckily, studies also show that meditation can be one of the best forms #selfcare—thanks to being highly effective at relieving symptoms of everything from anxiety to insomnia and burnout.
However, a comfy cushion on your own living room floor will work just as well as popping to a studio, particularly in these socially-distanced times. Before you Google "best meditation apps," it's likely you've already heard of the two most popular: Headspace and Calm.
But how do they compare in the zen stakes? We tuned in to find out which is the best app for enabling you to chill out...
Headspace vs. Calm: what do meditation apps do?
First of all, let's talk about how meditation itself works. The practice—which has origins in 5000-3500BC in India—has been linked to reduced stress and depression, as well as boosted productivity and sleep. Indeed, research has found that it can make people incrementally happier—one study associated it with a far more positive state of mind.
However, psychologists and neuroscientists are still somewhat in the dark over what exactly the magic is that it does to our brains. There are suggestions it moves higher frequency brain waves to lower ones so that in those slower wavelengths there is more time between thoughts. Either way, it seems to work, and now an estimated 500 million worldwide use meditation to wind down.
Great stuff, but what about the apps? Headspace was the first to bring mindfulness techniques to our phones, allowing people to enjoy guided sessions at the press of a button in the comfort of their own home, rather than have to schlep to a meditation studio to get the benefits. Since 2015, more than 2,500 have been launched and revenue jumped by 52% between 2018 and 2019. Given recent events, even more people are likely to turn to them for a mental breather.
What are the differences between Headspace vs. Calm?
Calm and Headspace are two of the most popular meditation apps, with millions of users each. (Calm surpassed 100 million downloads worldwide as of Aug 31, 2021, according to Data.ai.) Given their far-reaching—and increasingly mainstream - appeal, there are a lot of similarities between them.
They've both got extensive libraries of guided meditations—catering to both beginners and those more advanced—designed to tackle a range of concerns, and have shorter as well as longer meditations depending on how much time people would like to give.
In recent years, they've turned to famous faces (or rather, voices) to increase their reach (Calm's got Matthew McConaughey, Harry Styles and Regé-Jean Page; Headspace has folks like John Legend, Tiffany Haddish and Kevin Hart.)
There's also been an emphasis from both, since WFH became a reality, on music to boost productivity. Likewise, each has a number of functions that encourage you to check in on a daily basis—such as a "daily streak" tab and handy notifications encouraging you to take a time out.
However, just like Lululemon and Sweaty Betty leggings, both will boost your life—but there are key differences.
For starters, the designs are very different from one another. While Calm's blue, nature-focused interface encourages you to switch off, Headspace's busier, brighter homepage with smiling characters can't fail to boost your mood.
Then there's the contrast in accents, which may not seem like a big deal—but given that using a meditation app primarily involves closing your eyes and listening to a voice guiding you into relaxation mode, it's important. Calm's sessions are primarily narrated by American mindfulness instructor Tamara Levitt, while Headspace's is fronted by the English former monk Andy Puddicombe.
Functionality is another area of dissimilarity. Calm's is very geared towards putting you in the driving seat and allowing you to explore its extensive range of content and pick out for yourself something that speaks to you and your current mood (be that meditations on panic or confidence). On the other hand, Headspace holds your hand as it walks you through the process a bit more—so that you can hand over responsibility for your mind to them. It's ideal if you're in the psychological space where yet more choice in your life can leave you feeling overwhelmed.
Finally, there's the obvious difference in price. Both apps frequently change their membership costs in order to encourage more users. Calm is currently offering a one-week free trial, followed by plans of $14.99 per month, $69.99 per year and $399.99 for "forever" (you know, if you're really committed). Headspace has a two-week free trial, after which you'll need to part with $12.99 per month or $69.99 per year. It's a small difference, but it all adds up.
So Headspace vs. Calm: which app is better for de-stressing, anxiety and sleep?
It is worth noting that ORCHA, which reviews meditation apps for the UK's National Health Service, is a fan of both apps—citing how both have employed top-notch meditation experts and have invested in research to back up their claims.
While we slightly prefer Calm, given time, it is likely that both will help you calm your mind. Whether your concern is work anxiety or persistent insomnia, their far-reaching libraries of content mean there is always something for everyone.
This means that it really is all down to personal preference. The wisest step is to sign up for both of their free trials (either at the same time or following on from one another) and experience their features—quirks and all—for yourself.
Lauren is a freelance writer and editor with more than six years of digital and magazine experience. Most recently, she has been the Acting Commissioning Editor of Women's Health—where she co-produced the Going For Goal podcast—and has previously also written news and features for titles including The Telegraph, Grazia, Stylist, Dazed, The Sun's Fabulous, Yahoo Style UK and Get The Gloss. She covers all aspects of lifestyle, specializing in health, beauty, and travel. Can't live without: oat milk lattes, new podcast episodes, long walks, and great skincare.