Best meditation apps: download these digital tools to de-stress fast
Need some mental breathing space? The best meditation apps will get your body and mind chilled out ASAP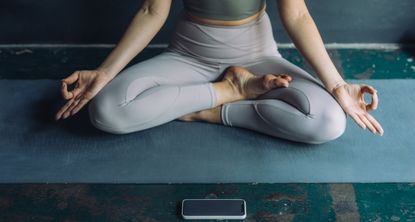 (Image credit: Getty)
It has been understandably difficult to wind down these past few months—that's where the best meditation apps come to the rescue.
Work and downtime have blended as we've embraced technology as a way to stay connected, leaving us suffering burnout and struggling with insomnia, anxiety and loss of focus. Between email notifications and news alerts on our phones, it's been nearly impossible to switch off our minds.
But what if our tech device could actually be a source of calm? Meditation, as a concept, harks back to 5000-3500BC in India, but it's received the digital treatment in recent years thanks to the best meditation apps on the market.
Whether Headspace versus Calm, these apps promise to bring relaxation, happiness, and productivity—among a multitude of much-needed benefits—to busy lives. Research has found positive effects of meditation on everything from PTSD to psoriasis and IBS, as well as rivaling antidepressants when it comes to treating anxiety. More interestingly, studies discovered that digital tools were just as effective as traditional in-person classes when it came to reducing fatigue and burnout.
And it seems increasing numbers of us are "all ears" to the benefits of meditation apps. They've been growing in popularity of late—in 2019, more than 52 million first-time users downloaded one of the top ten meditation apps. However, the sheer number available now means it can be a minefield to choose the best one for you, based on what your mind needs and how much time you have. As you'll find out, Calm is our favorite all-rounder, but here's our verdict on the best meditation apps for sleep, budget and more.
The best meditation apps to help you de-stress now
The best all-around meditation app
Specifications
Free trial: One week
Price: $69.99 annually
Where to get: Available on the Apple Store and Google Play
Reasons to buy
+
Soothing interface—just clicking on this app will make you feel, err, calm
+
It educates you on how to meditate—so when you're told to 'focus your mind' you actually know what that means
Reasons to avoid
-
You'll need to invest a bit of time in digging around to find the best bits of the app. Unlike Headspace (more of which next) where it's all at your fingertips, literally
-
You'll need to use it daily to get your money's worth—checking out free guided sessions on YouTube or Spotify may be just as effective if you're planning on dipping your toes occasionally
Interestingly, Calm broke onto the scene out of wellness-loving California in 2016 with the aim of helping adults nod off with 23 "Sleep Stories." This means that sorting out your zzz's is their specialty—their "7 days of sleep" guided meditation mini-course is designed to do this in just a week.

However, Calm has progressed to become arguably the most well-rounded meditation app on the market, and these days it'll help you de-stress as well as reduce anxiety and boost productivity. In fact, the Calm team now presents their concept as "mental fitness", arguing that the brain is a muscle that needs to be regularly flexed in order to build strength and resilience.

Land on the app's homepage and you'll be treated to the relaxing sounds of nature, before being given options for sessions of varying time increments for a range of scenarios (like "Calming Anxiety" in three minutes and "Walking Meditation" in 15 minutes). There's even the option to listen to the rain falling on leaves for an hour-plus, which was mystically fantastic for my productivity, as were the narrations from celebrities including LeBron James and Harry Styles.

In addition to that stardust soothing your ears, one of the main USPs is the educational aspect where it gives you a 101 in meditation so you know what you're trying to achieve—key without an in-person instructor. Give it a go!
2. Headspace
The best user-friendly meditation app
Specifications
Free trial: Two weeks free trial
Price: $12.99 per month, $69.99 annually
Where to get: Available on the Apple Store and Google Play
Reasons to buy
+
Simplicity—one of the easiest meditation apps to get your head around
+
Accountability—gently encourages you to check back in each day so you can reap the benefits
Reasons to avoid
-
It's very general at the beginning, and less focused on helping solve particular problems
-
Like the Calm app, you need to commit to using it pretty regularly to get your money's worth (and the mental health rewards)
Who wouldn't like to be significantly happier upon the simple download of an app? Well, that's what Headspace claims to do. Launched in 2010 in the UK by former monk Andy Puddicombe, it was the first of its kind, promising to guide people through the process of reducing stress, sleeping better, and being more productive.

It's astonishingly easy to use with guided meditations in audio and video format, presented in one neat, colorful digital package. It's now used by more than 60 million people in over 190 countries—including stars like Emma Watson and Millie Mackintosh.

What really resonated with us was that they've done away with the singular stereotype of bum-on-cushion meditation to also include offerings such as walking or running meditation, and meditation while cooking (great for those who struggle to sit still). There's likewise a "Focus Mode" (with music curated by none other than John Legend) that's great if you're working from home, and "The Wake Up" will kickstart your mornings in the best possible way. Bliss.
3. Insight Timer
The best budget meditation app
Specifications
Free trial: Free (forever)
Price: Free
Where to get: Available on the Apple Store and Google Play
Reasons to buy
+
If you're already a meditation pro, and like your sessions more freestyle
+
Unlike most meditation apps, it won't cost you a penny
Reasons to avoid
-
Not great for beginners—its features are best if you've got your meditation practice already fine-tuned
-
It may be off-putting for those who like to be told what to do. You've got to find your own path
This nifty Insight Timer meditation app started as a simple way for people to time their meditation practice. Now it has grown into a much broader offering, but the "Timer" button that remains proudly on its homepage ensures it hasn't forgotten its back-to-basics roots.

As well as doing a silent meditation for as long as you like (and with or without bells), there are more than 55,000 guided meditations ("Boosting Your Self-Esteem" is worth checking out) and 400 courses on the platform. ("How To Change Unwanted Habits" uses mindfulness to help you ditch, for example, negative eating patterns.)

What sets it apart from others is its in-app "Live Events," featuring folks like supermodel Gisele Bündchen talking about their personal meditation routines, as well as sessions that speak very much to the challenges we're facing right now ("Re-centering in times of uncertainty").

However, one of its best features is the interactive global map showing others around the world who are using the app to meditate at the same time as you (when we checked in at 9am on a Sunday morning for some Zen time, there were an impressive 10,000 others doing the same). That's powerful!
4. Pzizz
The best meditation app for sleep
Specifications
Free trial: One week
Price: $9.99 per month, $69.99 annually
Where to get: Available on the Apple Store and Google Play
Reasons to buy
+
If sleep is the area you want to focus on most, this one does it really well
+
You like to be guided every step of the way, and hate decision-making
Reasons to avoid
-
If it's not just sleep you want to work on—there are plenty of apps that help with this, with the addition of a host of other issues
-
You wake up in the middle of the night - unlike Headspace, for example, it doesn't have a clear, specific section on how to return to the zzz's at 3am if your mind is going haywire
Designed using clinical research to help you achieve the deepest sleep, Pzizz knows its stuff. It helps you calm your mind so that you can nod off fast, keeps you in beautiful slumber, and allows you to wake up feeling refreshed. It also has a "Nap" section that enables you to quickly reenergize during the day.

It's also incredibly easy to use—you don't have to faff around working out if you want to meditate for five or 15 minutes, and what sort of background noise you want. Pzizz takes the arguably-crippling choice out of the equation.
You set your alarm for 11pm at 10:43pm and it will treat you to dreamscapes (a mixture of music, voiceovers and sound effects, which change daily) set at different frequencies—using "binaural beats that induce theta brainwaves"—that last exactly 17 minutes, to soothe and calm the brain so you doze off at your chosen bedtime (trust us, it works). A good night, indeed.
5. Inscape
The best meditation app for stress and anxiety
Specifications
Free trial: One week
Price: £7.81 per week, £46.10 annually
Where to get: Available on the Apple Store and Google Play
Reasons to buy
+
You're after more specific guidance to help you with particular needs
+
You're partial to a slick, pretty interface
Reasons to avoid
-
Like Calm and Headspace, you'll need to commit in order to recoup the not insignificant financial investment
-
You like a variety of narrators - in this case you'll have to do with one (albeit very calming) Aussie accent
What's unique about Inscape is it's tied to an actual real-life, trendy meditation studio in New York, which means the creators know their stuff about providing mental relief if you live in a busy city environment.

They launched the app in 2016, with a 25 to 35-year-old demographic in mind, and the aim of becoming the "Spotify" of meditation rather than the "Netflix." That means that instead of asking users to delve around in its "library" of 650 sessions (ranging from five to 88 minutes) to find something suitable for stress and anxiety (their most popular general topics), they use customer preferences to create and update playlists daily that sit prominently on the app's "Explore" tab—much like the slick music-streaming service.

Unlike broad-reaching concerns that other apps aim to tackle, they've created more specific meditations for things like "Tinder Troubles" if your dating life has gone awry, and breathwork for the Black community in its "Black Lives Matter" section. So clever!
How to choose the best meditation apps for you
They may have very similar goals, but meditation apps are not dissimilar to yoga. You want a good stretch, sure, but you might love ashtanga while detesting vinyasa. The same goes for meditation apps. There are different styles, features and techniques such as mindfulness. It's very personal and is always, if possible, best to try before you buy (by making the most of the free trials many of them offer).
But as well as personal preference, there are some important factors to consider. "Whilst the consequences of choosing a low-quality therapeutic app may appear low, making the right decision is important, as there may be longer-term risks from not adequately addressing symptoms of stress, anxiety and other mental health concerns early," explains Liz Ashall Payne, CEO of ORCHA, who review meditation apps for the NHS. "There are some brilliant apps out there, and so not choosing the right one means you are missing out on accessing the real benefit that is possible."

Their top pick is Calm (also our favorite, as you'll see), which employs a number of experts in meditation, and has produced several studies to demonstrate that the app is effective in relieving symptoms of a variety of mental health disorders. Just what we like to hear!
Want more handy apps to improve your life with the click of a download button? Add these best sleep trackers, productivity apps, money-saving apps and period tracker apps to your smartphone STAT.
Lauren is a freelance writer and editor with more than six years of digital and magazine experience. Most recently, she has been the Acting Commissioning Editor of Women's Health—where she co-produced the Going For Goal podcast—and has previously also written news and features for titles including The Telegraph, Grazia, Stylist, Dazed, The Sun's Fabulous, Yahoo Style UK and Get The Gloss. She covers all aspects of lifestyle, specializing in health, beauty, and travel. Can't live without: oat milk lattes, new podcast episodes, long walks, and great skincare.