IUB Ballerine: everything you need to know about the latest non-hormonal contraception
The IUB Ballerine is a new non-hormonal coil. Here's what you need to know about it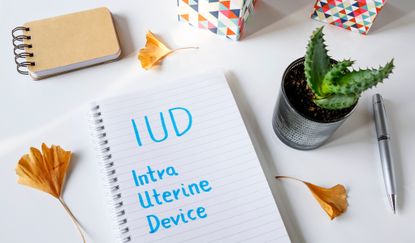 (Image credit: Getty Images)
Considering getting the IUB Ballerine? There are a few things you need to know first.
As women, many of us have a tricky love/hate relationship with contraception. While we love the sexual freedom it allows us, the many side effects it can have on our bodies and our mental health can be enough to put anyone off. That's why it's important to do your research before committing to any form of contraception.
One of the most popular methods among women at the moment is non-hormonal contraception. This is because it is often believed to be less harmful to the body than hormonal contraception such as the pill or the hormone-based IUS coil, which have been linked to side effects such as weight gain, mood swings and a low libido to name but a few.

Of course, all of these are very subject to the individual and how your body reacts. But if you're not a fan of pumping hormones into your body, then non-hormonal methods could be for you. Although these also come with their own set of side effects to be wary of, from pelvic infections to thrush.
The IUB Ballerine, also known as an intrauterine ball, is the latest copper coil to join the list of non-hormonal contraceptive methods available for women. Here's everything need to know about it.
What is the IUB Ballerine?
The IUB Ballerine is similar to a regular coil but instead of the T shape, it is formed in a spherical shape and is also half the size of the classic one, with two sizes measuring 12mm and 15mm in diameter. It was developed by OCON Medical and launched in Austria in 2014.
It has since been available in most European countries, as well as being offered as an option for women in parts of Africa and the Middle East. In the UK, however, the IUB has only been offered at private clinics since 2017, with talks of it coming to the NHS being put on hold due to the pandemic.
How does the IUB Ballerine work?
Just like the regular IUD, the IUB Ballerine prevents pregnancy by releasing copper ions into the uterus. Explaining how it works, Daniela Schardinger from OCON Medical told Refinery29: "It's a next-generation intrauterine device. It's the first three-dimensional IUD and works along the same principle as a T-shaped copper coil, preventing pregnancy by releasing copper ions into the uterus. That's the main technology of preventing pregnancy but having a foreign body inside the uterus is another way that it helps to prevent conception."
Schardinger added: "The Ballerine was invented to be totally spherical so no matter which way it turns, it will always relate to the uterus in the same way. It has a built-in safety mechanism to minimize the risk of perforating the uterine wall, and it's also flexible. This means it adjusts to your contractions and is just a better fit to what we know of the uterus today."
The IUB Ballerine was tested for four years before it was launched, with clinical trials showing the device reduced period pain and bleeding for some women. It can last from five to ten years once inserted and is said to be 99-percent effective. Like any other IUD, you can return to fertility as soon as you have it removed, with the added bonus of having none of the side effects of hormonal withdrawal that some women experience when coming off hormonal contraception.
Is the IUB Ballerine available in the UK?
As mentioned above, the IUB Ballerine is currently available in private clinics across the UK and has been since March 2017. It is not yet available as an NHS service but will be soon, according to OCON Medical.
"We have a partner in the UK, who is in discussions with the NHS. Unfortunately, COVID has pushed us back, so we've had to put those plans on hold a little bit," Schardinger said. "It's very hard to say exactly how long it will take. It might be next month, it might be in the autumn—but we are in active discussions and we hope that we can launch it this year."
Right now, it is expected to arrive by the end of 2021.
Sagal is a journalist, specialising in lifestyle, pop culture, fashion and beauty. She has written for a number of publications including Vogue, Glamour, Stylist, Evening Standard, Bustle, You Magazine, Dazed and Wonderland to name a few.