8 outdoor date ideas to plan for the warm-weather months
We're all tired of staying inside—these outdoor date ideas will get you and your S.O. out of the house and into the sunshine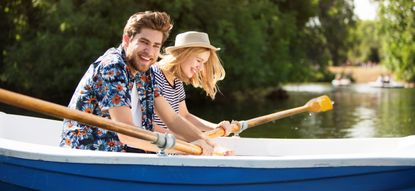 (Image credit: Getty)
After a long, cold winter spent indoors (even more so than in normal years), spring is finally in the air and we're all raring to get the heck out of the house—and these outdoor date ideas are just what you need to do that.

Planning the perfect outdoor date is a great way to spend some time outside with your significant other. Whether you're into seasonal events, outdoor fitness, or simply soaking up some rays, you have a plethora of options for planning something special that you'll both remember.

Along with being an exciting upgrade from stay at home date ideas, outdoor experiences are an especially popular alternative to indoor activities this year, as it is easier to spread out and keep your distance from other people, and many of your favorite traditional date ideas can easily be adapted to an outdoor setting.

Here are eight of our favorite outdoor date ideas to enjoy during the warm weather months. Plan one (or several!) of these sunny dates with your significant other today, or browse our list of the best dating apps available if you're still searching for that special someone!
Cute outdoor date ideas for a romantic day out
1. Go on a Hike or Bike Ride
If the two of you are fitness enthusiasts, enjoying a long hike or leisurely bike ride is a great way to spend time together outdoors. Many local parks have trails of varying difficulty levels to match your skill level. Hiking areas in particular have the added bonus of beautiful places to take photos together, in case you want to make things Instagram official!
2. Enjoy an Outdoor Concert or Movie
Although many theaters and other indoor venues have not yet reopened, several are finding creative ways to continue providing entertainment options that make excellent outdoor dates. Drive-in theaters have made a comeback in the past year, and live performers have begun to take advantage of similar ideas.

Whether you're interested in setting up folding chairs to listen to local musicians performing alfresco or enjoying an old movie on an outdoor screen, outside entertainment gives you similar date options to some of your tried-and-true favorites.
3. Build a Campfire
Planning the perfect outdoor date doesn't actually have to require leaving home. If you or your beau has a fire pit in your backyard, you two can enjoy a cozy evening of watching the sunset and snuggling by the fire. Grab your favorite blankets, roast some marshmallows for s'mores, and enjoy a meaningful conversation by the crackling fire.
4. Visit a Farmers Market
Shopping at a local farmers market provides a scenic walk and an easy way to support local businesses. Many farmers' markets provide a wider variety of healthy options than grocery stores, and you can choose items to bake cherry pies, lemon bars, or other spring treats with when you get home.

Some larger outdoor markets feature homemade baked goods, artisanal crafts, and other items from local mom-and-pop shops and other vendors, so you can make it a whole afternoon of shopping!
5. Go to a Sporting Event
Although not all professional, amateur, and youth sports have returned to normal games yet, enjoying a local game is a fun and low-stress date idea for outdoor enthusiasts. A variety of games of every level have begun to return to their normally scheduled programming, but it's a good idea to check your favorite team's website for current fan policies before heading to the park or field.
Are you suffering from FODA, the relatable new dating trend?
6. Enjoy a Picnic at the Park or Beach
Enjoying lunch in your favorite park or at the beach is a free and relaxing way to enjoy the sunshine and warm weather. Consider bringing a frisbee, basketball, or similar item with you to continue enjoying the great outdoors after you eat. Whether you and your significant other enjoy strolling along a scenic path or spending time near a lake, chances are there's a park near you that suits your interests.
7. Go Mini Golfing
Even if you're not particularly into sports, playing a round of mini golf is a fun way to spark some friendly competition. If mini golf courses in your area are open, this childhood favorite translates perfectly into an ideal outdoor date. Always double-check with your local mini-golf business to see what safety precautions they have.
8. Visit a sunflower patch
Enjoying an afternoon at a local sunflower patch or summer farm is an inexpensive and unique way to enjoy the warm weather. Whether you want to pick flowers together, have a sunny scenic photoshoot, or simply enjoy a relaxing walk among hundreds of beautiful flowers, this summery favorite is a must. Many larger patches also offer a variety of activities, such as games or hayrides, and might even serve lemonade and other summery treats.
The My Imperfect Life team is all about helping you navigate your world. We bring you the latest on fashion, beauty, travel and wellness so you can live life on your terms.