The best stay at home date ideas for when you can't leave the house
Moving date night inside doesn't have to be dull with these stay at home date ideas for couples...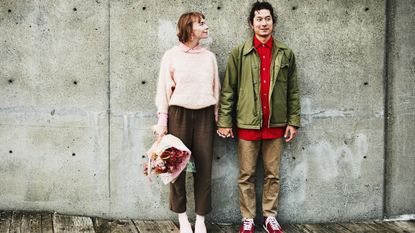 (Image credit: Getty)
Stay at home date ideas for couples don't have to be all watch Netflix and chill. While the past year has been a pressing time not just for single people who couldn't go on dates, but for couples cooped up together with no outside world to engage with or with each other in. Finding indoor date ideas that are fun, original and will keep you entertained might sound easier than it is, but luckily we have a few ideas in store for you.
Stay at home date ideas for couples
From film night to experimenting in the bedroom, the experiences straight from the mouths of lockdown couples vary in extremes but are all winning ways to keep the spark alive in their own right.
Whether you are a pairing who have been cohabiting for years or a new couple looking for inexpensive, indoor ways to enjoy each other's company further, the following at-home date ideas are sure to at least pique your interest at least once. Because who among us - although definitely fully mature adults at this point - hasn't wanted to recreate the forts of our childhood? And take it one step further, create forts that are fuelled by a knowledge of duvet tog counts and the comfort of a cuddle with your lover underneath the chair suspended sheets?
Travel around the world and explore each other's inner workings—literally and mentally—with the date ideas listed below.
1. Cook for each other
This one might seem obvious, but binning off the lap trays to sit at the table without the telly on will give you more of a chance to catch up properly—without having to spend money or time on a socially distanced dining experience.
Most couples we spoke to said that taking the time to create a three-course meal - and even a menu - can add a bit of fun to your regular evening meal.
Kirsty, a fashion design student from Glasgow, Scotland, took on the reality TV show format, saying that she and her partner "cooked a three-course meal each and recorded videos of us scoring each other to playback at the end".
"When we did the big shop we had to hide our ingredients to keep up the surprise, and the prize was a big chocolate bar and a foot rub. It was really silly but a fun way to make tea time different!"
2. Spice up your sex life
Why not make the most of already being at home and coming up with new things to do in the bedroom for a special night in? Laura, a powerlifter and self-confessed cat lady, said that teledildonics is the way forward for making indoor dates fun. By buying one of the best app-controlled vibrators, you can even engage in sexual activity without being in the same room, let alone being in the same house.
So whether you're spicing up date night with some Uncle Ben's spicy rice during Mexican night, or choosing a new rhythm for their butt plug from your phone, keeping date night between your own four walls doesn't have to be dull anymore. Of course this also works for long-distance relationships...
3. Indoor bar crawl
Missing the pubs and clubs taken away by quarantine, Dominique—a food stylist and writer based in London—turned rooms in her home into various bars for the pair to travel between (which sounds so much better than sipping wine on the settee).
"I made posters for each room and they all had different themes and drinks," Dominique explains. "For the pub we had pints of Stella, salt and vinegar crisps and listened to Arctic Monkeys. For a 'rooftop bar' we made cocktails and listened to more vibey music. One room was a sports bar, so we watched old world cup games on YouTube and played beer pong, then followed that up with a basement rave with glow sticks and techno tunes."
Save yourself the effort of slogging through cobbled streets in your best get up with an at-home bar crawl with your partner, and save even more money (and embarrassment) by not having to pay for being sick in your taxi home either.
4. Take a nice trip
Who says you need to leave your living room to see the world? And I don't mean spending hours on Google Maps street view. Emily and her partner were meant to fly to France before quarantine made their trip an impossibility. Instead of letting it get them down, they turned the flat into a Paris of their own.
"I made us French food, we watched some French films and we went on a lil walk and pretended a phone tower was the Eiffel tower." And if Paris doesn't strike your fancy, take the idea and run with it for your own around the world trip: have hotdogs and beer for a German vibe or pasta and prosecco in a made up Milan - the possibilities are endless when you don't actually have to pay for flights...