What is hair porosity and why is it important to know yours?
We asked top hairdressers about the different levels of hair porosity and the best styling products for each type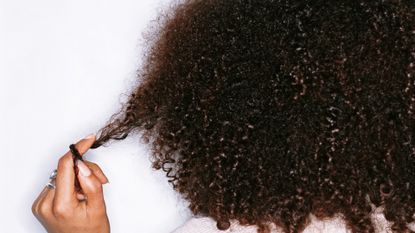 (Image credit: Getty Images)
If you're embracing your naturally curly hair for the first time and have delved into the masses of curly content on social media, you've probably heard the term hair porosity thrown around a fair bit.
Along with understanding the Curly Girl Method (or the Curly Girl Method for beginners) and of course knowing the different curly hair types, understanding hair porosity is an important part of your haircare regime, in terms of the styling products you use and how often you deep condition.
To explain why knowing your hair porosity is important in more depth, we caught up with some of the industry's leading hairdressers to explain the different levels and the best styling products for each.
What is hair porosity?
"Hair porosity is how well your hair absorbs and retains moisture," top hairdresser Lorraine Dublin, whose clients have included Serena Williams and Gabrielle Union, tells My Imperfect Life. "It's important to understand your hair's porosity so that you incorporate the right products and methods into your routine."
There are three key hair porosity ratings: low, medium and high. The higher the porosity rating, the further apart the cuticles sit and more easily allow moisture in and out.
Low porosity hair is the least absorbent, but can retain moisture fairly easily once moisturized. High porosity hair, on the other hand soaks up moisture very easily, but doesn't keep hold of it well—it can often feel or look dry and dull.
Meanwhile medium porosity hair (also sometimes referred to as normal porosity hair) is fairly balanced in terms of how well it can absorb and retain moisture.
Your personal level will be somewhat determined by genetics, but it is also affected by factors like damage. "Porosity has a lot to do with the types of products you use as well as your styling techniques," adds award-winning hairdresser and textured hair expert Charlotte Mensah. "Exposure to pollution, UV rays, air-con and heat means that hair's cuticles get damaged, leading to [higher] porosity and breakage."
How do you test your hair porosity?
Firstly, ensure that the hair is clean and dry before you test its porosity. "Take a couple of strands of hair from your comb or brush and drop them into a bowl of water, then let them sit for two to four minutes," Lorraine explains.
"If your hair floats, you have low porosity. If it sinks straight away, you have high porosity. If it floats initially but then starts to sink, this means you have medium porosity hair."
Which styling products are best for my porosity type?
You've probably caught on to this by now, but your hair porosity will inform the styling products you choose for your hair. As a general rule, heavier nourishing products are better suited to higher porosity levels, as there is more of a risk that they'll sit on the surface of low porosity hair—but all need moisturising regardless.
"The type of products you use can change depending on your curl type, your hair porosity and if your hair needs protein or moisture," says Joleigh Wynter, founder of East London's Curl Talk salon—an outpost that gets booked up months in advance for the team's legendary curly cuts. "It all depends on the hair—if it's dense or thin it needs moisture or protein, but low porosity hair needs a lot of water, so I would go for more water-based products here."
She adds: "High porosity hair is more open, so accepts the water easily, but loses it just as fast. So it needs slightly heavier products to lock that water in and close the gaps."
---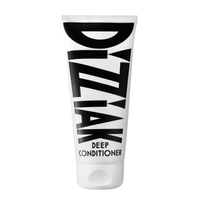 Dizziak Deep Conditioner
RRP: $32/£22 for 200ml
Loved by curly girls everywhere, this award-winning deep conditioner was designed to be effective on all hair types, but particularly Afro hair.
Never too heavy, it's a cocktail of quinoa protein and argan oil, coconut and Babassu oils for soft, happy and healthy strands.
---
---
---
Meanwhile Lorraine says that every porosity level will benefit from a deep conditioner. "For low porosity hair, try deep conditioning it at least once a fortnight and mix in vegetable oils into the conditioner, which will help retain moisture and add protein to the hair," she advises.
"With medium porosity hair I'd recommend doing the same thing, but you won't have to do it as often, perhaps once a month. High porosity hair is more fragile and prone to breakage, so again these products are great—but do the deep conditioning once a week so that you can keep an eye on it."
Lorraine adds: "For Afro hair, regardless of the porosity I'd recommend using a leave in conditioner spray or oil regularly. If your hair is left out I'd say use it daily, and if it's in a protective style then apply every few days."
Lucy is a beauty journalist who has written for titles including Marie Claire, Cosmopolitan, OK!, woman&home and Women's Health, as well as regularly contributing to My Imperfect Life. Her work covers everything from skin and haircare tips to trying and testing the latest beauty launches, and interviewing celebrities and experts. A certified dog person, her other interests include mental wellbeing, books, piña coladas and not getting caught in the rain.