These are the 2023 dating trends to know if you're looking for love in the new year
Want to meet someone? These are the 2023 dating trends to swipe right on...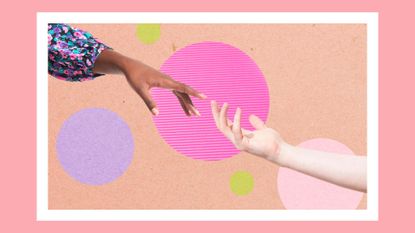 (Image credit: Getty Images)
If you're keen to meet your perfect partner, then the top 2023 dating trends are certainly ones to swipe right on and help you freshen up your love life in the new year. From 'guard-railing' to 'fating', they will help you get out of a romantic rut, whether you're wanting to see someone casually or find The One.
The 2023 dating trends to know
Have you got disheartened while checking out the best dating apps? Then brush up on the latest hack for sorting through your matches most efficiently. Was the 'main character energy' dating trend not quite your vibe? We'll introduce you to an alternative approach to getting exactly what you want in a potential suitor.
"In 2022 we saw 'hard balling', the rise of alcohol-free 'dry-dating', and a growth in making hobbies a part of our dates," says dating expert Mairead Molloy. "But new ideas are forming all the time around how to meet partners." The coming months are no exception...
1. Open casting
Thanks to Love Island, we've been instilled with the belief that we all have a particular 'type on paper' and that straying too far from our pre-conceived set requirements (for example tall, dark and handsome) could spell romantic disaster. But 2023 will be the year to dispel that and other dating myths once and for all and try something new and unexpected.
"It will be all about 'open casting'," explains Molloy. "This basically means thinking outside the box when it comes dating and sex, especially with people that are not your usual type." Because opening yourself up could lead to discovering one of your best connections yet.
2. Guard railing
Gone are the days when dating was about basking in blurred lines and flexible boundaries—people are getting crystal clear about why they're dating. Indeed, dating app Hinge has added a 'relationship goals' section to its app where people can be upfront about what they are looking for, whether that's a spring fling or a year-round romance.
This trend, according to Molloy, is called 'guard railing'—and we are set to see it become an ever more attractive cornerstone of dating this coming year. "It means being super clear about what you need emotionally and being more intentional about how you put yourself out there," she explains. Which might include being honest about your lust language...
3. Love/life balance
Gen Z and millennials are pushing back on the idea that work should come above relationship happiness. "The trend for 'love/life balance' will see career ambitions no longer top of the list," notes Molloy. "It started off during the pandemic, when people began prioritizing rest and play, and has continued to grow."
However, it's not just people's own careers that they're 'quiet quitting' on—daters are also finding it less attractive if a prospective partner is too married to their work. "Research has found that 33% of people are no longer willing to date someone who has a very demanding job," adds Molloy. "It's becoming more important to be on the same wavelength about finding balance."
4. Fating
While getting your sweat on with a potential partner may have previously been exclusively in the bedroom (armed with some of the best sex tips), this might be the year that you go on a 'fate'—AKA a fitness date.
"As people become more conscious about how and who they spend their time with—and as the health scene continues to thrive—we predict that increasing numbers of daters will combine a passion for working out with looking for love," says Cem Miral, co-founder of Fitafy.
Going on a fitness date—be that a run, yoga class or a gym session—can be a great way to bond over a shared passion. "This will help foster an instant, deeper connection and also take the pressure off when it comes to money," adds Miral. "Going for a walk can be a much cheaper and uninterrupted way to get to know someone, compared to heading to a bar."
Lauren is a freelance writer and editor with more than six years of digital and magazine experience. Most recently, she has been the Acting Commissioning Editor of Women's Health—where she co-produced the Going For Goal podcast—and has previously also written news and features for titles including The Telegraph, Grazia, Stylist, Dazed, The Sun's Fabulous, Yahoo Style UK and Get The Gloss. She covers all aspects of lifestyle, specializing in health, beauty, and travel. Can't live without: oat milk lattes, new podcast episodes, long walks, and great skincare.