A love letter to "Insecure" and its portrayal of Black womanhood
How the seminal Issa Rae series reflected modern-day Black womanhood in a way TV rarely allows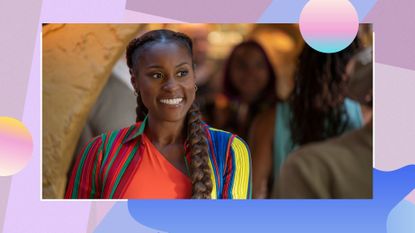 (Image credit: Glen Wilson/HBO)
Growing up, Black TV was my gateway into the Black community.
I was mesmerized by shows like The Fresh Prince of Bel-Air and Moesha, and quickly found that by watching Black characters laugh, cry, struggle, and succeed on television, I was afforded a chance to explore a side of myself that I was unacquainted with, and subconsciously hid from the people around me.
I grew up predominantly in white spaces—my parents, who immigrated to the U.S. in the 1980s from Kenya, had their struggles assimilating to and surviving within American culture. Conservative whites rejected their presence (unsurprisingly), as did Black Americans (which was much more surprising). My parents' foreignness was off-putting to most of the Black people they came about. They called them Uncle Toms and questioned why they weren't draped in African regalia or talked like Eddie Murphy in Coming to America. So they shied away from the Black community, in an effort to protect their mental health and what remained of their dignity.
And when I came along, they applied that same avoidance of Black spaces to the way they raised me. Don't get me wrong, it was a beautiful childhood, and I was aware of my Blackness and loved being Black. But I wasn't among others besides my parents who looked like me.
More often than not, I was the sole Black girl in the room and, from an early age, was already well-acquainted with questions like, "Wow, your hair just stands up! Can I touch it?" and "You have a great singing voice. Why can all Black girls sing?" That was my normal—I quickly got used to being surrounded by people who didn't understand me or the realities of my existence.
After school, or whatever extracurricular activity I partook in that semester, I'd run home with one mission in mind: to catch my favorite Black sitcoms. I'd sit on our slightly rough, yet comforting carpet in our upstate New York home and throw on the TV.
There, waiting for me like a loyal pup or cozy security blanket, were the likes of Will Smith, Moesha Mitchell, Raven Baxter, and more to usher me into their wonderful world of Blackness. I loved them all, but what was particularly captivating to me was the Black female characters on these shows. They were so beautiful, funny, and larger-than-life. Like most little Black girls, I wanted to be them.
It was the little things that got me, like the way Moesha's micro braids would whip around or how Hilary Banks would saunter around the Banks' home. Their warmth and realness made me feel safe to explore a part of myself that I hid from my peers. These characters gave me permission to be more than the Black girl in Mrs. Hargreaves' class. They invited me into a community I was so separated from, but desperately longed to be a part of.
Fast forward over a decade later—in 2016, to be exact—and Insecure premiered on HBO. The series, which followed the indecisive Issa Dee (Issa Rae) and her BFF Molly (Yvonne Orji) navigate the nuanced trials and tribulations that come with Black womanhood, fell into my roster of shows at a time when I was feeling more isolated than ever. I was at home from college for the year, thanks to a pretty serious health crisis. I was physically isolated from my friends, who were back at school enjoying the carefreeness of junior year. And I was emotionally and spiritually isolated from my body. No one knew what was going on, and I'd never felt more lost in my life.
Issa and Molly gave me comfort. I had never seen a show like Insecure on TV before. Here were two dark-skinned women at the forefront of this major TV show, who were so lost and unsure of themselves, but incredibly beautiful and deeply loved the Black people and places around them. Issa was a mess for the majority of the series' run, bouncing from longtime lover Lawrence to newer baes like Nathan and Calvin. The first half of the show saw her utterly dissatisfied professionally, working for a "woke" organization aimed at empowering Black and Brown kids.
That later became my life. Like Issa, I found myself bouncing from an old college flame to suitors met on Hinge and Bumble. I was beyond dissatisfied at my job working for white frat brothers turned tech bros and, like Issa too, I constantly complained about it all without doing much to change it.
Then there's Molly, who was the subject of scrutiny throughout the show's tenure. Molly was a woman after my own heart. She did way too much in relationships—a habit I knew all too well—and found that switching from a workplace that was mostly white to mostly Black was not as smooth a transition as she expected. Molly's romantic journey was the arch that really spoke to me. Seeing Molly force so many relationships that just weren't the right fit, to then taking some time to heal and recalibrate, to finally finding an organic love with coworker Taurean, was inspirational. And a beautiful message to Black women everywhere.
When news broke that Insecure's fifth season would be its last, it was a hard pill to swallow. The show had meant so much to me and the Black community at large. Sunday nights would see Twitter set ablaze as watchers tweeted their thoughts on the new episode. Viewers cared so much about Insecure's characters and the world it portrayed—we felt like these were our friends, and we saw ourselves in Issa and Molly. We wholeheartedly wanted to see them succeed, because if they could find the relationships and careers of their dreams, maybe we could, too.
Insecure's legacy isn't the Twitter debates the show inspired or even the many Black creatives it put on the map. The beloved HBO show will forever be remembered for its portrayal of Black women. The show transformed Hollywood for so many reasons but most notably its commitment to showing Black women laughing, failing, crying, thriving, and just being.
Insecure was always my reminder that it was okay that I was a mess and that I made mistakes and I was scared. It helped me realize that, as the show's final episode is titled, everything is going to be okay. And that's Black TV at its best.
You can stream all five seasons of Insecure on HBO Max.
Kui Mwai is a culture, health, and beauty writer. She works as the latter for Bustle, covering anything and everything happening in the beauty industry. Her work has appeared in a wide array of women-driven brands, including Cosmopolitan UK, ELLE UK, Well + Good, and more. In her career, Kui has committed to telling stories of those who are typically underrepresented by the media, especially within the Black community and African diaspora.
When she's not writing about beauty, she spends way too much time talking about astrology, Whitney Houston, and Toni Morrison (not at the same time, though the combination of those topics would be her dream). Keep up with Kui on all socials @kuiwrites_