Aaliyah style: why the One In A Million star's legacy will live forever
Why her style is—and always will be—relevant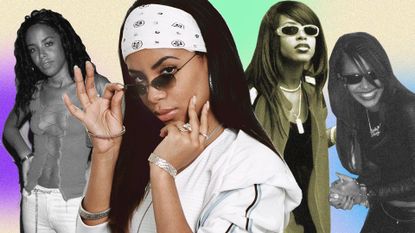 (Image credit: Getty images / KMazur / Sal Idriss / Chris Walter / )
Some stars have the power to influence style and popular culture long after they've gone. And, when it comes to Aaliyah, that's certainly the case. To celebrate Aaliyah's music finally being available on streaming platforms—and to coincide with the launch of her new book, BabyGirl: Better Known As Aaliyah—Kathy Iandoli looks back on her own relationship with the icon aka 'Princess of R&B' and how her style is—and always will be—relevant.
When I was 15 years old, I made the decision to grow out my bangs, and it was all Aaliyah's fault. Some call them "fringe," but whatever they were, as soon as I saw Aaliyah in the "Back & Forth" music video, I knew I no longer needed them.
Aaliyah and I were the same age, and just seeing how cool someone could be in the same 24 hours a day that I had... Well, it was intimidating, yet inspiring. So, I was inspired to grow out my hair.
My bangs started growing, reaching that awful length below the eyes, where the only option is to pin them back, since they're still too short to reach behind the ear.
By the time they reached my cheekbones, I considered it a small victory, but by then it was 1996 and Aaliyah had already graduated to the covering of one eye with a swooped bang. She did that like actress Veronica Lake, who was her mother's favorite. Aaliyah was my favorite, so now I wanted that look. I started wearing hats to force my hair down.
This all sounds so sad in retrospect, but that's the kind of power Aaliyah had: she was a teenage icon. Then, alas, by my 19th birthday my hair grew out! So had Aaliyah's, and she stopped covering her eye. Talk about timing. Since we both had long hair by then, I opted to just be my own person; still an Aaliyah fan though.
I never grew that fringe back, but when I started writing my book on Aaliyah, I searched through pages created by her fans. Some are 15 years old, just growing out their bangs, while others are a little older and covering their one eye as she had.
For the years that Aaliyah was in the music industry, she connected with us teens. There was a synergy there, that after she passed has remained frozen in time. It's like she's become a rite of passage for kids, whereby once they discover her, they too grow with her. And coincidentally, so does their hair. If that's not the definition of immortal, then what is?
Kathy Iandoli is the author of the book Baby Girl: Better Known As Aaliyah, out now.
---
---
Aaliyah outfits
We're big Baby Girl fans here at My Imperfect Life and we couldn't talk about Aaliyah without running through some of her most iconic looks. There wasn't a look that she couldn't pull off, whether it was baggy clothing, sunglasses in several shapes and colorways, leather looks, a futuristic aesthetic, bandanas, crop tops, tailoring—and let's not forget that Tommy Hilfiger campaign—Aaliyah's style is eternal.
1. The noughties aesthetic
Nothing says the Noughties like white jeans with gold chain belt, a pink top and mini handbag. Still, would 100% rock this now.
2. Showstopping gowns
Aaliyah wore a black and yellow Roberto Cavalli gown to the MTV Video Music Awards at Radio City Music Hall on September 7, 2000.
3. Masculine tailoring
No stranger to subverting masculine tailoring, Aaliyah chose a shiny purple two-piece for the 1997 Soul Train Music Awards red carpet.
4. All black everything
Leather trousers? Check. Exposed midriff? Check. Sleek sunglasses? Check. Everything needed for a Sci-Fi Matrix-esque moment is present.
5. The sheer beaded look
At the premiere for Romeo Must Die, Aaliyah wore a sheer embellished top over black embellished trousers. An outfit that wouldn't look out of place on many a designer catwalk, like the Marc Jacobs SS14 runway—a mere 13 years after this date—which just proves just how fashion forward Aaliyah was. Also, who else could pull off flat sandals on a red carpet with aplomb?
6. Hip Hop style
Aaliyah was known for her hip hop aesthetic with baggy jeans, bandanas, and loose-fitting clothes taking center stage. This all-white look, complete with ombre sunglasses and more-is-more jewelry, is no exception.
7. The film looks
You can't talk about Aaliyah without discussing her film moments. Whether she was the vampire Queen Akasha in the Queen of the Damned or Trish in Romeo Must Die (pictured) with her hair swept over to one side and killer combo of leather, crop tops and statement trousers, it was always the cutting edge of cool.
Kathy Iandoli is an American author and journalist, specializing in the history of Hip Hop. She's recently worked on the Netflix documentary Ladies First: A History of Women In Hip-Hop (streaming now) and has written for Vibe, The Source, XXL, The Village Voice, Rolling Stone, Billboard, Pitchfork, Playboy, Cosmopolitan, Maxim, The Guardian, Vice, and many other publications. She has held editorial positions at top Hip Hop/urban entertainment websites which include AllHipHop.com, HipHopDX.com and BET.com. Iandoli is an alumna-in-residence of Music Business at New York University and has appeared across the media, on radio, and in television and panels discussing Hip Hop and gender.