Alternative city breaks for a trip away from the tourist crowds
These quirky destinations will give your favourite cities a run for their money...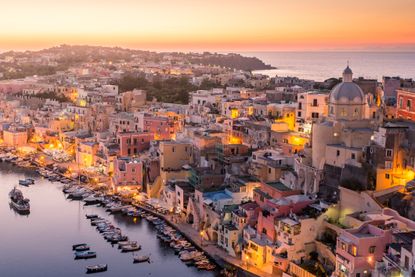 (Image credit: Getty Images)
Destinations like Paris, Rome and Amsterdam will always have a place in our hearts. But there's something so alluring about going off the beaten track. So, to mix it up on your next trip, try one of these alternative city breaks…
Naples, Italy
Best alternative city break if you love: Rome
Naples isn't like most other Italian cities. It has all the world-class art, the ancient history and incredible food you'd expect, but its true charms lie in the city's atmosphere.
You'll be met with bustling streets bubbling with life, Vespas weaving through crowds, busy piazzas and grand baroque façades peeling in the sun. It's edgy, but honest.
Stroll down the main artery, Spaccanapoli, which slices the historic centre in half. Many of Naples' most beautiful churches are clustered around this street. If architecture's your thing, don't miss San Francesco di Paola church or the Teatro di San Carlo opera house, either.
As the place that supposedly invented pizza, Neapolitans take their crust very seriously. Lines outside popular pizzerias are common - but enjoy the experience, with a beer and some people-watching. Da Michele and Gino Sorbillo are amongst the best.
You'll also find super-cool history on the doorstep - Pompeii and Mount Vesuvius are just half an hour by train, and an hour's journey will see you chugging limoncello at a street-side enoteca in Sorrento.
Bilbao, Spain
Best alternative city break if you love: Barcelona
Bilbao's story is a familiar one: an industrial port turned trendy city-break destination. Built around Basque culture, with its own language and delicious cuisine, the city's revival has taken it to the forefront of art and dining.
Start your trip from Casco Viejo, Bilbao's old quarter and traditional heart, and work outwards. Plaza Nueva, lined with bars serving pintxos (Basque tapas), is a fantastic introduction to life in Bilbao.
No visit is complete without a trip to the Guggenheim, which kickstarted the city's rejuvenation in 1997. Its avant-garde futuristic design is just as impressive as the modern art inside. Dedicate several hours to exploring its contents.
The rugged Basque coastline boasts some of Spain's best lesser-known beaches. Head to Bakio, just half an hour away by car. It's predominantly a surf beach, but also a great spot to simply soak up the sun.
Essaouira, Morocco
Best alternative city break if you love: Marrakesh
Coastal Essaouira is Morocco at its most laid-back. The medina, a UNESCO World Heritage Site, is contained by 18th-century walls weathered and worn by the Atlantic, and packed with souks and traditional cafes. A real cultural centre, music and art play a big part in Essaouira's allure.
There are various festivals throughout the year – look out for the Gnaoua and World Music Festival which usually occurs in June. What's more, many of the city's galleries are free and tend to focus on local work.
Beyond the city walls, Essaouira's beach seems to stretch on endlessly. A hive of activity, the breezy winds make it the ideal location for all types of surfing. Alternatively, camel rides are also on offer...
Athens, Greece
Best alternative city break if you love: Paris
Known as the cradle of western civilisation, you'd expect Athens to have a bit of culture and history up its sleeve. Of course, the Acropolis, the ancient citadel, rising like a magnificent crown above the city, and the Parthenon, one of its most important structures, are the big draws. But they definitely aren't the only reasons to visit.
You'll find Athens' story told in its museums and archaeological sites, while new initiatives, such as street art tours and foodie walks, are popping up all over the city.
Meanwhile, Athens' nightlife is a refreshing mix of Greek tavernas and quirky new bars and clubs to hop around, so expect all the fun
Porto, Portugal
Best alternative city break if you love: Lisbon
There's plenty to discover in Porto, from culture and ancient architecture to the natural beauty of its seaside, rivers and National Park. And of course, the fine fish and wonderful wine…
The city is bursting with colour, from the wonderfully mosaic-laden Sao Bento train station to the very special Livraria Lello bookstore. This Gothic creation was apparently the inspiration for J K Rowling's Harry Potter books (she lived here for three years), and you can see why.
With its huge swerving wooden staircases showcasing books in every language, and a roped off room full of special editions, it's a book lovers' paradise.
Just outside of the city, Peneda Geres is perfect for animal lovers, with 269 miles of forests, valleys, rivers and waterfalls, plus many wild species. Go trekking and you might find goats, ponies, deer and even billy goats.
Go to the town centre for lunch at Soajo – it's a treat: try the Portuguese salad, fish and local meat dishes, all washed down with the ubiquitous Vino Verde of course!
Rotterdam, Holland
Best alternative city break if you love: Amsterdam
Over the last few years, Rotterdam has transformed itself from a troubled port city into a hub of culture and cool.
Modern architecture projects, intriguing new museums and a multicultural population are just some of the things that make the Netherlands' second largest city so exciting. Meanwhile, the Markthal – a cavernous, mural-covered food court – is the city's stand-out star.
All over the city, old disused buildings are being renovated into cultural spaces, art installations are popping up and new places to eat and drink are constantly appearing.
Adding to the city's cred is an area that's actually called the Cool District. Here you'll find chic boutiques, independent eateries and bars that are bouncing after dark.
Helena is Travel Editor across Women's Lifestyle titles (including Woman & Home) at Future.